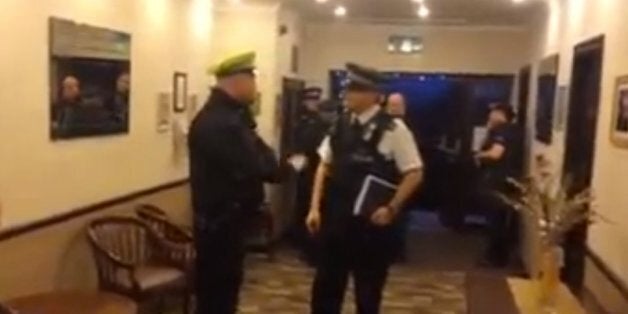 The far-right group Britain First have claimed that police "shut down" their first annual conference in Kent, but police have denied any interference, claiming they were called in response to a disturbance and did not attempt to halt the event.
Police were called at around 2.20pm to the Swanley Banqueting venue in Hilda Avenue, Swanley, where the group were holding a gathering.
In a Facebook post, the group said that the meeting "closed down by the police who threatened our activists with arrest!"
Britain First also claimed that the police "deliberately cut the power in our Conference room" and said that "Deputy Leader Jayda Fransen even got an official police caution for opposing this outrageous breach of our democratic rights".
A video posted of the event likened the police to the "Gestapo".
Kent Police told Huffington Post UK that the claims were entirely false. "Officers attended and spoke with members of the group and staff at the business," a spokesman said.
The police did not ask the group to leave, nor stop the conference.
The spokesman told HuffPost UK that the group left the venue by 4pm and that no one was given any official police caution. "One person was spoken to and given a harassment warning," he said.
Britain First said it was "meeting with our solicitors this coming week to discuss ways to enforce our democratic rights and stop the police and local councils walking all over us".
It was the second choice venue for the group after Owslmoor Community Centre, in the town of Sandhurst near the officer training academy, refused to host the conference.
Local councillor Paul Bettison, leader of Bracknell Forest Council, said they had decided to cancel the event "due to concerns that it could impact on the peace and harmony of the local community, which includes several nearby community facilities."