She is a nurse with a deep and abiding Christian faith which drove her to spend almost a year in the midst of the Ebola epidemic, surviving both malaria and Ebola itself as she treated desperate patients. And for that, people often refuse to shake her hand.
Nancy Writebol, the American missionary nurse who was one of the first two patients to be treated with the ZMAPP drug after she was infected with the virus in Liberia and evacuated to the States, says she still feels there is a pervasive stigma against healthcare workers, but says the problem is worse for survivors in West Africa.
"We have had some bad reactions to me surviving Ebola, in the Western world," the North Carolina nurse sighs. "Mostly it has been people not wanting to shake my hand. There have been situations where I was uninvited to events, and that's all of our healthcare workers."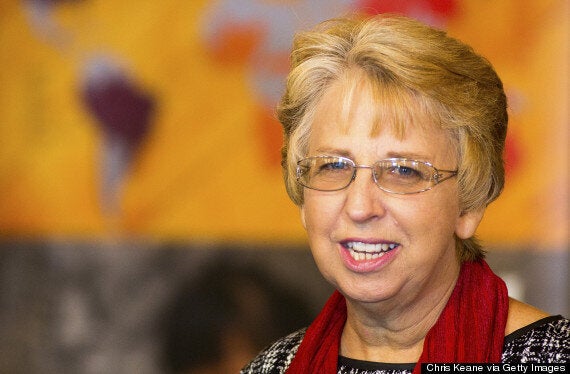 Writebol faces stigma, but says the situation is worse for West Africans
Writebol, 59, a mother-of-two who visited the UK this week with her husband David, says she has been forced to adapt her behaviour. "I did always shake everyone's hands, but now I wait for the cue, to see whether or not people are afraid."
Though when the couple first journeyed to west Africa, barely anyone had heard the word Ebola, the virus is now headline news, and the controversial subject of Bob Geldof's fourth outing of his charity song 'Do They Know It's Christmas?', currently number 1 in the singles charts.
Writebol said she was "aware" of the song, though she hadn't heard it, but she said did think people needed to be careful about portraying the whole continent as one mass of suffering. "Ebola has meant that "Africa" becomes again this terrible place where bad things happen.
"People don't get how large the continent is, they think, 'Ok, I'm not going to go to South Africa, or Kenya, because Ebola might be there'. They don't have a good idea on what the continent as a whole is like. It does put a stigma on the whole of Africa."
Writebol is one of the lucky ones, with just under 5,500 dead from the disease across West Africa. There was a time, though, when she confronted the fact she might not make it.
She reveals that she was very uncertain whether to take the "experimental" ZMAPP drug when it was offered to her as she flew back to the States, a decision which she says was "pretty much out of my hands as I grew weaker".
Lying in her hospital bed in Emory University hospital in Atlanta this August, a doctor warned her the drug had never been tested on humans, and she initially rejected it, after speaking to her fellow patient Dr Kent Brantly.
"She [the doctor] was very clear what the risks were. I asked Dr Kent if he was going to take it. And he said: 'I don't think so'.
"So I said: 'If you're not going to take it I'm not either.' But there came a point, as time went on, that we just knew, well, if I took it and survived, that was great.
"But if I didn't take it, the possibility of me surviving was not very good. And even if I took the drug, I still might die. So as the days went on, it really became something that appeared more simple. So we decided to trust what was being offered, trust the Lord, leave it in His hands."
Writebol still does not know if it was the drug that was the cure, 40% of Ebola sufferers do survive the illness. But she believes it vastly improved her chance of fighting the virus. "I did not feel better immediately, it was not a quick turnaround, it stabilized me, it kicked my immune system into fighting the virus. But I was certainly not able to stand up the next day, I was still very, very weak."
When Writebol first felt a fever come on while she was in Monrovia, she diagnosed herself with malaria. She was correct, tests showed she did indeed have malaria, and she took a course of treatment. But her fever remained, and she felt herself getting weaker. After the course of treatment finished, she still felt ill, and so doctors tested her for Ebola just to "rule it out".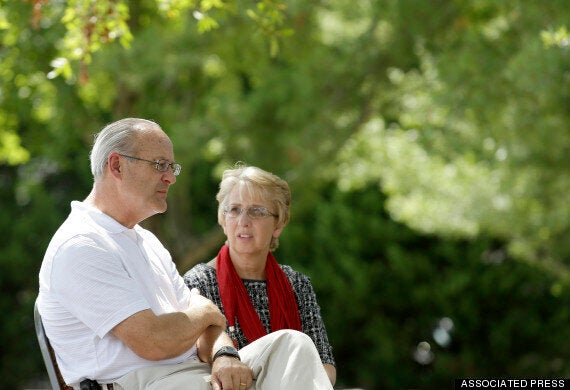 Writebol with her husband David
It was her husband David who had the task of telling his beloved wife she had the deadly disease, the same day a positive test result also came back for their friend, Dr Kent Brantly.
"That was so difficult hearing that, and then David said, 'Nancy, you also have Ebola'," she recalls.
"I had to look in the eyes of the love of my life and give her the news," her husband says. "It was one of the most difficult things I have ever done. There was such sadness." Even in that dark place, both say they didn't lose their faith, or question why they had to battle the disease.
"I don't know how, but the Lord gave me a great sense of peace," Writebol says. "I was concerned about David, and other people I had come in contact with, but the Lord gave me wonderful peace. I felt He was with me, if I lived or if I died. If I died, I knew my eternity was secure in Him, my salvation was in Him."
"We never felt abandoned by God," her husband says. "God's word says: 'Even though I walk through the valley of the shadow of death, I will fear no evil, for you are with me,' in Psalm 23. And we don't always understand God's ways. But we try. We've learned through the years he's never let us down. We rested on that, and found God is indeed faithful."
When she and her husband first went to Liberia in August 2013, Ebola was not even on their radar. "It was not an issue in the news at all. Ebola wasn't a word they were even talking about, we never took it into consideration. But even if we had know about it, I still believe we would have gone."
"Even before we went, we really felt God's call to Liberia. Before we ever left, we had a sense of direction from the Lord. We knew that's where we were meant to be," she adds.
The couple were seeing more and more cases in their Monrovia missionary hospital, but there was one specific moment where Writebol said she knew it would "mushroom" when an epidemiologist returned from a trip to the border region. "He saw the numbers of people being affected, he said we really needed to get ready for it to spread, fast.
"That was real pressure, preparing for what we knew could happen. We started to get more and more patients, more and more requests from the Ministry of Health to take people. There was really great concern it was about to explode."
Faith was what kept her there. "You know that things will come through your door that maybe you're not so comfortable with. But we really felt it was where we needed to be and what we needed to be doing."
She finds it heartbreaking to see fellow survivors of Ebola, in West Africa, many of whom face worse stigma than she has encountered. "There are family members of people who have survived Ebola who reject them, they don't want anything to do with them, because of the fear.
"Employers will not have people come back because of the fear. Especially in Liberia there is great work going on to help survivors of Ebola, to bring them back in."
Related