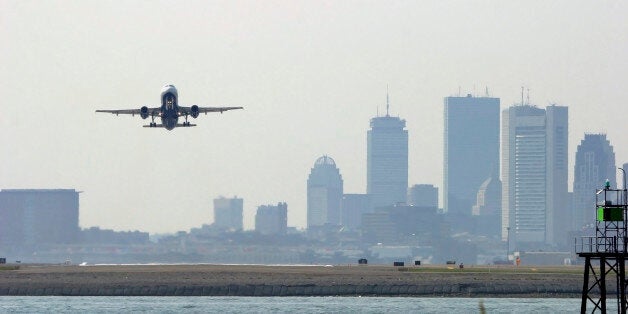 Police were called to a Boston airport on Saturday after a naked man fell through the ceiling of a woman's toilet.
Cameron Shenk was in the buff when he burst through the tiles at Logan Airport.
Upon landing, the now-bleeding Shenk ran out of the bathrooms and began violently assaulting an elderly man before he was arrested.
Shenk was charged with attempted murder, mayhem, assault and battery on a person over 60, assault and battery on a police officer, lewd and lascivious conduct and malicious destruction to property.
The 26-year-old had apparently sneaked into the bathroom, undressed inside one of the stalls and climbed into the crawl space above the restroom before crashing through the ceiling, police spokesman David Procopio said.
He then fled the bathroom and viciously assaulted an 84-year-old man, biting his ear and attempting to choke him with his own cane, Procopio said.
The reason for the attack was unknown. Shenk scuffled with responding troopers who arrested him, leaving one trooper with a minor hand injury.
The 84-year-old man was taken to a hospital to have his injured ear treated.
Shenk was taken to Massachusetts General Hospital under police guard for treatment of the injuries he suffered when he fell through the ceiling. Police said he would be booked upon release and arraigned in East Boston District Court.
Related