This Friday one of two things will be taking over your life: Either it's the news that the new Star Wars: The Force Awakens trailer goes live OR it's the arrival of the largest online sale in history.
Either way, you can be sure that the internet is going to be a busy place. The question is: how do you win?
It's simple, Black Friday -- the US-founded online sale -- has arrived in the UK. With Amazon UK and other online UK retailers like Game, PC World and more all getting on board it's your chance to get some absolutely incredible deals.
To help you get started we've listed all the major retailers that are holding Black Friday sales along with links to their websites. That way you'l be able to open one browser window for buying, and the other for that new Star Wars film.
BLACK FRIDAY
Google has kicked things off by offering the LG G Watch for £79, a huge reduction from £159. Chromecast now costs just £20 while
Use PayPal to buy things? If you don't now might be the time to start as they're offering 75 per cent off Steam games if you pay using PayPal. There's also 20 per cent of iTunes vouchers and three months of Spotify for the price of one if you use PayPal.
If you haven't see the Vines yet then prepare to be in a state of shock because Asda has gone full Walmart in embracing Black Friday.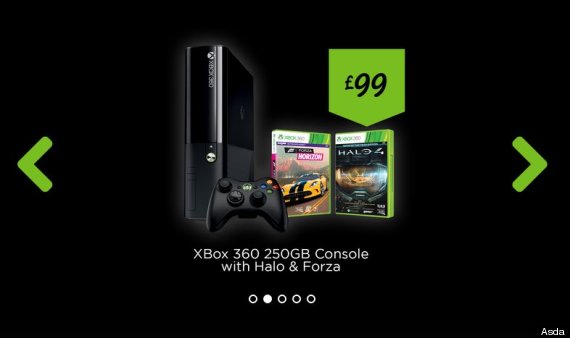 If you can look past the cheerleaders though there's some pretty incredible deals to be had including an Xbox 360 with Halo 4 and Forza Horizon for £99.
Amazon is going big on Black Friday this year with flash sales taking place every single hour. Simply head over, see what's on offer or check out what's in the line-up.
So far they've been offering some pretty incredible deals including up to 50 per cent off electrical goods like 4K TVs, games consoles like the Xbox One and huge deals on small electronics like shavers and more.
If that hasn't convinced you they're also doing huge savings on their Kindle range with up to £100 off their Kindle tablets.
That's right. On Black Friday even Apple gets involved. While traditionally Apple has always been quite stringent with its sales there have been rumours that this will be the year that Apple gets stuck in offering some fairly major discounts on iPads, iPhones and MacBooks.
To get the best deal you'll need to check back on the 28th November.
Game has also embraced the US tradition and is offering a similar deal with 4 hour sales that take place from 8-12, 12-4 and finally 4-8.
So far these deals have included money off FIFA 15, Far Cry 4 and more. They'll also be offering huge discounts on the day with money off consoles, accessories and more.
PC World is holding its Black Tag Event this year which will bag you some pretty incredible deals on the latest gadgets including this 42-inch Full-HD LG LED Smart TV for £279.
Expect more of the same, there are Windows 8 laptops for under £200 as well as some pretty impressive deals on wearable tech including the excellent Jawbone UP for just £39.
The event is live online right now however if you're willing to fight the crowds then you'll be able to take full advantage in stores tomorrow.
John Lewis will be doing Black Friday their way which means you'll need to wait until Friday before you can see any of the deals on offer.
Knowing the range of technology that John Lewis now stocks expect this to be one of the lesser-expected wins of the sales as they'll almost certainly be offering deals on some of the most high-tech TVs, laptops and tablets out there.
READ MORE