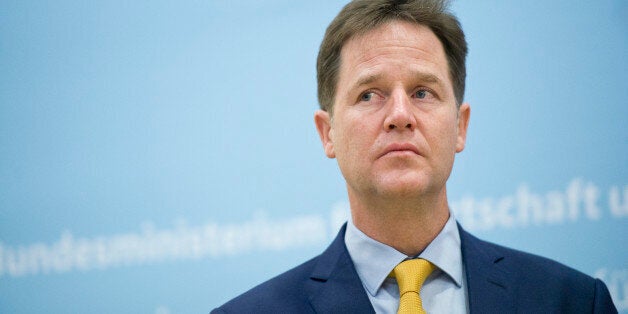 Nick Clegg perilously close to losing his parliamentary seat as a new poll indicates that he enjoys a poll lead of just 3% points among voters in his Sheffield Hallam constituency.
In response to a survey by Tory pollster Lord Ashcroft, just 31% of voters said they would back the Liberal Democrat leader at the next election, with 28% saying they would vote for Labour. Such a finding is potentially dangerous for Clegg as it is within the margin of error.
Labour's parliamentary candidate Oliver Coppard told HuffPostUK that the poll "won't come as a surprise to anyone who's actually spent any time speaking to people in Sheffield Hallam".
He added: "It's obviously a two horse race here now and has been ever since Nick Clegg betrayed so many of the people who voted for him in 2010. The momentum is only going one way.
"No one here will forget his decisions on tuition fees, Forgemasters or the huge cuts he's inflicted on Sheffield. It's obvious that Nick Clegg's priority is keeping the Lib Dems in government with the Tories, not what's best for the people who live here in Hallam."
Meanwhile, the same polling indicates that Nigel Farage, Clegg's former EU debate rival, is in for a struggle to win his intended seat of Thanet South.
The poll for Clegg's Sheffield Hallam constituency suggestshe still enjoys a personal majority, but only a slight one, as when thinking nationally, more voters back Labour (28%) than would back the Liberal Democrats.
Voters in Clegg's own backyard also issued a withering verdict about his suitability to lead Britain, with only 11% saying he would make the best prime minister, just narrowly ahead of Ukip leader Nigel Farage at 9%.
A previous poll by Lord Ashcroft found that the Greens have overtaken the Lib Dems for the first time in a decade, placing them at 8%, just ahead of Clegg's party at 7%.
The data suggests an astonishing number of young people, 28% of 18-24 year olds, are planning to vote Green, though the poll only surveyed around 1,000 people.
Another poll, by the PR agency Edelman, found that very few voters know what the Liberal Democrats' main policies are.
The Conservatives and their candidate Craig MacKinlay are five points ahead of Ukip in Thanet South, with Farage also worse rated as a party leader than David Cameron.
Noting that Farage was given a higher rating in Ed MIliband's constituency of Doncaster North, Lord Ashcroft quipped: "Perhaps he should swap seats?"