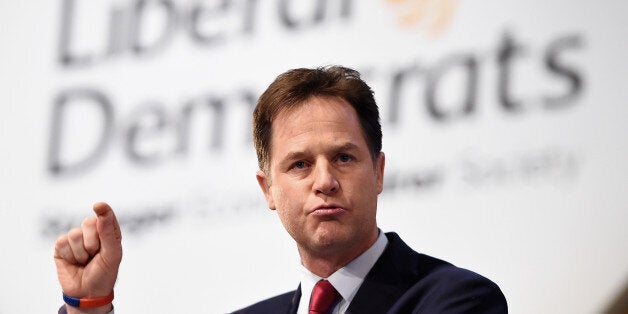 Nick Clegg's bid to woo voters with a distinct Liberal Democrat vision has been awkwardly undermined by a poll suggesting that very few voters know what the party's policies are.
No more than one in four of those surveyed by the PR firm Edelman associated the Lib Dems' key policies with the party. However, those polled could link the Tories' policies with the party itself.
The latest findings underline the Lib Dems' perilous political position, as Clegg and his fellow ministerial colleagues used their party's annual conference to accuse the Tories of stealing their policies.
Edelman asked 1,000 people about four of the Lib Dems' main pledges: building ten new garden cities, raising the income tax threshold to £12,500 by 2016, increasing tax on high-value properties and boosting NHS funding by £1bn a year from 2016 onwards.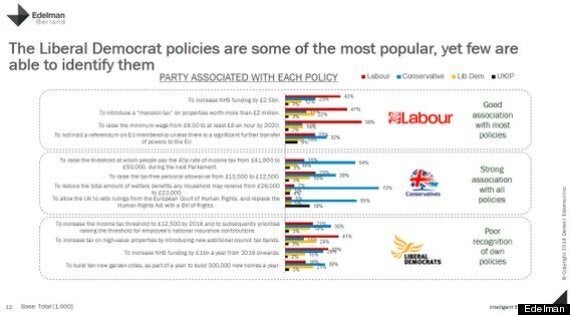 It's uncomfortable reading for Team Clegg...
Gurpreet Brar, Edelman's public affairs head, told the Huffington Post UK: "The worrying trend for the Lib Dems is the extent to which policies are not registering. A staggering 41% of voters thought the policy to increase tax on high-value properties through additional tax bands was a Labour policy, in comparison to only 24% who thought it was a Lib Dem policy.
"Additionally, 35% thought the policy to increase the income tax to £12,500 by 2016 was a Conservative pledge, an additional 21% thought it was a Labour policy and only 19% thought it was a Lib Dem policy."
In response to the survey, the Liberal Democrats said that they had a "fantastic record of delivery" they would tell voters about "with pride" in the general election campaign.
"Liberal Democrats have a proud record of delivery in Government, delivering on policies which have helped create a stronger economy, a fairer society and delivered opportunity for everyone," a spokesman told HuffPostUK.
"We have cut taxes for 24 million working people, given pensioners the largest ever cash rise in the state pension and created 1.8 million apprenticeships to help young people into work. We have a fantastic record of delivery and a promise of much more, and we will take this record to the electorate with pride over the months leading up to the election."
"The economic plan is just as much my plan as it is George Osborne's," he said. "It is just as much a Liberal Democrat plan as it is a Conservative plan."
In a poll carried out by Tory peer Lord Ashcroft, just 7% of voters would vote for the Liberal Democrats, a 1% drop on last month leaving them at level-pegging with the Greens, who rose 3% in the polls.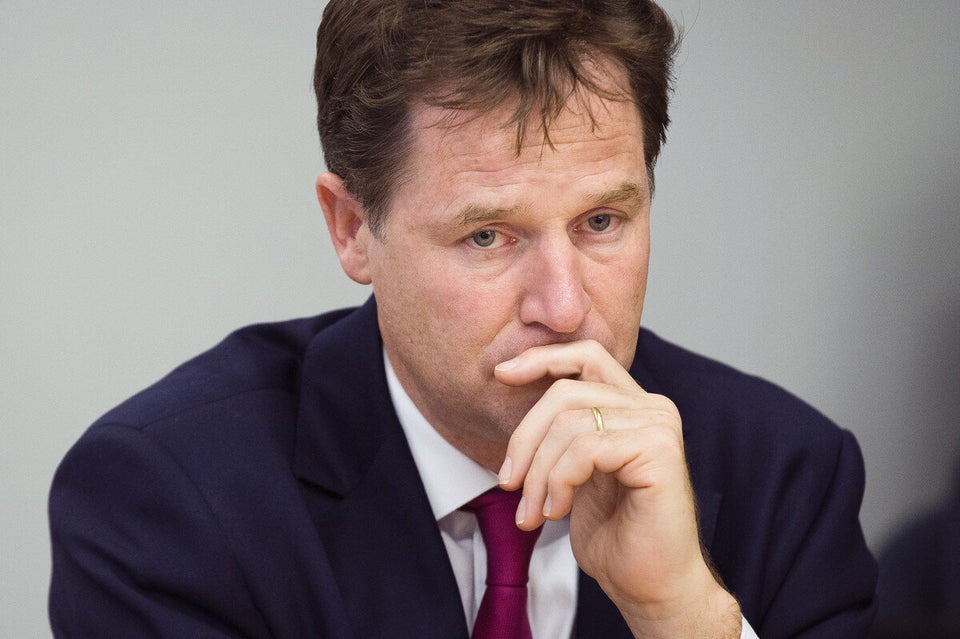 8 Times Nick Clegg Defended The Bedroom Tax