"I'm annoyed," said Brand on The Trews, referring to Paraic O'Brien's lack of interest in the campaign to keep Hoxton's New Era Estate affordable to the current residents.
"You're outside Number 10. Next door to that is George Osborne the Chancellor, who did £80 billion of austerity cuts while £80 billion of banker bonuses were happening in the same time frame, and campaign for the EU to prevent banker caps. 'See that house in the background, mate… that's were these things happened'."
The actor, who described the interview on his YouTube news channel as a "quarrel at a jumble sale", said of himself: "I shouldn't be allowed on television. I'm so easily wound up. What does it matter to me, what have I got to lose, just from this one bloke?."
He went on: "When you talk to a journalist I sort of think it's a combination of boring and really annoying, and my personality type is not well suited to that kind of environment."
On Tuesday, O'Brien said that he had been subjected to abuse on Twitter following the tense interview. He said: "Holy God. Reading my timeline from overnight. Looks like come the revolution, we 'snides' are totally f******'."
Tenants in the New Era estate in Hoxton, which was originally built as affordable housing for workers, say they could face homelessness after US investment firm Westbrook Partners bought it out.
Speaking to Brand outside Downing Street, the interviewer suggested that part of the housing problem is the super-rich buying property in London, asking, "how much did you pay for your place?"
"It's rented," shot back Brand, before telling the reporter, "I'm not here to talk about my rent, mate."
The pair then sparred for 30 seconds, before Garrett jumped in, angrily telling the broadcaster, "At least Russell Brand is standing up regardless of how big his house is… David Cameron isn't prepared to come out of his big house and help us, but Russell Brand has."
Brand ended the interview by telling the reporter: "Snides like you undermine it… you're a snide."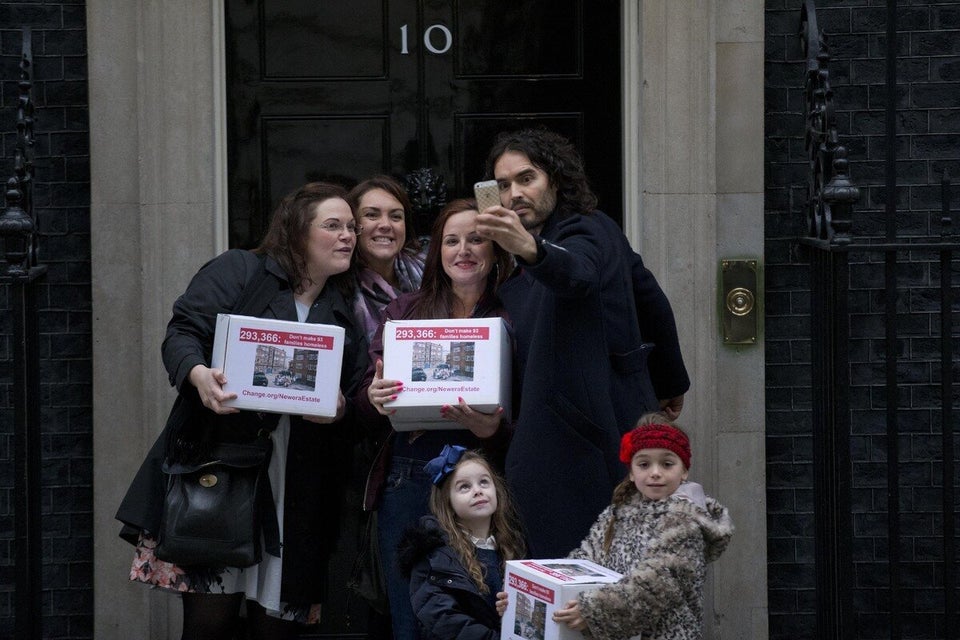 Russell Brand makes it to Downing Street