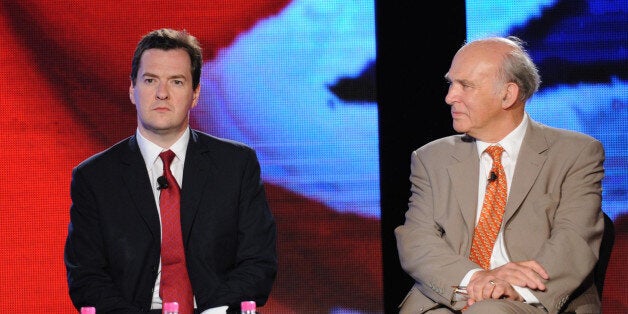 George Osborne's planned cuts will see public spending fall to its "lowest level in 80 years", the government's official forecaster has warned.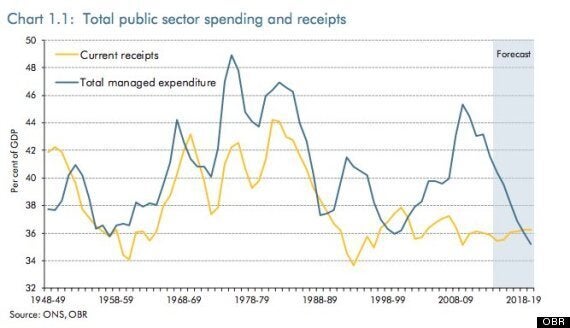 The budgetary watchdog said it expected at least five more years of austerity, and that less than half of the cuts had already been implemented.
"We are now in the fifth year of what is projected to be a 10-year fiscal consolidation," it said. "Around 40 per cent of these cuts would have been delivered during this Parliament, with around 60 per cent to come during the next."
Departments like the police and the judiciary and "other" spending could see funding cut by as much as 40% by 2018-2019, according to the OBR's analysis.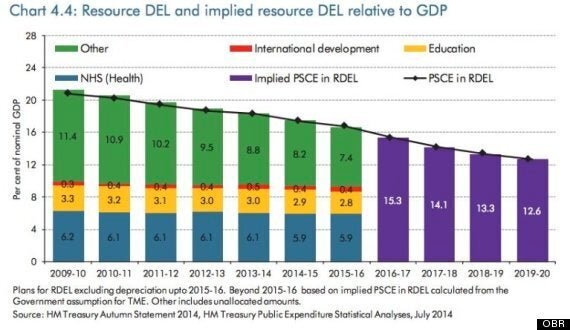 In its report on the Autumn Statement, the OBR warned that Osborne would face a "significant challenge" implementing his cuts programme, one that would be "all the greater if existing protections were maintained".
The budgetary watchdog admitted that it was "quite possible" that a different government after 2015 "would adopt different policies".
Meanwhile, Vince Cable has rebelled against Osborne's austerity agenda by ordering his civil servants not to discuss any planned cuts after 2015 with Treasury officials.
He has also asked the Office for Budget Responsibility to spell out the difference between Tory and Liberal Democrat economic plans.
"I am concerned that the distinction between these two periods is insufficiently clear," he wrote to OBR head Robert Chote. "The distinction is important because spending assumptions are very different to spending decisions: the former are indicative "placeholders" and are contingent on future government decisions about public spending, while the latter are definitive and highly unlikely to change.
"My observation of the broader public commentary on fiscal policy suggests that this important distinctions is not well understood."
Cable confirmed the Guardian's report in an interview with LBC Radio, telling presenter Iain Dale: "We are not assuming that there will be cuts on the scale that the Treasury appear to indicate. We haven't yet agreed [them]. The next government will have to decide."
"We are not assuming that large scale cuts are going to take place, particularly in areas I'm responsible for like science... it would be completely counterproductive."
The Lib Dem cabinet minister made clear that his officials were not going to engage now in "rounds of negotiations on public service cuts that are the responsibility of the next government".
Cable was swiftly slapped down by his Lib Dem colleague Danny Alexander, the Chief Secretary to the Treasury, who told BBC Radio 4's PM that "it's not the job of the OBR to set out political differences between parties".
Tony Dolphin, senior economist at the Institute for Public Policy and Research, warned that Osborne's planned cuts were "implausible".
Blogging on the Huffington Post UK, he wrote: "Given the scale of cuts in the public sector, [the OBR] can only make its growth forecast add up by assuming that consumer demand is boosted by households taking on more debt - and at an unprecedented pace.
"Extraordinarily, the OBR thinks that by 2019 the household sector will have a financial deficit twice as big as in 2007 and 2008 when the financial crisis hit. As result, the household debt-to-income ratio is forecast to rise beyond its pre-crisis peak to over 180 per cent.
"This is pretty implausible. If the next government tries to follow the deficit reduction path set out in the Autumn Statement, it can only succeed in the short-term because the household sector takes on debt at a faster pace than it did before the financial crisis. But that risks a house price bubble and bust, followed by a recession and ultimately a new blow-out in the government deficit."