A card company has apologised for a Christmas card that effectively said people from council estates are a drunk, work-shy burglars.
The card disappeared on the Clintons website after people called it "vile" and "beyond offensive" on Twitter.
The £2 card listed "10 reasons why Santa Claus must live on a council estate", including "He has a serial record for breaking and entering!", 'He has never been seen doing any work in his whole life" and "he only works once a year".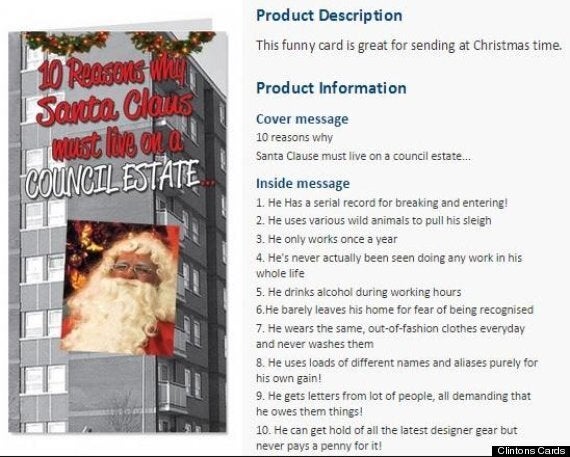 You can't buy this anymore, strangely...
Other funny reasons Santa Claus might be from a council estate was that he "uses wild animals to pull his sleigh". No, The Huffington Post UK does not understand that one either.
A spokesman for Clintons said: "A card in our range has been withdrawn immediately. It is in no way reflective of our views and we apologise without reservation.
"We are investigating how this offensive card got through our quality control procedures, which we will review and tighten as a result of this incident. This was a mistake and we deeply regret the upset that this has clearly caused."
On Twitter, people said the card was "seriously vile", "beyond offensive" and "vilifying and stigmatising the poor for corporate gain".
At number four on the card's list was "He's never actually been seen doing any work in his whole life" and number five read "He drinks alcohol during working hours".
The description on the Clintons website said: "This funny card is great for sending at Christmas time."
Belle Sebastian wrote: "Disgraceful! I live on a council estate - never have I been in trouble with the police, I don't drink, I worked full time for the council until I became very sick this year so I attend university whilst I recover.
"I cannot believe that your company has allowed this vile prejudice - I'm sure a number of your employees live on estates since you only pay minimum wage..."
The card is no longer available on the Clintons website. The URL instead brings up an error page saying "Whoops, our bad..."