Before we begin can we remind you this is not 'The Onion'.
Ukip leader Nigel Farage tried and failed to secure the public backing of Enoch Powell for a by-election campaign 20 years ago, it has been reported.
The Daily Telegraph said the request and denial were contained in an exchange of letters between the pair held in a Cambridge University archive.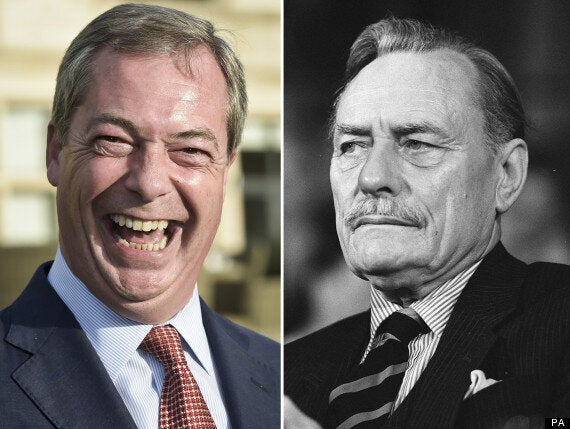 Powell is the serious looking chap on the right, obviously
Farage has previously declared the ex-Tory MP his political hero and endorsed the "basic principle" of the warnings about mass immigration made in Powell's notorious "rivers of blood" speech.
On Thursday he was described by comedian Russell Brand as a "pound shop Enoch Powell" as they clashed on the BBC's Question Time Show.
Although Powell's cause was taken up at the time by right-wing Tories as well as dockers and meat porters, who went on strike demanding his reinstatement, few mainstream politicians have felt able to support him in subsequent decades.
According to the correspondence seen by the newspaper, the then 29-year-old Farage wrote to Mr Powell in March 1994 when he was a candidate for the fledgling eurosceptic party at an election in Eastleigh.
"I have everything in place to fight a good, aggressive campaign but a voice from you could transform things and put the issue to the forefront," he is reported to have told him.
But despite being offered "transport, dinner and whatever you need", Powell replied that after "very serious consideration ... I do not feel I can contribute further to the campaign by speaking on your behalf".
He told Farage: "Recent developments seem to show that opinion in the United Kingdom is consolidating against membership of the European Union."
Subsequent letters from other party figures showed Powell declined at least two invitations to stand as a Ukip candidate in national elections for the party but that he had provided three written endorsements, the newspaper said.
Without the public backing of his political hero, Farage came fourth in Eastleigh with 952 votes - 1.7% of the total - just ahead of the Monster Raving Loony candidate.
Related