When 85-year-old Barbara Flynn was at her lowest ebb, she carried a portable phone and would check her voicemail just to hear the "human voice" told her there were no messages.
Her husband of 56 years died suddenly of a heart attack in 2010 and her daughter died of an aggressive form of cancer shortly afterwards.
"I used to walk around the garden and the house with a thick fog around me," she said. "I was so, so lonely. I missed the sound of a human voice," she said. "I knew there were no messages but I would press the buttons to hear the voice say: 'there are no new messages'. That was my life for many weeks."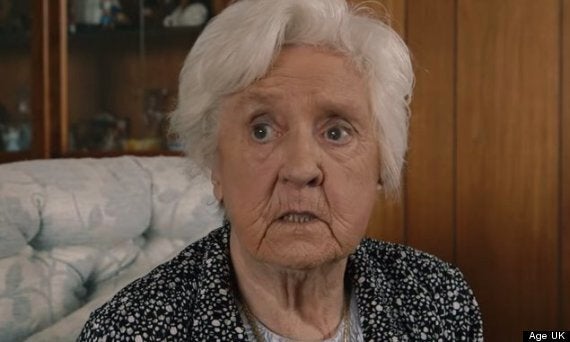 She said: "With Christmas approaching I miss being able to talk things like Christmas dinner over, all that's gone. The unity of family life is gone, and what are you left with? Bitterness and being alone."
Age UK estimates there are around one million people over 65 who regularly go for a whole month without speaking to anyone. This month, the charity published a survey that suggested 400,000 people over 65 feared loneliness at Christmas and 2.1million said they were not looking forward to it - nearly a quarter of Britons in that age bracket.
Most alarmingly, the survey suggested 650,000 people fear the festive period will bring back memories of loved ones who have died.
Samantha Nicklin, campaigns director for the charity, told Huffington Post UK that events such as retirements, physical decline and bereavements could isolate the elderly and their social circles dwindle when friends of the same age go through the same thing.
Social change in recent decades also meant the lonely were less likely to have access to the wider support network of neighbours and friends.
"People are becoming more individualistic than they were before," she said. "Church attendance is one of the things that's declined that used to connect older people to people of all ages. Today they are much more likely to have friends of the same age who have similar difficulties."
Cuts to services have also been a problem, with people who used to receive a daily visit from services like 'Meals on Wheels' now receiving them much less frequently, she added, saying Christmas Day itself could see an even lower level of such services.
She added people could be more reluctant to help because they often feared the elderly might be offended by the offer, while the older generation that could be less inclined to ask for it in the place.
Loneliness at Christmas does not apply solely to the elderly - and it is a widely-held belief that the festive period sees a rise in suicide and self-harm, as people's feelings of loneliness become more acute.
Statistics on suicide in the UK are not broken down by period, the Office of National Statistics only records the year the death was recorded.
The Samaritans, a charity that helps people contemplating suicide, said 244,000 people from Britain and Ireland rang its 24-hour helpline between December 18, 2013 and January 1 2014 - a high volume given that the charity receives around 5 million calls a year.
The Samaritans surveyed 140 men - who are three times more likely to take their own lives than women - and found 48% of them admitted to feeling depressed at Christmas time, 45% felt unable to be happy despite relatives trying to make them feel upbeat and 37% said they felt lonely over the festive period.
"Although the papers presented show a mix of suicide and parasuicide (apparent attempted suicides without the intention of actually succeeding) statistics it is apparent that there is a general trend for such events to reduce in December and in particular around the days preceding Christmas day," they wrote.
"As with all studies in this area there may be difficulties in gauging the true incidence as a result of under reporting. This is unlikely to be significantly different at Christmas so overall trends should be valid."
A more recent British study, from 2007, looked at deliberate self-harm admissions to an Oxford Accident and Emergency Department and produced surprising results.
The study looked at more than 19,000 who went to hospital with deliberately self-inflicted wounds between December 16 and January 6.
It found the numbers of people coming in to hospital between December 19 and Boxing Day was actually significantly lower - between 30% and 40% less - than what could be expected, based on analysis of all such admissions between 1976 and 2003.
But the number of admissions for it on the following days studied remained consistent with the levels expected at other times of the year.
There is one business the claims to clean up thanks to feeling of loneliness at Christmas - internet dating. Lovestruck.com claimed to have a 56% increase in signups on Boxing Day and has said it sees average monthly signups between December 16 and Valentine's Day that are around 48% higher than the rest of the year.
Mark Brooks, a consultant to the online dating industry, previously told HuffPost UK that questions from family members at Christmas can be catalyst to signing up.
He said: "The effect becomes more pronounced over the Xmas vacations and party season. Questions such as 'have you been dating anyone recently' and 'do you think you'll ever marry' become 'On your own, are you?'."