Margaret Thatcher called for advertising to be introduced to the BBC to rein in its "extravagant" spending, files made public today reveal.
In 1979, Prime Minister Thatcher suggested that advertising could be introduced to BBC radio programmes to help raise revenue for the organisation, which was operating at a substantial deficit of £50 million. Thatcher considered launching advertising on BBC radio for the first time
Files released by the National Archives show Thatcher made the groundbreaking suggestion in September 1979, just months after she came to power.
She also proposed that a tax could be charged on every new radio sold, with the money boosting the BBC's coffers, and an amendment so that people would not have to pay the licence fee if they only watched ITV.
The previously secret files reveal there was considerable concern in the government about the BBC's spending, which by November 1979 was running at a deficit of £50 million, increasing by £4 million a month.
A memo of a discussion between Thatcher and the then Home Secretary, Willie Whitelaw, revealed the prime minister proposed that "the possibility of introducing advertising on light music radio programmes should be considered."
HOW IS THE BBC FUNDED?

While other channels such as ITV rely on advertisers paying for airtime to make money, the BBC's programmes are funded by the annual television licence fee, paid by all UK households and companies which receive live television.

Around 25% of the BBC's revenue also comes from BBC Worldwide, its commercial arm which sells BBC programmes and services internationally - it includes BBC World News, the corporation's 24-hour English language news channel.
But in a memo to Thatcher about increasing the cost of a TV licence, Home Secretary Willie Whitelaw wrote: "I know that there have been suggestions that the BBC should be funded at least in part from advertising.
"This would be extremely controversial and would be bitterly criticised by the BBC Governors and others in the broadcasting world as well as by some people in our party."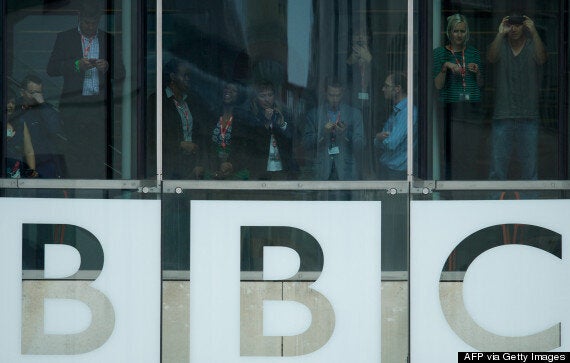 BBC staff in the new Broadcasting House building
Whitelaw suggested the financial effects on the BBC would "not be great", and to allow advertising on Radio 1 would affect independent local radio.
He added: "To allow competitive advertising on BBC1 - to which I would be strongly opposed both on financial grounds and grounds of principle - would make nonsense of our plans for the Fourth Channel."
But in a subsequent conversation between the two, Thatcher replied she was "concerned about the extravagance of some of the BBC's spending", and that union opposition was blocking the introduction of "proper manning scales" and new electronic news-gathering technology.
Thatcher also proposed people could only watch ITV and not have to pay a licence fee, which would "put pressure on the BBC to be more competitive, and it would be consistent with the government's aim of giving people as much free choice as possible.
"But it would of course be necessary for the TV manufacturers to produce a set which could only be tuned in to ITV stations."
In further talks on increasing the TV licence fee, Whitelaw told the prime minister he would warn the BBC's chairman that if its costs spiralled, he would expect the BBC to reduce its spending or increase its revenue, and that the government "would not exclude the possibility of the BBC's accepting advertising on Radio 1 or BBC local radio."
Ultimately, the idea of advertising was never implemented as it was considered too controversial, and the proposals did not garner universal backing.
Bernard Ingham, Thatcher's press secretary, wrote: "I doubt whether I am the stuffiest member of society, but I would consider it a retrograde step to introduce advertising to BBC radio or television.
"The BBC's reputation world wide rests in part on its integrity as an independent source of information financed without commercial sponsorship. To introduce commerciality could only, in my view, damage its reputation, particularly in the areas of news and current affairs."
A memo to the Home Office in November 1979 suggested that Thatcher herself had turned against the idea, saying: "the Prime Minister ... has decided that - on reflection - it would be a mistake for the Home Secretary even to raise the possibility of the BBC's accepting radio advertising at this stage", but that "she would not like to rule this out for all time".
The peer Lord John Vaizey echoed Mrs Thatcher's early sentiments in a letter to her in June 1980, writing: "Why do not BBC1 and Radios 1 and 2 accept advertising apart from prejudice against 'commercialisation' which they equate with low standards and vulgarity"?
The proposals for advertising on the BBC, as well as ongoing questions over the validity of the TV licence and concerns about the corporation's spending, eventually led to the establishment of the Peacock Committee, which was set up in 1985 to review the BBC's funding.
The committee recommended against scrapping the TV licence - which the government expected it to propose - but suggested that BBC Radio 1 and 2 should be privatised.