 A man from Surat, India could be facing two years in prison for stabbing his wife with a kitchen knife - because she apparently made a joke about the size of his penis.
Suman Vaz, 38, is said to have been cutting a cucumber in her kitchen while husband Ganpat chopped vegetables, CEN reports.
Friendly jibes about his cooking skills soon turned sour when Suman is alleged to have cracked a joke about his manhood, sending the 40-year-old into a fit of rage.
Ganpat pulled a five-inch knife from the kitchen drawer and plunged it into his partner's shoulder before fleeing the house and leaving her in shock.
Suman told the news agency: "I can't believe he did this. He's never been violent before and we often joke about how useless he is in the kitchen. I just can't understand what made him flip over such a harmless remark."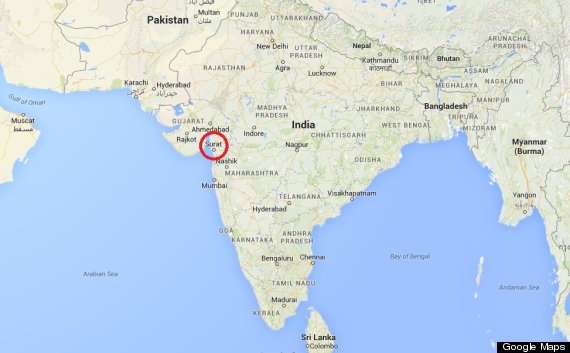 Ganpat Vaz stabbed wife Suman at their home in Surat, Gujarat State
Neighbour Kadri Ravikiran told CEN: "I heard a knocking on my front door and when I answered I couldn't believe my eyes. Suman was standing there with a knife sticking out of the top of her arm."
Ravikiran called an ambulance to take Vaz to hospital, where the knife was safely removed.
Her runaway husband was soon found in a park by local police, who arrested him for assault. He pleaded guilty and apologised, but could still face charges and up to two years imprisonment.