David Cameron has hinted that he would stage an early referendum on Britain's membership of the European Union if the Conservatives regain power at the general election in May.
As the campaign for May's general election heats up, Cameron said that he would be "delighted" if he could wrap up his promised re-negotiation of Britain's membership terms in time to put them to the country before his current target date of 2017.
The referendum is his most emphatic campaign pledge so far, in an election where the rise of Ukip is set to make Europe a crucial battleground.
SEE ALSO:
His comments came as Ukip leader Nigel Farage indicated that his party could prop up a minority Conservative government in order to achieve the eurosceptic party's long-held objective of an in/out referendum.
Appearing on 'The Andrew Marr Show', Cameron said: "The referendum must take place before the end of 2017. If we could do that earlier, I would be delighted. The sooner I can deliver on that the better."
Meanwhile, Farage said that while it was "unlikely" Ukip would enter into a formal coalition with any of the other main parties in the event of another hung parliament, it could support a minority government if it meant there would be an early referendum.
He flatly ruled out any formal deal with Labour or the SNP while he said that the current Conservative promise of a referendum in 2017 did not go far enough.
"The Cameron offering, frankly, isn't good enough in the sense that it's all been kicked into the long grass into 2017 following a renegotiation that looks highly improbable at any level," he told Sky News.
"I want our democracy back, I want control of our borders back, I want us to be able to negotiate our own deals on the world stage. To do all of that, I need a referendum. We need a referendum."
While Cameron said that he would be fighting hard to secure an overall Conservative majority, he left open the door to a new coalition pointing to his track record as a leader who "absolutely put the national interest ahead of any party interest".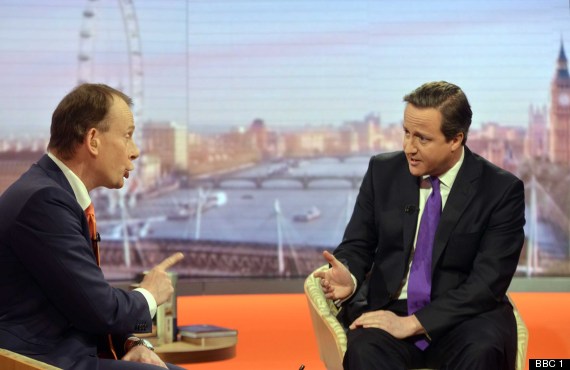 Cameron told Andrew Marr he would hold an EU referendum earlier than 2017 if possible
The prime minister renewed his attack on Labour and Liberal Democrat spending plans while defending Conservative plans to eliminate the deficit by 2018 through a combination of spending cuts, a welfare squeeze and a clampdown on tax evasion.
"It is not some ideological obsession, it is not because we are dessicated accountants. It's because I think it's right for our country," he said.
"People know if you don't do that, that is when you get real poverty. Look what happened in countries like Portugal and Greece that saw their debts and their deficits go out of control.
"We have four months in this year to save Britain's economic recovery. It is all at risk from a group of politicians who have learned nothing from the last five years and who would borrow, spend and tax all over again putting us right back to square one."
Shadow business secretary Chuka Umunna dismissed Mr Cameron's attack on Labour's plans, saying the Conservatives' economic strategy had failed.
"What you see here are desperate claims from a desperate Prime Minister," he told Sky News's Murnaghan programme.
"This is a man who is borrowing £219 billion more than he planned to do at the beginning of this parliament - that is the equivalent of the health, defence and transport budgets put together - because his economic plan has failed."
Nick Clegg is expected to use a press conference tomorrow to attack the future spending plans of his Conservative coalition partners as "a con".
"They're trying to sell you an ideological approach to cuts to public services packaged up as continuity. It's a con," he is expected to say.
"They have made a choice to remorselessly cut the money for public services even after the deficit has been eliminated. That's not sticking to the plan. That is a new plan to shelter the very wealthy and impose unnecessary cuts to public services."