Palestine will join the International Criminal Court (ICC) on April 1 this year, paving the way for potential war crimes charges against Israeli officials, the UN has confirmed.
Palestinian Ambassador Riyad Mansour said last week that the Palestinians are seeking to raise alleged crimes committed by Israel, including during last summer's war in Gaza.
Any investigation by the ICC would examine potential war crimes on both sides of the conflict, opening up Palestinian officials to prosecution as well.
Mansour said Palestinians would also seek justice for Israeli settlements on Palestinian territory, which he said constitute "a war crime" under the court's Rome Statute.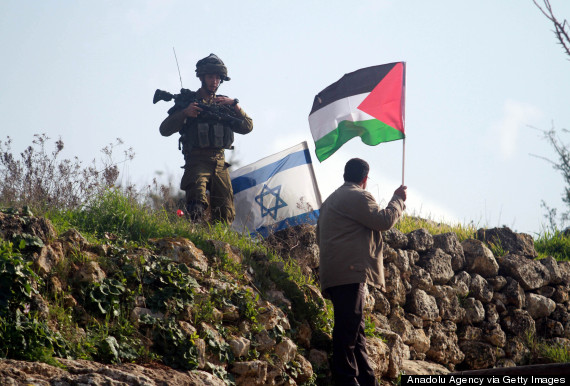 An Israeli soldier plants a Israeli flag during a demonstration staged by Palestinians against the Jewish settlements
UN Secretary-General Ban Ki-moon announced his acceptance of documents submitted by the Palestinians ratifying the court's Rome Statute last Friday. The court is independent but the UN played a key role in its establishment.
In a statement posted on the UN's website, Ban "acting in his capacity as depositary" said he had accepted the documents, adding "the statute will enter into force for the State of Palestine on April 1, 2015".
Palestinian President Mahmoud Abbas signed the documents within 24-hours of the UN Security Council's rejection of a resolution on December 30, that would have set a three-year deadline for the establishment of a Palestinian state in the Occupied Territories.
The United States has opposed the move, calling it an obstacle to reaching a permanent peace agreement.
The Obama administration has said it is reviewing its annual $440 million aid package to the Palestinians because of the decision.
Because the ICC is a criminal court, not a civil court, countries cannot be directly "sued" by other parties in the ICC, but crimes can be examined.
Any Palestinian case against Israel heard by the court would trigger an immediate cut in financial support from the US, bound by American law.
The Court is also unlikely to have jurisdiction over many of the alleged war crimes committed by Israeli forces, because it cannot have jurisdiction over crimes which another national court has investigated throughly and where prosecution is possible domestically.
The ICC is unlikely to attempt to suggest that Israel's court and criminal system, which has a strong and independent judiciary despite regular allegations of bias, is so corrupt that it would not be able to investigate its own soldiers for war crimes.
But Mansour said the Palestinians will also seek justice for Israeli settlements on Palestinian territory - an issue which has never been taken to Israeli courts and may have more chance of success.
The court stressed that accepting the jurisdiction of the ICC "does not automatically trigger an investigation" and ICC Prosecutor Fatou Bensouda must determine whether the criteria under the statute for opening an investigation have been met, it said.