Police are reportedly trailing the two suspects in northern France. Said and Cherif Kouachi, two brothers hunted by police, are said to be in a grey Renault Clio, a car described by witnesses in Paris who saw them hijack a passing car in the 19th district.
SCROLL DOWN FOR LIVE UPDATES
The Guardian reported that the number plate was blacked out and weapons could be seen piled up in the vehicle which was travelling on the RN2 motorway near the town of Villers-Cotteret in northern France, 50 miles from Paris. Differing reports on Twitter describe both a Kalashnikov and a rocket launcher inside the vehicle, but nothing has yet been confirmed by police.
French prime minister Manuel Valls said the possibility of a new attack "is our main concern" and announced seven overnight arrests. "They are still free, they are heavily armed, so we can be afraid of further violence," Valls said in an interview with French broadcaster RTL earlier on Thursday morning. Chief suspects are brothers Said Kouachi and Cherif Kouachi
There were reports overnight that a third suspect had handed himself into police. Hamyd Mourad, 18, apparently surrendered after hearing his name on the news in connection with the attack, a judicial official said, though classmates later said Mourad was at the lycee in Charleville-Mezieres during the attack. Le Monde reported he had not been arrested.
Cherif Kouachi, had a history of funneling jihadi fighters to Iraq and a terrorism conviction from 2008. Kouachi, now 32, was sentenced to 18 months in prison after being convicted of terrorism charges in 2008 for helping funnel fighters to Iraq's insurgency. He and his brother, Said, should be considered "armed and dangerous," French police said in a bulletin early Thursday, appealing for witnesses after a search in the city of Reims, in French Champagne country.
Story continues below slideshow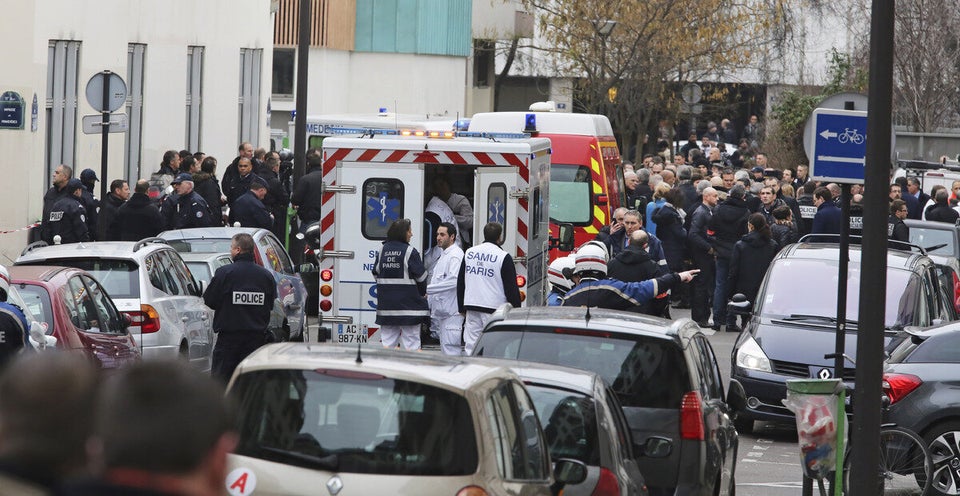 Eight journalists, two police officers, a maintenance worker and a visitor were killed, said prosecutor Francois Molins. He said 11 people were wounded, four of them seriously. Two gunmen strolled out to a black car waiting below, one of them calmly shooting a wounded police officer in the head as he writhed on the ground, according to video and a man who watched in fear from his home across the street. "They knew exactly what they had to do and exactly where to shoot. While one kept watch and checked that the traffic was good for them, the other one delivered the final coup de grace," said the witness, who refused to allow his name to be used because he feared for his safety.