Hackers announced the beginning of World War Three - via the Twitter accounts of a major tabloid and news agency they had managed to take over.
In a series of eerily-realistic tweets, The New York Post and United Press International (UPI) said an American aircraft carrier had been attacked by the Chinese military and the US Navy was "engaged in active combat" with Chinese warships.
One of the tweets was an image of Pope Francis supposedly announcing: "World War Three has begun."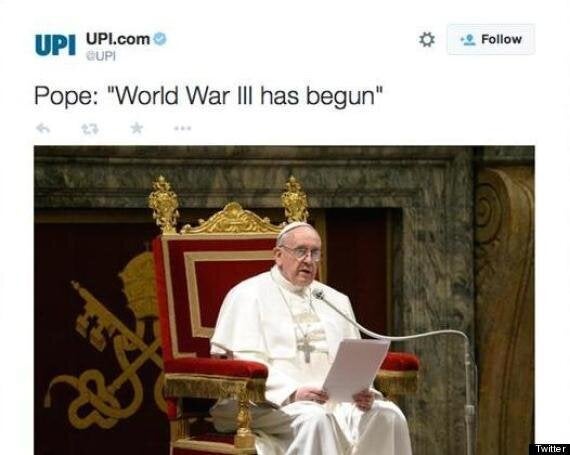 A tweet on the New York Post's business section Twitter feed, which was also hacked, said that Bank of America's CEO was calling for calm after a Federal Reserve decision.
In a statement, UPI, confirmed its Twitter account and website were hacked.
As well as the fake tweets, a "breaking news" banner with a fake story about the Federal Reserve was posted to its homepage until its own technology support team managed to shut down the hackers' access.
A spokeswoman for the Post said the hack was being investigated.
The US Navy confirmed that the USS George Washington was undamaged and in port - contrary to the tweets saying it had been struck by a Chinese missile.
Barack Obama has unveiled proposals to strengthen cyber security after a spate of high-profile hacks, including the Pentagon Twitter feed and Sony Pictures.