UK police are stepping up security for Britain's Jewish community and their own officers amid fears of a repeat of the terrorist attacks in France.
The suspects were believed to have been on the verge of committing a major attack.
The threat of an attack on police officers was raised to the fourth highest of five levels on Friday, according to The Guardian.
The 20 people killed over three days in France included four people who died after being taken hostage at a kosher supermarket.
"The global picture of terrorist activity does give us heightened concern about the risk to the Jewish community in the UK," Mark Rowley, Metropolitan Police assistant commissioner said.
"We are seeing continuing anti-Semitic rhetoric from extremists and attacks on this community in France and elsewhere.
"In addition to our existing security measures, we are in dialogue with Jewish Community leaders about further actions that we will be taking, including more patrols in key areas.
The Daily Mail described the heightened tension as a "beheading alert", reporting that security services fear a "Lee Rigby-style" scenario where terrorists attack someone in a graphic, headline grabbing manner rather carry out an attack that inflicts enormous casualties.
The European Union's law enforcement agency admitted a terrorist attack on the UK cannot be ruled out.
Rob Wainwright, director of Europol, said: "Stopping everything is very difficult, containing the threat fully is very difficult, but I'm sure we will prevail, as we have prevailed against other forms of terrorism in the past."
Asked on Sky News whether he was saying there was no guarantee attacks such as those in Paris could be stopped, he said: "No, there can't be, otherwise what happened in Paris wouldn't have happened. I think there is a realisation across the police and security community in Europe.
"But at the same time we have a very strong determination to maximise our capability to keep our citizens safe."
Mr Rowley added: "We are also considering what further measures we might put in place to enhance the security of police officers, given some of the deliberate targeting of the police we have seen in a number of countries across Europe and the world.
"Chief constables across the country are reviewing how to strengthen the protection of their officers from such attacks.
"Our men and women on the frontline are used to confronting risk and danger and are well-trained in how to protect the public and themselves."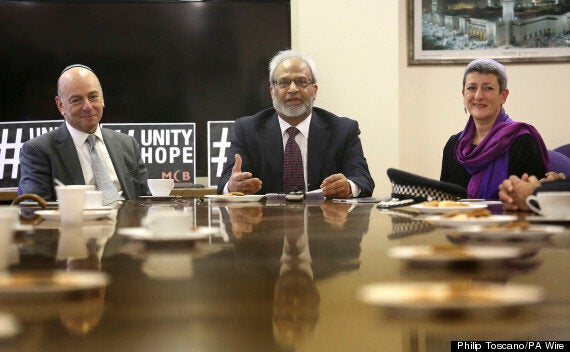 (L to R) Vivian Wineman, the President of the Board of Deputies of British Jews, Dr Shuja Shafi, Secretary General of the Muslim Council of Britain and Rabbi Laura Janner-Klausner from the Movement for Reform Judaism at the interfaith Unity gathering
On Friday, faith leaders condemned the recent terrorist attacks in France at a joint event to show a "united Britain of religions".
Senior Muslim, Jewish and Christian figures held an "interfaith unity gathering" in London in response to the shootings by Islamic extremists, which claimed 17 lives over three days in the French capital - 12 at the offices of Charlie Hebdo, including two police officers, four people at a kosher supermarket, and a third police officer at a petrol station.
Around 20 prominent religious figures met at the Islamic Cultural Centre at Regents Park Mosque, in what organisers described as "an act of solidarity".
Dr Shuja Shafi, secretary-general of the Muslim Council of Britain, said: "Nothing offends us more than the insult, hurt and dishonour this attack has brought on our community and faith."
After the event, Senior Rabbi Laura Janner-Klausner said: "Today was to send a message about Britain - a united Britain of religions. We will not have division here, we will continue to work together and any attempt to divide us will not work."
Rowley's comments about police officer security echo a Huffington Post UK blog published in November last year, warning of the terrorist threat posed to the police who were becoming "increasingly fearful".
Retired officer Chris Hobbs wrote: "Circulating on the police grapevine are alarming accounts which suggest that both police officers and PCSOs have been recently subject to 'hostile reconnaissance' in the vicinity of police stations when off duty travelling to or from work."