Fox News is to be sued by the entire city of Paris. According to the mayor of the French capital, the city is planning to launch legal proceedings against Rupert Murdoch's US news channel for "insulting" its image.
The right-wing station apologised to "the people of France and England" on the weekend for falsely claiming that cities within those countries had "no-go" areas where non-Muslims dare not enter.
The so-called "no-go" areas in Paris included popular tourist spot Place de la Republique, Boulevard de Magenta near major train station Gare de l'Est, along with Belleville and Pere Lachaise.
One segment in the aftermath of the Charlie Hebdo attacks saw Journalist Nolan Peterson compare the apparently Fox-designated areas to war zones in Afghanistan and Iraq.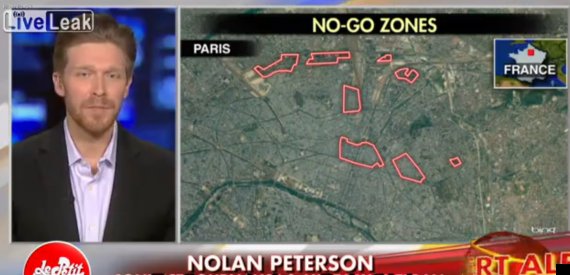 Peterson comments on Paris "no-go zones"
He said: "It was pretty scary. I've been to Afghanistan and Iraq and Kashmir, India, and at times, it felt like that, those places in these no-go zones.
"You see young men wearing Osama bin Laden T-shirts in a hookah shop. I saw a speech by Abu Musab al-Zarqawi, who was leading an insurgency against American troops in Iraq at the time.
"It seemed very mainstream and very accepted."
The segment was then brilliantly lampooned by French show Le Petit Journal.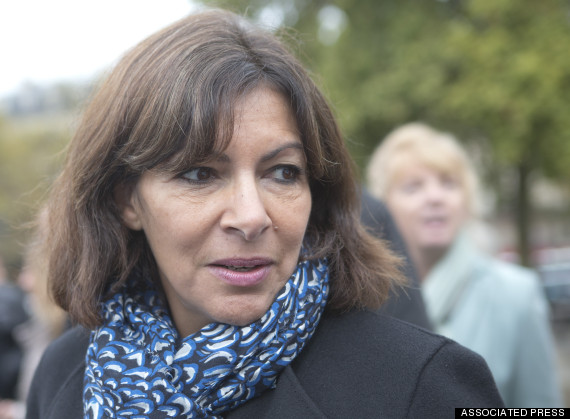 Paris Mayor Anne Hidalgo plans to sue Fox News
Speaking to CNN on Tuesday, Paris Mayor Anne Hidalgo said: "When we're insulted, and when we've had an image, then I think we'll have to sue, I think we'll have to go to court, in order to have these words removed."
"The image of Paris has been prejudiced, and the honor of Paris has been prejudiced. And I think in the great discussion of truth everyone is to play its role. And we're going to have to be realistic and put things as they are."
When pushed on which channel she was referring to, Hidalgo said: "Fox News, that's the name."
On Tuesday, Michael Clemente, EVP of News at Fox News, said: "We empathise with the citizens of France as they go through a healing process and return to everyday life. However, we find the Mayor's comments regarding a lawsuit misplaced."
Earlier on Tuesday, Louisiana Governor Bobby Jindal made the same staggering assertion about "no-go areas" in Britain during an interview on the lawn of the Palace of Westminster.
The likely Republican presidential candidate, who is in currently in London to deliver a speech for a British think-tank, said that some immigrants are seeking "to colonise Western countries, because setting up your own enclave and demanding recognition of a no-go zone is exactly that".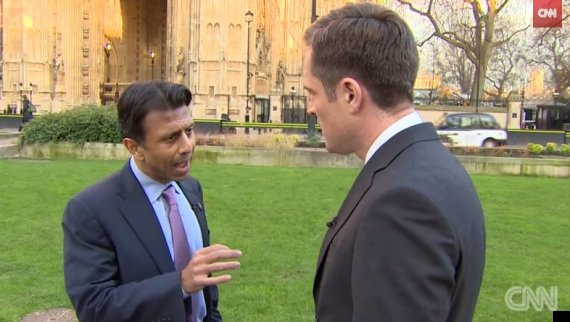 Jindal insisted that Britain has "no-go zones"
Jindal engaged in the following exchange with CNN correspondent Max Foster:
Bobby Jindal: "I've heard it from folks here there are neighbourhoods where women don't feel comfortable going in without veils, that's wrong. We all know there are neighbourhoods where police are less likely to go into those neighbourhoods."

Max Foster: "You need to have proper facts to back that up. I've lived here a long time, I don't know of any no-go zones for non-Muslims."

Jindal: "I did say so-called no-go zones and I think the radical left absolutely wants to pretend like this problem's not here. Pretending it's not here won't make it go away."

Foster: "But exaggerating it into a no-go zone is also going too far."

Jindal: "Look there are people in London who will tell you there are neighbourhoods where women don't feel safe walking through those neighbourhoods without veils. There are neighbourhoods where the police are less likely to go. That's a dangerous thing."

Foster: "To make an assertion like that you need to give me an area where we can look at it because I haven't heard of one."

Jindal: "Oh well look, I think your viewers know absolutely there are places where the police are less likely to go. They absolutely know there are neighbourhoods where they wouldn't feel comfortable they wouldn't feel comfortable with their wives, their daughters, sisters."

Foster: "Well, that's high crime rates, I accept that they feel uncomfortable, it's not because there are too many Muslims there."

Jindal: "Look this is not a question, I know the left wants to make this into an attack on religion and that's not what this is. What we're saying is it's absolutely an issue for the UK, it's absolutely an issue for America and other European and Western nations."
Last week Steve Emerson, an American expert on terror networks, told Fox News that in Britain "there are actual cities like Birmingham that are totally Muslim, where non-Muslims just simple don't go in."
Emerson's comments prompted Prime Minister David Cameron to brand him a "complete idiot".
Emerson later apologised and said his comments "were totally in error." Fox News also issued apologies for broadcasting the comments.
Jindal, however, used similar rhetoric during a speech, warning of "no-go zones" in London and other Western cities.
His remarks come in the wake of the massacre by Islamic extremists at a Paris magazine's offices and subsequent attack on a kosher supermarket in the city. Three gunmen killed 17 people in the attacks.
Democrats said Jindal's comments were a blunder.
"It's no surprise that Bobby Jindal would go abroad and butcher the facts in an effort to divide people; this is exactly what we've come to expect from Jindal here at home," said Democratic National Committee spokeswoman Rebecca Chalif. "Jindal is just embarrassing himself."
Jindal spoke to the Henry Jackson Society, a British think tank named for a former US Democratic senator from Washington state who was a presidential candidate in the 1970s.
SEE ALSO: