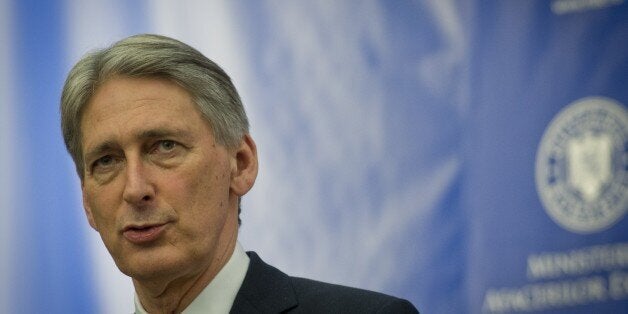 Philip Hammond has been accused of trying to copy Ukip's rhetoric by warning that Britain was "wide open" to "freeloading" European migrants.
"Free movement to work is one of the principles of the EU," the foreign secretary told MPs in the House of Commons on Wednesday. "Free movement to freeload is not one of the principles of the EU and Britain is not the only country that is affected by this problem and not the only country determined to address it."
This marks a massive ratcheting up of rhetoric by Tory ministers against immigration in their bid to curb the European founding principle of free movement, after defence minister Michael Fallon suggested that parts of Britain were "swamped" with foreigners.
In a separate appearance before the Commons European Scrutiny Committee, Hammond went on to warn that Britain was vulnerable to migrants abusing the right of free movement.
He said: "We are wide open to abuse. Now we have tightened up some things already. There are going to be more measures that we can introduce that will make it more difficult for people coming from the EU to abuse our system."
However, Hammond's latest comments on "freeloading' migrants have drawn derision from Ukip, Labour, and the Lib Dems.
Ukip's migration spokesman Steven Woolfe MEP told the Huffington Post UK: "As we head towards the general election, the desperation of the Tories to appear to be 'tough 'on immigration is becoming more and more self-evident. The defence secretary thinks we're being 'swamped' by immigrants, the Prime Minister holds a get tough news conference on the subject then doesn't list immigration as one of his election priorities and now the foreign secretary thinks they're all 'freeloaders'!
"Both of these terms do not enhance the debate on how to develop a fair and ethical migration policy for the UK. Most immigrants coming to Britain want to work and play a decent part in our society. The critical issue is, we must control the numbers of people who want to come here legally and prevent, catch and deport those who get here illegally."
Liberal Democrat MEP Catherine Bearder said:"The Tory party is lurching further and further to the right and nowhere is that clearer than on Europe and migration.
"Of course we need to work to prevent any abuse of the system, but that can be done without resorting to crass and sweeping generalisations. All the evidence shows that benefit tourism is a minute problem and that overall migrants from the EU make a huge net contribution to the public purse."
Meanwhile, Labour's Richard Howitt MEP said: "It is the Foreign Secretary himself who is freeloading on an argument whose terms are set by Ukip, in a language which is divisive in Britain and which can only further damage our reputation in Europe.
"What should be 'wide open' are the eyes of British voters to a Tory Party which is running scared of Ukip and prepared to sell our country short in Europe."