A shocking set of photographs show two dogs with mangled coats dumped on a roadside - unable to see or stand properly.
The harrowing pictures show the dogs lying on the floor on top of each other, looking like a bundle of rags.
Their thick hair is covered in mud and matted so much they were unable to stand properly so were slumped on the ground.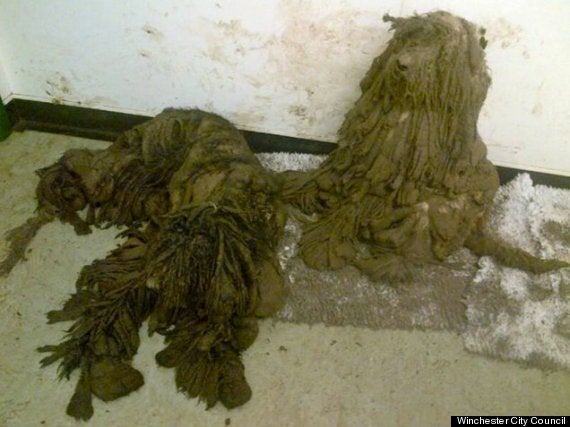 The dogs when they were found by rescuers
The breed is difficult to determine because of their condition, although it is believed they may be Portuguese water-dogs or poodle crossbreeds.
Vets fear they could have been beaten by their owners as they were shaking with fear when handled.
They were found along with seven other dogs - which were in a similar state - abandoned in various parts of Hampshire.
Two were found in Upham, three in Owslebury, three Winchester and one in Alresford.
Their fur was caked in urine, faeces and mud and they were unable to see.
Horrified residents raised the alarm when they discovered the pets in streets and at the side of rural roads where they could barely stand.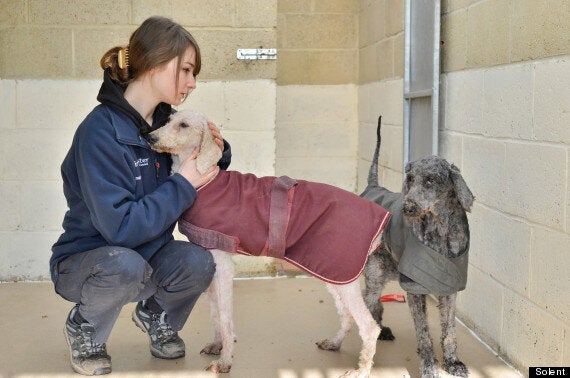 The dogs after being rescued
Today a major investigation is under way involving police, the RSPCA and council chiefs, who are vowing to find those responsible for the callous act.
One dog was taken to Cedar Veterinary Group in Alresford to receive emergency medical care.
Co-director Graeme Lunn said he thinks the dog was held in conditions which meant she was unable to wash herself.
He said: "I have never seen anything like this before, it has to be neglect, there's no need for that dog to get like that.
"If it had the chance it would not have got into that state.
"She has a sweet nature and is bright-eyed but not bushy tailed, more like lumpy tailed."
Assistant veterinary surgeon, Martha Edwards, said the dog, who they originally named Shaun, had to be sedated whilst the fur was cut off.
She said: "She had stones trapped between her pads which had obviously been there for some time.
"It is disgusting. I have never seen a dog in this condition before. It is very distressing."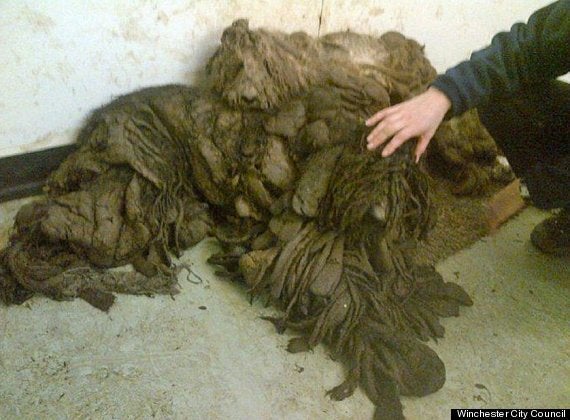 She also said she thinks the dog has been beaten, because 'she shakes every time she is touched'.
Matt Southcott, 50, a construction worker, of Upham, near Winchester, said he was driving to work when he saw two animals stuck in brambles.
He said: "It was quite dark and there were two animals on the side of the road.
"I couldn't tell if they were sheep or dogs. You couldn't see their faces they looked so badly matted and injured.
"I have never seen an animal in that state. I'm just hoping that they will be OK.
"I cannot understand why someone would dump nine dogs. There might have been more."
Michele Emmans, 55, of Owslebury, Hants, said she was taking her son Max, 13, to school when she saw four 'confused and disorientated' animals.
She said: "I think it is just awful and distressing.
"They may have escaped from somewhere. We shouldn't assume they have been dumped.
"I am considering phoning the RSPCA to see if they need any volunteers to help out."
Last night Cllr Jan Warwick, Winchester City Council's portfolio holder for environment, health and well-being, said: "The way in which these dogs have been treated and abandoned is shocking.
"Fortunately instances of this kind are rare but when they do occur we take them very seriously indeed.
"Our first priority is the health and well-being of the animals and they are now receiving appropriate veterinary care.
"This kind of cruelty to animals is unacceptable and we will do all we can, working with our partners in the RSPCA and the police, to find those responsible.
"We are keen for members of the public to let us know if they saw or heard anything that might help us track them down."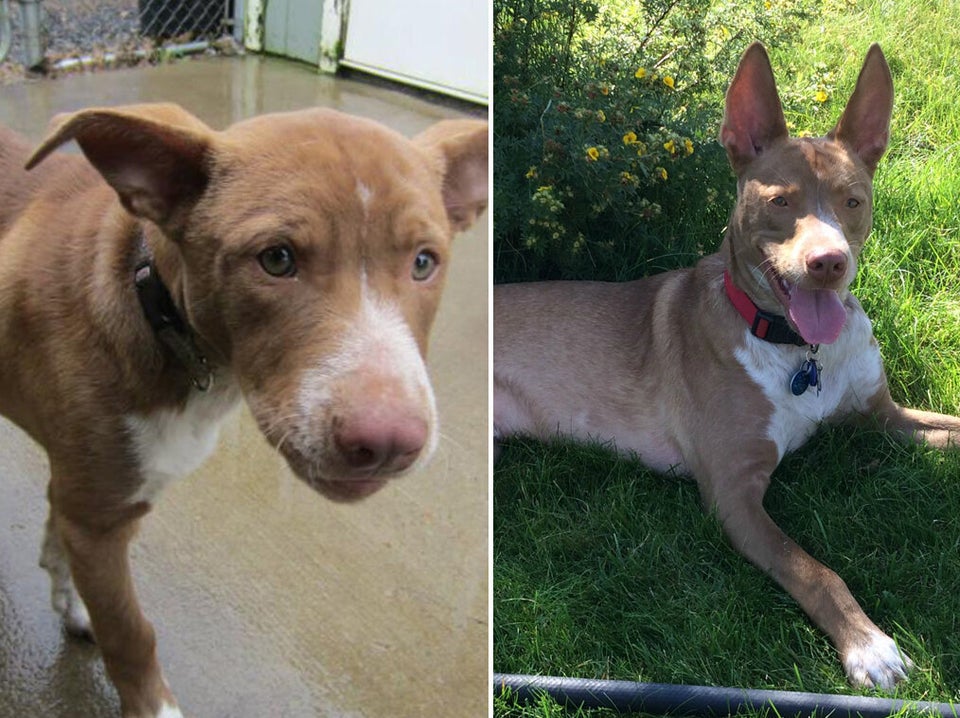 Dogs Before And After Adoption
The police, RSPCA and Winchester City Council are now part of a joint investigation to track down those responsible.
An RSPCA spokeswoman said: "An RSPCA inspector was called today (January 21) to assist the local authority dog warden after nine dogs were picked up around Winchester.
"The dogs we have seen appear to be Poodle-type dogs and were found dumped, in a very poor state and covered with mud.
"We will continue to provide assistance to the local authority to find out why these poor dogs were left and how they came to be in this state.
"We would ask anyone with any information about these dogs to call our inspectorate line on 0300 123 8018."
Winchester City Council is asking for the public's help to track down those responsible for abandoning nine dogs in the district.
All of the dogs have been taken to kennels and are receiving veterinary care.
Winchester City Council is currently working with the RSPCA and the police.
The dogs currently remain in the care of the dog warden as no owner has come forward they are classed as stray dogs. The RSPCA is assisting due to welfare concerns.