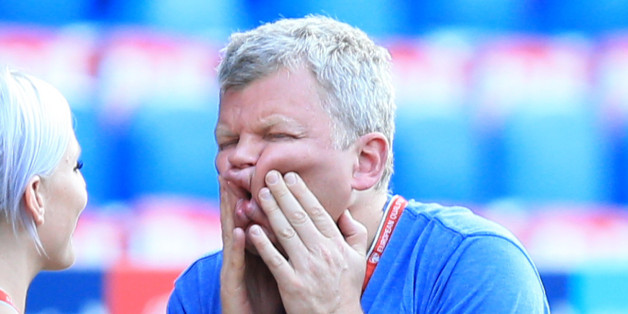 Mike Egerton/PA Wire
Adrian Chiles has been removed from ITV's football coverage with immediate effect.
He will be replaced by sports journalist Mark Pougatch, starting with Chelsea's Paris Saint-GermainChampions League fixture next month.
ITV refused to comment on the reason for Chiles' departure, but many are assuming it's the result of fan campaigns and public response.
Needless to say, anyone who has ever watched football was overjoyed:
BREAKING: ITV confirm Adrian Chiles has been sacked. pic.twitter.com/PhQj3UW43n

— BBC Sporf (@BBCSporf) January 23, 2015
Adrian Chiles sacked by ITV pic.twitter.com/lNa4OMkpap

— Tom Heron (@TomHeron_) January 23, 2015
When you find out that Adrian Chiles has been sacked pic.twitter.com/vRBsNVZJx0

— Nathan Knight (@nathanknight) January 23, 2015
NO MORE ADRIAN CHILES, BEST FRIDAY EVER

— Levi. (@LeviSzucs) January 23, 2015
Adrian chiles has left ITV! There is a god!

— Chris Stirrup (@chris_stirrup) January 23, 2015
Finally Adrian Chiles has got the boot. I can now take the bubble wrap off the tv for when I chuck my shoes at the potato headed tosser.

— Tommy (@TomLikesACrisp) January 23, 2015
People are already thinking about what will be his next career move:
Adrian Chiles sacked as ITV's football presenter. Small rumours going about that he wants to pursue a career in music pic.twitter.com/rvPSrq2IJp

— A.McLean Bookmakers (@amcleanbookies) January 23, 2015
Adrian Chiles dropped by ITV for the football but you'll still be able to catch him on those survival shows though pic.twitter.com/0NambjNWrg

— William Hill Betting (@WillHillBet) January 23, 2015
But mostly, everyone was relieved to finally be getting an improved commentary.
#AdrianChiles presented like he'd been watching puppies drown for 90mins. Hoping for less monotonous @itvfootball coverage from now on?

— Kathryn Beeson (@k_beeson) January 23, 2015
Adrian Chiles has been replaced as the host of ITV Football with immediate effect. Here's a video of his best bits. pic.twitter.com/1KzYMqXpAj

— David Wriglesworth (@Wriggy) January 23, 2015
IN DEPTH:

Adrian Chiles Dropped From ITV Football Presenting Team Line-Up, Mark Pougatch Takes Over
LIKE US ON FACEBOOK | FOLLOW US ON TWITTER