Severe weather warnings have been issued as forecasters predict heavy snow will fall in large parts of the UK in the coming days.
The Met Office has issued a yellow warning - which means be aware - and called on the public to prepare for disruption to travel.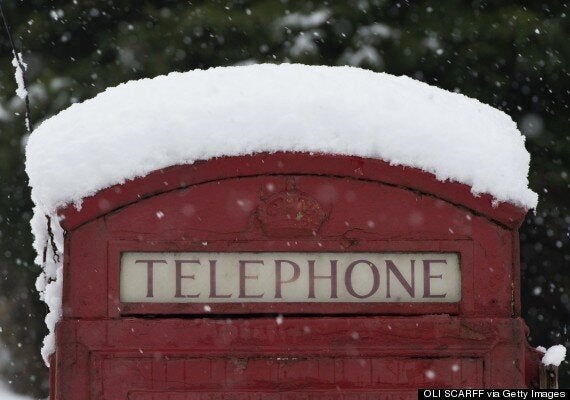 Snow accumulates atop a red telephone box near the village of Marsden, northern England
Forecasters expect 2-5cm of snow to accumulate locally at low levels while higher ground above 150 metres could see in excess of 10cm.
Visibility could be significantly reduced at times with strong and gusty winds likely to accompany snow showers.
A statement by the Met Office's chief forecaster read: "An active cold front is expected to push south-east across the UK during Wednesday introducing an increasingly cold and unstable air mass.
"Showers will become frequent and heavy, increasingly falling as snow in the north and west, and driven well inland by strong to gale force north-westerly winds. Accumulating snow is likely, especially overnight."
Paul Knightley, UK forecast manager at weather services company MeteoGroup, said a strong wind will bring colder air.
He went on: "Accompanying this fresh to strong wind will be numerous wintry showers, falling as hail, sleet and snow.
"Although these are possible almost anywhere from Wednesday afternoon onwards, the higher ground of western and northern Britain and Northern Ireland is most likely to see significant snowfall.
"With northerly winds developing, North Sea coasts of Scotland and north-east England will be prone to snow showers. It looks like the cold weather will continue into the weekend and probably through to the start of the following week as well."