The poisoning of former Russian intelligence agent Alexander Litvinenko in London was an "act of nuclear terrorism on the streets of a major city", a public inquiry into his death has heard.
Ben Emmerson, who is representing Mr Litvinenko's widow Marina Litvinenko, told the inquiry her husband's death was a "political assassination" and an "act of unspeakable barbarism that inflicted the most painful and lingering death imaginable".
Mr Litvinenko, known as Sasha, died in 2006 after drinking tea laced with polonium.
He had fled Russia, seeking political asylum in the UK and became a staunch critic of the Kremlin.
He was "trying to expose the corruption among the cabal surrounding Vladimir Putin" at the time of his death, the inquiry heard.
Russia refused to extradite Andrei Lugovoi, who is suspected murdering Mr Litvinenko alongside Dmitri Kovtun.
In a thundering start to his opening statement on the inquiry's first day, Mr Emmerson said: "Mrs Litvinenko, has fought long and hard over many years to reach this day. The opening of a public inquiry into the political assassination of her husband in London.
"That murder was an act of unspeakable barbarism that inflicted on Sasha Litvinenko the most painful and lingering death imaginable.
"It was an act of nuclear terrorism on the streets of a major city which put the lives of numerous other members of the public at risk."
Mr Emmerson went on to accuse "agents of a foreign government" of murdering Mr Litvinenko, adding the inquiry would "expose unlawfulness and criminality at the very heart of the Russian state".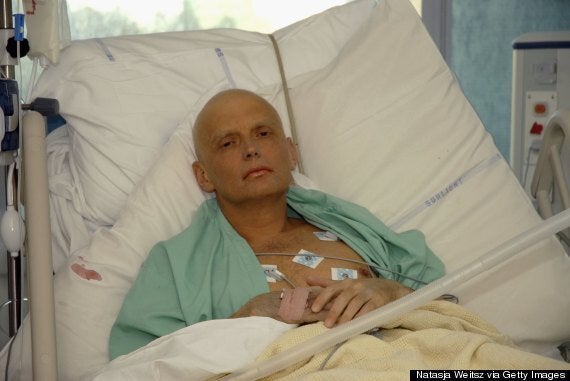 Alexander 'Sasha' Litvinenko on his deathbed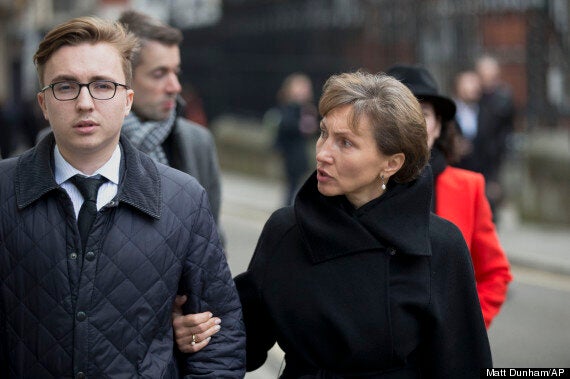 Marina Litvinenko, Alexander Litvinenko's widow, and their son Anatoly outside the Royal Courts of Justice
"The significance of this dreadful murder, though, resonates far beyond those immediately involved," he said.
"It is a matter of grave national and international concern. That is because it involved the calculated pre-planned murder of a British subject on the streets of our capital city by agents of a foreign government, involving the use of the radioactive isotope polonium-210.
"Mrs Litvinenko has always said – in public and in private – that her search is for the truth. That she is doing no more than any widow would do to find out who killed her husband and why.
"But the significance of her search involves a much broader national and international public interest in exposing unlawfulness and criminality at the very heart of the Russian state.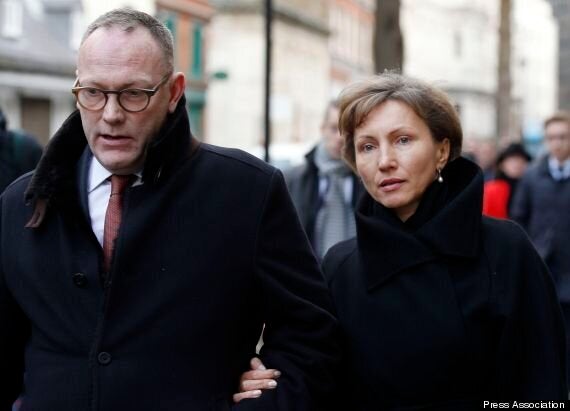 Ben Emmerson with Marina Litvinenko outside the inquiry
"The intimate relationships that will be proved to exist between the Kremlin and Russian organised crime syndicates around the world, are so close as to make the two effectively indistinguishable.
"The startling truth, which is going to be revealed in public by the evidence in this inquiry, is that a significant part of Russian organised crime is organised directly from the offices of the Kremlin. Vladimir Putin's Russia is a mafia state."
In 1998, Mr Litvinenko publicly claimed the Russian intelligence service - the FSB - had plotted to murder Russian billionaire Boris Berezovsky.
After arriving in Britain, Mr Litvinenko continued to campaign against FSB corruption and Mr Putin's regime.
Ben Emmerson addressing the inquiry
Mr Emmerson said his book Blowing Up Russia exposed an FSB plot to blow up Russian buildings to trigger a second Chechen war.
Mr Emmerson said that other theories about the killing were "unfounded and absurd for which there is no evidence" and claimed they would "very easily" be dismissed.
He added that there was not the "slightest doubt" about the identity of those who carried out Mr Litvinenko's murder.
"Mr Litvinenko was murdered by Andrei Lugovoi and Dmitri Kovtun," he said.