There's exactly 100 days to go until the general election. So be prepared - at least for Nigel Farage and his chums - with our easy-to-use Ukip soundbite generator!
SEE ALSO: The Best Of Twitter's #UkipFilmTitles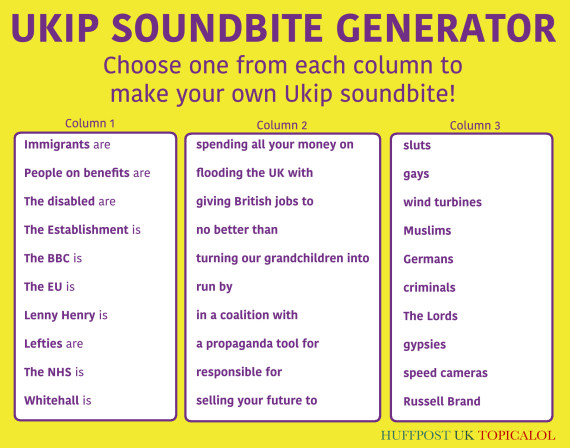 (Made for HuffPost UK Comedy by Jason Spacey, David Schneider and David Beresford)
And it you do accidentally use this in public, here's a few ready-made excuses for you...
Never mind what I say, look at this pint of beer in my hand! #UkipExcuses

— Scott Daly (@cyclingdaly) January 29, 2015
We are representing your inner bigot. We know you, better than you.

January 29, 2015
I'm sorry. You mean that's actually your name? #ukipexcuses.

— Frank Roberts (@sonofspeke) January 29, 2015
I can't be racist because I had Black pudding with my breakfast. #UkipExcuses

— David McKendrick (@McKendrickDave) January 29, 2015
#UkipExcuses I am not racist... I sometimes eat pizza.

— Karen (@Karenippy) January 29, 2015
#UkipExcuses I really really didn't mean to say that. My mouth was hacked.

— Exposing UKIP IMP (@SLATUKIP) January 29, 2015
You all found it funny when Benny Hill did it !! #UkipExcuses

— Daniel Walford (@BookmanDan) January 29, 2015
I can't be racist 'cos I once applauded a Gary Sobers century at Lords. #UKIPexcuses

— Peter Smith (@Redpeter99) January 29, 2015
#UkipExcuses "We can't write our manifesto, because Nigel hasn't finished with that fag packet yet."

— Flumpmistress (@flumpmistress) January 29, 2015