A woman who avoided nights out with friends and became increasingly lonely due to being overweight has lost six stone.
For years, Zoe Jones felt frumpy when standing next to her friends. But, after ditching her unhealthy diet of biscuits and chocolate in favour of a healthy eating plan and exercise, Zoe has now managed to drop four dress sizes - going from a size 18 to a 10.
The 27-year-old is now going out more, spending time with her friends and is "loving it". She's also been named as Slimming World's 'Miss Slinky 2015'.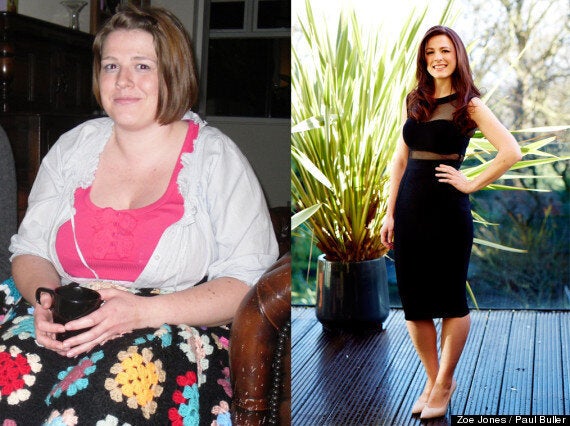 "I used to come up with every excuse in the book not to join my friends on nights out because, while I loved spending time with them, I hated how I looked and felt," said Jones, who is from Pontypridd in Wales.
"Now I love dressing up and the girls know they can rely on me to be first on the dance floor. I finally feel like a normal 27-year-old and I'm loving it, in fact I joke I'm reliving my teenage years."
Throughout her school years, Jones had always been a little bit bigger than her friends. But she really began to pile on the pounds during her time at Cardiff University, to the point where she hit 15st 7½lbs.
"When I moved out of my mum and dad's house into my own place, I found cooking for one tricky and would usually end up eating something made from a ready-made sauce that was enough for at least two people," she said.
"Then boredom would set in and I'd spend my evenings lounging in front of the TV grazing on crisps and sweets. I was stuck in a rut."
However in July 2013, after confiding in her father about how unhappy her size made her, Jones became determined to make a change.
"My poor mum and dad bore the brunt of my bad moods. I was really insecure about my appearance, I'd get upset easily and my confidence was at an all-time low," she said.
"Talking to my dad that day made me realise that the only thing standing in my way when it came to doing something about my weight was me."
After her father-daughter pep talk, Jones joined her local Slimming World group in Mid Glamorgan.
"I'd been to several Slimming World groups in the past and lost around a stone each time, but I never made a long-term commitment to it. This time was different."
As part of her weight-loss plan, Jones began to follow the club's Food Optimising healthy eating plan which encourages members to replace dinners made from jarred sauces with home-cooked meals made from scratch including chilli con carne and Thai curries.