A woman who avoided nights out with friends and became increasingly lonely due to being overweight has lost six stone.
For years, Zoe Jones felt frumpy when standing next to her friends. But, after ditching her unhealthy diet of biscuits and chocolate in favour of a healthy eating plan and exercise, Zoe has now managed to drop four dress sizes - going from a size 18 to a 10.
The 27-year-old is now going out more, spending time with her friends and is "loving it". She's also been named as Slimming World's 'Miss Slinky 2015'.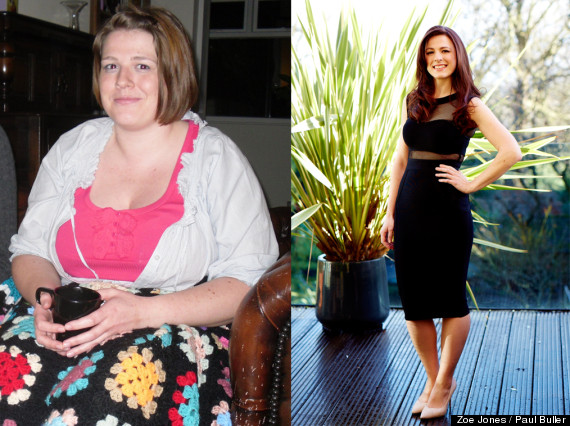 "I used to come up with every excuse in the book not to join my friends on nights out because, while I loved spending time with them, I hated how I looked and felt," said Jones, who is from Pontypridd in Wales.
"Now I love dressing up and the girls know they can rely on me to be first on the dance floor. I finally feel like a normal 27-year-old and I'm loving it, in fact I joke I'm reliving my teenage years."
Throughout her school years, Jones had always been a little bit bigger than her friends. But she really began to pile on the pounds during her time at Cardiff University, to the point where she hit 15st 7½lbs.
"When I moved out of my mum and dad's house into my own place, I found cooking for one tricky and would usually end up eating something made from a ready-made sauce that was enough for at least two people," she said.
"Then boredom would set in and I'd spend my evenings lounging in front of the TV grazing on crisps and sweets. I was stuck in a rut."
SEE ALSO:

Greggs Worker Swaps Sausage Rolls And Doughnuts For A Healthy Diet And Drop 10 Dress Sizes

Devoted Mum Drops Eight Stone Because Her Son Couldn't Hug Her
However in July 2013, after confiding in her father about how unhappy her size made her, Jones became determined to make a change.
"My poor mum and dad bore the brunt of my bad moods. I was really insecure about my appearance, I'd get upset easily and my confidence was at an all-time low," she said.
"Talking to my dad that day made me realise that the only thing standing in my way when it came to doing something about my weight was me."
After her father-daughter pep talk, Jones joined her local Slimming World group in Mid Glamorgan.
"I'd been to several Slimming World groups in the past and lost around a stone each time, but I never made a long-term commitment to it. This time was different."
As part of her weight-loss plan, Jones began to follow the club's Food Optimising healthy eating plan which encourages members to replace dinners made from jarred sauces with home-cooked meals made from scratch including chilli con carne and Thai curries.
Story continues below...
Jones added: "I've always liked cooking but I used to make cakes and biscuits, nowadays I enjoy experimenting with savoury recipes and I love that you can always find a healthy alternative for whatever you fancy.
"I cook for my friends and family a lot – they always ask for the recipes afterwards."
But she added that despite the new healthy eating regime, there's still always time for a little bit of what you fancy.
"I think it's been important for me that I can still have treats too, whether it's a glass of wine with the girls or some chocolate at Christmas, so I never feel like I can't live my life or like I'm missing out."
Meals Before Her Weight Loss

Breakfast: nothing

Mid-morning: chocolate bar or biscuits

Lunch: shop-bought sandwich with mayonnaise, packet of crisps and chocolate bar or chocolate muffin

Mid-afternoon: biscuits or whatever treats were brought into the office, such as cakes from the local bakery

Dinner: ready meal of some kind with bread and butter, following by a dessert such as ice cream with sauce and toppings

Evening: crisps, chocolate, biscuits

Meals During / After Her Weight Loss

Breakfast: 35g porridge oats with fat-free natural yogurt or a flavoured Mullerlight yogurt topped with fresh fruit (strawberries, blueberries, banana, pear etc.)

Mid-morning: piece of fruit (pear or apple etc.)

Lunch: Crustless quiche made with eggs and plenty of vegetables and herbs, or jacket potato topped with beans

Mid-afternoon: fat-free yogurt, or Slimming World high-fibre cereal bar

Dinner: homemade chilli con carne, Slimming World-style chips (baked in the oven with low calorie cooking spray) and mixed salad. Followed with sugar-free strawberry jelly, topped with a little fat-free natural yogurt.

Evening: small chocolate bar such as a Cadbury's Freddo and a small glass of wine, if out with the girls.
In addition to a change in diet, Jones started running and attending pilates classes.
"Before I lost weight it never occurred to me to do any real sort of activity, to be honest even the gentlest of exercise would probably have been a struggle. I feel like a different person now.
"I have bucket loads more energy and I love putting on my fluorescents and going for a run of an evening. Me and my best friend Emma completed the Cardiff half marathon in October – I couldn't stop smiling after I crossed the finish line."
LIKE HUFFPOST UK LIFESTYLE ON FACEBOOK | FOLLOW US ON TWITTER | WE'RE ALSO ON INSTAGRAM
Now, the super slimmer has been crowned Miss Slinky 2015, an award for the female slimmer who's had the most inspirational transformation, both inside and out.
"If someone had told me a year ago that I'd be where I am today I'd have thought they were mad. I still can't believe it when I go shopping and gorgeous crop tops, skinny jeans and slinky dresses fit me.
"The Christmas before I joined Slimming World I wrote down some dream goals, like New Year's resolutions, one of which was to fit into a size 10. It's amazing to think this January I've achieved that."
"I used to feel invisible and want to hide away but not anymore, after winning this award I want to show people that if I can do it they can too," she added.
"I'm so proud of myself and best of all my family and friends are proud of me too."