American weekly news magazine Newsweek has sparked fury online with a provocative cover illustrating its exposé of sexism in Silicon Valley.
The magazine's "What Silicon Valley Thinks Of Women" piece was a report of the "sordid, shocking and systemic" sexism in the San Fransico tech hub that is home to Apple, Google and Netflix.
But its attention-grabbing cover illustration provoked a firestorm by showing a computer cursor lifting up the skirt of a woman in a red dress in a cheeky manner.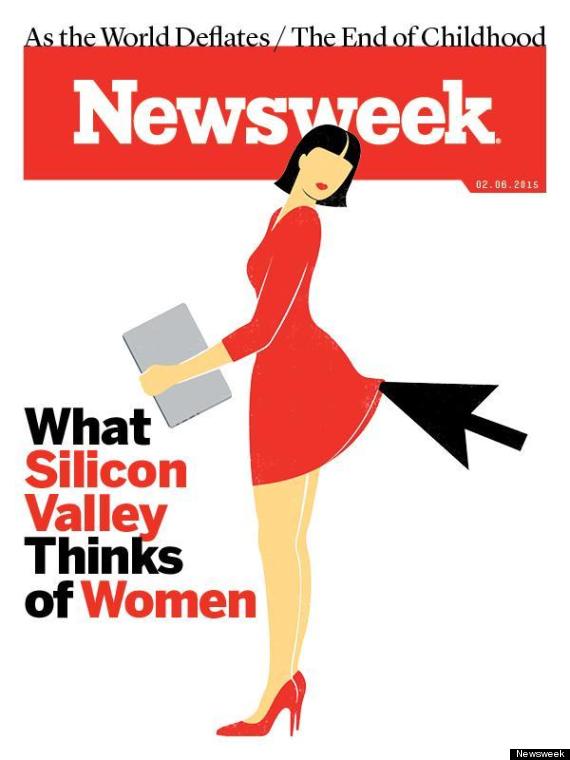 The cover of next week's Newsweek, which is also available in the UK
Critics branded it "clickbait designed to piss off women" and said that it was offensive to use a seemingly light-hearted image of a woman being harassed, given the serious topic the front page article is investigating.
@Newsweek your cover does not help

— Jozsef Czapovics (@czapinho) January 28, 2015
@Newsweek I would call that cover, obscene, sexist & disgusting. Why I stopped reading you MANY years ago.

— Ann (@Evilpa) January 28, 2015
Go home @Newsweek you're drunk/desperate/inappropriate/offensive RT @jimpoco: This week's cover. pic.twitter.com/KEq5hAZal5

— megan quinn (@msquinn) January 28, 2015
@Newsweek What an ignorant graphic. Shame on you. #2015 no progress

— Margery (@margery) January 28, 2015
A great cover sells a story. It doesn't undercut its credibility. @KiraBind @ReaganGomez @sarahkendzior

— Goldie Taylor (@goldietaylor) January 28, 2015
That @newsweek cover, @jimpoco? Clickbait, designed to piss off women while pretending to investigate sexism in tech. Fail--but you know it.

— Jennifer L. Pozner (@jennpozner) January 28, 2015
It's like a sexy wink of a cover, which is fucking offensive given the real problem of misogyny in tech.

— Jessica Valenti (@JessicaValenti) January 28, 2015
@Newsweek Tomorrows cover is offensive to women and funny to those doing the discriminating. pic.twitter.com/RK7Aus5ooR What was the point?

— Julia Towne (@JuliaTowne) January 29, 2015
READ MORE:

It's Very Hard To Get Breasts Into Advertising - Even For Cancer
One also attacked the article itself for not quoting many women:
tacky art aside in 5k+ words that Newsweek cover story on women in tech directly quotes 4 ppl total, 2 of whom are men. that's not reporting

— kelsey ᕕ( ᐛ )ᕗ (@kelseyinnis) January 28, 2015
Newsweek's editor Jim Impoco hasn't responded directly to the criticism but retweeted an animation created by one commenter - who disapproved of the image - which shows the illustrated women kicking the cursor away and smiling.
January 28, 2015
The Newsweek report tells the story of two budding entrepreneurs who try to get funding for their startup but don't get very far. The article speculates that this was because they "There is... one thing these two founders are missing. They don't have penises."
"Silicon Valley has never produced a female Gates, Zuckerberg or Kalanick," it says, and then goes on to detail the "savagely misogynistic" culture.
Author Nina Burleigh writes: "Google 'Silicon Valley' and 'frat boy culture' and you'll find dozens of pages of articles and links to mainstream news articles, blogs, screeds, letters, videos and tweets about threats of violence, sexist jokes and casual misogyny, plus reports of gender-based hiring and firing, major-league sexual harassment lawsuits and a financing system that rewards young men and shortchanges women."
Newsweek is calling for a "revolution" to overcome this.
Others on Twitter supported the cover and felt that the anger it sparked was misplaced. Some said using the image was "smart" and pointed out the 5,000 word article it promoted was trying to tackle a serious and important issue.
This week's Newsweek cover is controversial, just like it should be for this kind of story. https://t.co/wQkNHxQ5rL

— Bartosz Myszkowski (@bmyszko) January 29, 2015
If Newsweek wouldn't have chosen this provocative cover, no one would read or talk about the story.

— Lisa Oberndorfer (@Oberndorfer) January 29, 2015
@stevekovach If the piece focuses on sexism and misogyny, it's pretty on point.

— Matt Brian (@m4tt) January 28, 2015