Syrian president Basher al-Assad has denied his military uses devastating "barrel bombs" against civilians, a claim that has stunned and angered observers of its bloody civil war that is entering its fifth year.
In a rare interview with Western media, where BBC Middle East editor Jeremy Bowen was permitted to ask any question he wanted, Assad denied his military uses the devastating, improvised ordnance, even joking: "I haven't heard of the army using barrels, or maybe, cooking pots."
He even branded the claim "childish" when Bowen put it to him that respected research organisation Human Rights Watch (HRW) recently noted the Syrian military used the weapons, which are crudely-packed explosives and projectiles in barrels and are dropped from helicopters or planes.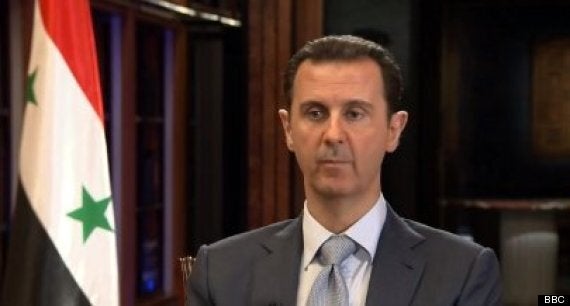 Assad made light of claims his military kills civilians indiscriminately with barrel bombs
Undeterred, Bowen told the Syrian president "it does happen" as he grilled him on the subject.
In a blog published afterwards, Bowen called Assad's remarks "a flippant response", saying his mention of cooking pots was "either callousness, an awkward attempt at humour, or a sign that Mr Assad has become so disconnected from what is happening that he feels overwhelmed".
During the 26-minute interview, Bowen asked about "the constant fear" of barrel bombs among Syrians.
Bowen: What about barrel bombs, you don't deny that your forces use them?

Assad: I know about the army, they use bullets, missiles, and bombs. I haven't heard of the army using barrels, or maybe, cooking pots.

Bowen: Large barrels full of explosives and projectiles which are dropped from helicopters and explode with devastating effect. There's been a lot of testimony about these things.

Assad: They're called bombs. We have bombs, missiles and bullets.

Bowen: So you wouldn't deny that included under the category of 'bombs' are these 'barrel bombs', which are indiscriminate weapons.

Assad: No, there's no indiscriminate weapons. When you shoot, you aim and when you aim, you aim at terrorists in order to protect civilians. If you're talking about casualty, that's war, you can't have war without casualty.
Eliot Higgins, the British citizen journalist who used videos and data to show what Assad has just denied, tweeted:
The Huffington Post's Middle East correspondent Sophia Jones tweeted:
In February last year, the UN passed a resolution calling for all parties to stop using the bombs in populated areas.
"Month after month, the Security Council has sat idly by as the government defied its demands with new barrel bomb attacks on Syrian civilians," said Sarah Leah Whitson, HRW's Middle East and North Africa director, said at the time.
Andrew Stroehlein, HRW's European media director, accused Assad of lying.
Nadim Houry, deputy director of HRW's Middle East And North Africa division, told Huffington Post UK: "The issue is not whether Assad is lying when he denies use of barrel bombs. He obviously is.
"Even the Russians have repeatedly acknowledged his barrel bomb use and their indiscriminate nature. The real outrage is the fact that the international community has done so little to stop them."
On Twitter, journalists and experts reacted to the significance of the interview and whether Assad was "delusional" or lying.
Bowen wrote the decision to grant an interview could reflect Assad's growing feeling of security. The rise of Islamic State, also known as ISIS or ISIL, has complicated the West's opposition to the Syrian regime. The US-led coalition against IS has bombed targets in Syria held by the Islamist militants.
In the interview, Assad said the coalition - which includes Britain - would pass on "information" about its actions through third parties.
He said: "Sometimes they convey a message, a general message, but there's nothing tactical. There is no dialogue. There's, let's say, information, but not dialogue."
Assad said there was "no will" in his government for them to become an ally of the coalition in the fight against IS and other extremists in Syria. "They [the US] easily trample over international law, which is about our sovereignty now, so they don't talk to us, we don't talk to them," he said.
Syria's Civil War, which began in March 2011, will have outlasted the First World War if the carnage continues until June this year.
Bowen said he was allowed to ask questions on any subject.
Bowen, who has been BBC Middle East Editor since 2005, was praised for his tough line of questioning and being able to secure an interview with Assad.
Popular in the Community