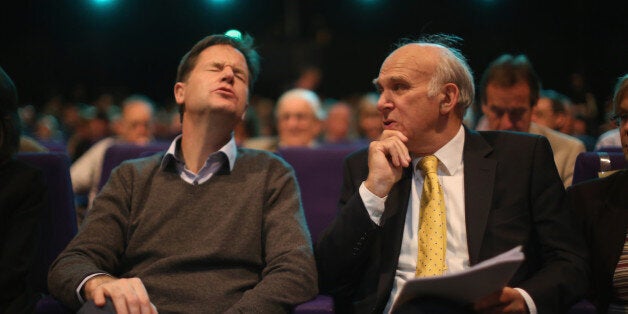 Vince Cable has expressed regret over how deeply ministers cut into budgets for infrastructure projects, which he said did "huge damage" to levels of business investment.
The Lib Dem business secretary made this provocative admission as he appeared at the British Chambers of Commerce conference in London on Tuesday afternoon.
Vince Cable lamenting decline of government capital spend and need for investment as way to get economy moving and building #BCCConf

— Sara Williams (@entdev) February 10, 2015
Cable's remarks come as his party leader Nick Clegg lambasted the Tories' planned fierce cuts.
"Despite claiming they will 'stick to the plan', [the Tories] are actually proposing to veer away sharply from it," he warned.
"They propose huge cuts to public spending, far beyond what is needed to balance the books, not because they are necessary but because they see an ideological opportunity to shrink the state."
Clegg also signalled his distaste for how much Labour would plan to borrow in government, adding: "The last thing Britain needs is the shock of a lurch to the left or right. Only the Liberal Democrats can keep the government in the centre ground and ensure we secure our economic recovery, finishing the job but finishing it fairly."
The Liberal Democrat leader set out an ambition for one million more women to enter the workforce by the end of the next parliament.
He said: "There are more opportunities for women than we have ever had in Britain before. We have started to crack the glass ceiling, but we are still a long way from smashing it.
"In Britain today, too many women find their talents are wasted. Too many women still face a heart-breaking choice between pursuing their career and caring for their family.
"And too many businesses let the status quo persist year after year. Breaking the glass ceiling is as much a challenge for politics as it is for business.
"There are too few women in parliament and at the highest rungs of government. And no party is exempt. My own parliamentary party is too male and too pale. We can and must do more to make sure our party and our politics is more representative of the people we serve."
This comes after the Tories' election message was rained on by the British Chambers of Commerce chief John Longworth, who mocked the party's flagship election slogan of a "long-term economic plan".
Longworth, the BCC's director general, told the Financial TImes: "Do you know what it is? No? Exactly. Neither do I. They have done a lot of things, the current government, which have been pro-enterprise but we don't really know what the plan is for the next parliament.".
Longworth's verdict will be particularly embarrassing as senior ministers - including Cameron and George Osborne, have given the well-worn phrase "long-term economic plan" major prominence in the Tories' election campaign.
Popular in the Community