In the aftermath of another sickening attack on Europe's Jews, Israel's Prime Minister Benjamin Netanyahu has yet again urged Jewish Europeans to consider emigrating.
Danish police shot and killed a man early on Sunday suspected of carrying out shooting attacks at a free speech event and then at a Copenhagen synagogue, killing a Danish documentary filmmaker and then later a member of the Scandinavian country's Jewish community, who had been helping manage security at a young girl's bat mitzvah. Five police officers were also wounded in the attacks.
"Again, Jews were murdered on European soil just because they were Jews," Netanyahu said in a statement to his cabinet, which met today to approve a £30m spend to encourage Jewish immigration from Ukraine, France and northern Europe.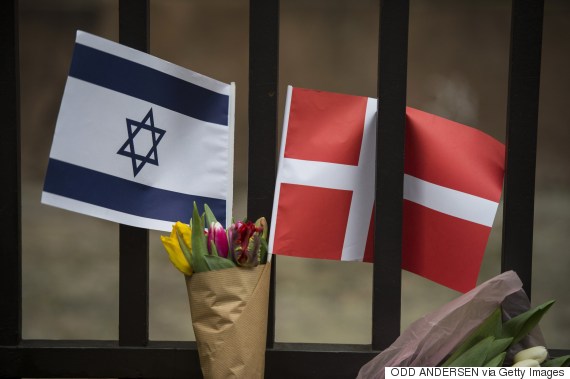 A Danish and an Israeli flag are seen among flowers and candles honouring the shooting victims outside the main Synagogue in Copenhagen
"This wave of attacks is expected to continue, as well as murderous anti-Semitic attacks. Jews deserve security in every country, but we say to our Jewish brothers and sisters, Israel is your home," he added.
The comments were rebuffed by Denmark's chief rabbi Jair Melchior, himself a former Israeli politician, who said he was "disappointed" by the Israeli leader's response.
"I don't like when this is the automatic reaction from Israeli politicians," he told Haaretz. "I think it is not an appropriate reaction. We have a prime minister who says Israel is about to come under an attack of terrible dimensions, and at the same time says that everyone should run away from there to come here.
"I don't even want to go into this way of thinking. I think that the answer to terror is to fight it wherever it is."
Netanyahu has been criticised for such remarks in the aftermath of terror attacks on Jews in Europe, and the repetition of comments drew a mixed reaction on social media.
Can politicians stop telling us we should be moving to Israel? I'd be no safer on buses/in shuls there than I am in the UK, less so perhaps.

— Jay Stoll (@jaystoll) February 15, 2015
Disturbing and disappointing that @israeliPM's reaction to terrorism in Copenhagen is to call for all Jews to emigrate to Israel.

— Sean (@Sea_Bunker) February 15, 2015
As a Jew in Europe, not sure how Bibi's suggestion I just move to Israel helps me. Surely the goal shd be for Jews to be safe everywhere.

— Matthew Campbell (@MattCampbel) February 15, 2015
Netanyahu to Denmark: Europe's Jews should move to Israel.

I'd take serious offense if I were a Danish citizen.

— ian bremmer (@ianbremmer) February 15, 2015
Netanyahu's answer to terror attacks against Jews in Europe is mass exodus to Israel? Terrible leadership.

February 15, 2015
Melchior identified the Jewish victim as Dan Uzan, 37, a longtime security guard for the 7,000-strong community. He was guarding a building behind the synagogue during a bat mitzvah when he was shot in the head.
"He was a person who was always willing to help. An amazing, amazing guy," Melchior said.
Two police officers who were there were slightly wounded.
---------------
Leaders across Europe and the world have expressed deep shock at the similarities between the terror attack in Copenhagen, and those in France earlier this year, where free speech campaigners, as well as the Jewish community, were the targets.
Islamic radicals carried out a massacre at the Charlie Hebdo newsroom in Paris last month, followed by an attack on Jews at a kosher grocery store, taking the lives of 17 victims in total.
French Foreign Minister Laurent Fabius said on Europe-1 radio he was struck by how closely the bloody sequence of events in Copenhagen tracked the Januart 7-9 attacks in Paris.
"First, an attack against the symbol of freedom of expression. Next an attack against the Jews, and then the clash with police," he said.
Jens Madsen, head of the Danish intelligence agency PET, said investigators believe the gunman was inspired by Islamic radicalism and had been on the agency's "radar".
"PET is working on a theory that the perpetrator could have been inspired by the events in Paris. He could also have been inspired by material sent out by (the Islamic State group) and others," Madsen said.
The Danish Film Institute has named the 55-year-old man killed at the free speech event was documentary filmmaker Finn Noergaard. The institute's chief Henrik Bo Nielsen said he was shocked and angry to find out Noergaard was gunned down while attending a discussion on art and free speech.
Noergaard directed and produced documentaries for Danish television, including the 2004 "Boomerang boy" about an Australian boy's dreams to become a world boomerang champion and the 2008 "Le Le" about Vietnamese immigrants in Denmark.
He was shot shortly before 4pm on Saturday when the gunman used an automatic weapon to shoot through the windows of the Krudttoenden cultural center during a panel discussion on freedom of expression featuring a Swedish artist who had caricatured the Prophet Muhammad. The artist, Lars Vilks, was whisked away unharmed by his bodyguards, but Noergaard was killed and three police officers were wounded.
The attack at the synagogue occurred hours later, shortly before 1 am on Sunday. About four hours later, the shooter was confronted by police as he returned to an address that they were keeping under surveillance. Investigators described him as 25 to 30 years old with an athletic build and carrying a black automatic weapon. They released a blurred photograph of the suspect wearing dark clothes and a scarf covering part of his face.
Vilks, a 68-year-old artist who has faced numerous death threats for depicting Muhammad as a dog in 2007, told The AP he believed he was the intended target of the first shooting, which happened at a panel discussion titled "Art, blasphemy and freedom of expression."
The attacks took place two days after Denmark and its partners in the European Union agreed to dramatically boost cooperation in the counter-terrorism field as a result of the January attacks in Paris, which claimed the lives of 17 victims.
The EU's law enforcement agency, Europol, said Sunday it was in contact with Danish authorities and proposing its help to find out as much as possible about the Copenhagen gunman and whether he was acting alone or in concert with others.
"We are offering our expertise and capabilities from our anti-terrorist unit including access to our databases," said Europol spokesman Soeren Pedersen.