Senior Conservative minister Esther McVey has given a refreshingly honest answer when asked today if she wanted to be prime minister.
The employment minister, who was given the right to attend cabinet last year as the face of David Cameron's reshuffle, has had a rapid rise through the ranks since first being elected in 2010.
Appearing on ITV's daytime Loose Women programme today, McVey was asked if she would like to lead the country one day. "If I had to do a yes or a no, I'll be honest, I'll say yes," she replied. Her response was greeted with applause by the studio audience.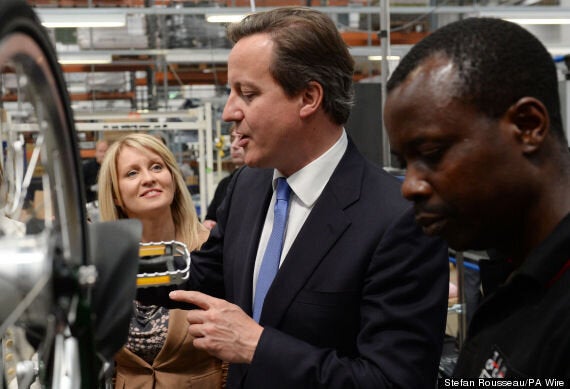 Minister for Employment and Disabilities Esther McVey with Prime Minister David Cameron during a tour of the production line at Brompton Bicycle Ltd in Brentford last year
The Wirral West MP's admission stands in stark contrast to the answer given by most politicians when asked the same question.
Boris Johnson, for example, has become famous for elaborately dodging questions about whether he would like to be prime minister. When once asked on the BBC's Marr programme whether he wanted the job, Boris typified the approach by replying: "permission to obfuscate?"
With the general election on a knife edge, it is likely that a Labour victory in May would see the Tories move to remove Cameron as leader. Several senior figures in the party are expected to try succeed him, including Theresa May, George Osborne and Boris.
McVey also distanced herself from Conservative Party personal attacks on Ed Miliband. "I don't do that and I don't agree with that. I've never personalised anything, you stand by your policies. We have got a lot of credibility from what we have achieved," she said.
"Where I come from it's a Labour heartland, a trade union heartland, and I'll have a very personal campaign against me there."
One barrier to McVey getting to the top of the Conservative Party are the voters. She is at risk of losing her seat in parliament to Labour on May 7.