Prosecutors investigating claims of widespread tax evasion have raided the offices of HSBC's Swiss private arm in Geneva amid a growing row in Britain over coverage of the bank which has seen a high profile Daily Telegraph columnist resign in protest.
The unprecedented escalation in action against HSBC could not have come at a more potentially embarrassing time for the Telegraph, which has been accused by its own former chief political commentator of ignoring the tax scandal. News of the raid broke shortly after 8.30am on Wednesday morning, and a story using copy from news agency Reuters was featured on the paper's website two hours later.
Finding coverage in Telegraph web site on developments in HSBC financial scandal like news version of Where's Wally. http://t.co/sJuLowhJsi

— nick huber (@nickahuber) February 18, 2015
Fun thing to do. Go onto @Telegraph website and use the search function to look for "HSBC".

— John McMullan (@john_mcmullan) February 18, 2015
Swiss authorities, who have opened an investigation into suspected aggravated money laundering, said their enquiries stemmed from "the recent published revelations" about the embattled private bank, which include reports that it turned a blind eye to illegal activities of arms dealers and traders in blood diamond traders while helping the rich evade taxes.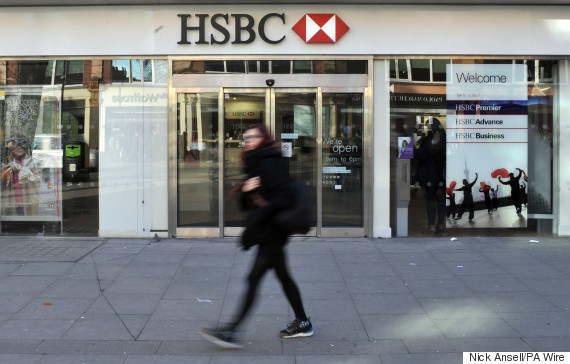 HSBC is being investigated by Swiss prosecutors
Peter Oborne quit the Daily Telegraph in sensational style last night, accusing the newspaper of committing fraud on its readers over its coverage (or lack therein) of the HSBC scandal. On Wednesday morning, Oborne called for an independent investigation into the paper and its advertising department.
Peter Oborne Quits The Daily Telegraph Over 'Fraudulent' Coverage Of The HSBC Scandal

The Telegraph Is Wishing It Didn't Leave Comments Open On Its HSBC Story
In a scathing editorial published on the Open Democracy website, he accused management of burying reports on the black hole in the HSBC accounts, which he infers was at the behest of the advertising department. "The Telegraph's recent coverage of HSBC amounts to a form of fraud on its readers," he said. "It has been placing what it perceives to be the interests of a major international bank above its duty to bring the news to Telegraph readers. There is only one word to describe this situation: terrible."
Last week's report from the International Consortium of Investigative Journalists and several news organisations, including the Guardian and the BBC in the UK, found that the bank hid millions of dollars as it helped wealthy people around the world dodge taxes. It was based on leaked documents covering the period up to 2007 and relating to accounts worth $100 billion held by more than 100,000 people and legal entities from 200 countries.
The Guardian claimed last night that it too had been told by HSBC that its advertising deals with the paper were "on pause". The paper apparently gave that short shrift, and pressed ahead with publication regardless. Calls to HSBC's press office this morning went unanswered.
In interviews with Channel 4 and BBC's Radio 4 Today, Oborne stepped up his criticism of his former employer's management, saying he believed the "vast majority" of the paper's newsroom had no confidence in its chief executive Murdoch MacLennan or in the paper's owners, the Barclay Brothers.
"As a journalist, it makes you feel sick," he told Today. "I do think that the Telegraph does have some explaining to do, they put out a statement yesterday that says my article was basically a tissue of lies. If that is so, they need to come and explain exactly what were the editorial guidelines being used that justified this.
Oborne said the Telegraph must now call an independent review into the relationship between advertising and editorial, and suggested the former editor Charles Moore or the current editor of the Spectator Fraser Nelson, should conduct it.
One particular incident he said merited investigation was an article on HSBC written by the paper's former banking correspondent Harry Wilson, now at the Times, which was "pulled off the website" within hours. "Who made that call? Did it follow pressure from HSBC? Did HSBC demand that it was pulled off? Does this go up to the chief executive?"
Referring to the Guardian's claim that HSBC had put its advertising "on pause", Oborne said there was a "pattern developing... that looks to an outsider like advertising is being used as a tool to suppress free speech".
A Telegraph spokesperson said on Tuesday: "Like any other business, we never comment on individual commercial relationships, but our policy is absolutely clear.
"We aim to provide all our commercial partners with a range of advertising solutions, but the distinction between advertising and our award-winning editorial operation has always been fundamental to our business. We utterly refute any allegation to the contrary. It is a matter of huge regret that Peter Oborne, for nearly five years a contributor to the Telegraph, should have launched such an astonishing and unfounded attack, full of inaccuracy and innuendo, on his own paper."
"If they want to trash what I wrote yesterday, they need to come out and explain what the editorial procedure was that allocated six pars [paragraphs] at the bottom left of page 2 to the HSBC story," Oborne told the BBC.
Oborne has been widely praised across Fleet Street in this morning's papers, with some hinting that further departures from the Telegraph could be to come.
I'm hearing of yet another big name departure from the Telegraph is imminent. Not quite on the scale of Oborne, but near.

— Iain Dale (@IainDale) February 17, 2015
Writing for the Spectator, Alex Massie said he had performed "a great public service".
"If the Telegraph is wounded by Peter's allegations it is also the case that HSBC's already bruised reputation has taken another battering today," Massie wrote. "The bank is, as I say, free to spend its marketing budget as it sees fit but the idea it can think it reasonable to bully and threaten newspapers if they dare to run 'unhelpful' stories is another example of an over mighty corporation that evidently thinks the world deserves to be arranged in ways that comfort HSBC."