RAF Typhoon fighters were scrambled to escort two Russian Bear bombers spotted in international airspace off the coast of Cornwall, the Ministry of Defence has said.
The Typhoon jets, from RAF Coningsby in Lincolnshire, escorted the Russian aircraft which were flying in international airspace close to the UK yesterday afternoon, an MoD spokesman said.
"RAF Quick Reaction Alert Typhoon fighter aircraft were launched yesterday after Russian aircraft were identified flying close to UK airspace.
"The Russian planes were escorted by the RAF until they were out of the UK area of interest. At no time did the Russian military aircraft cross into UK sovereign airspace," the spokesman said.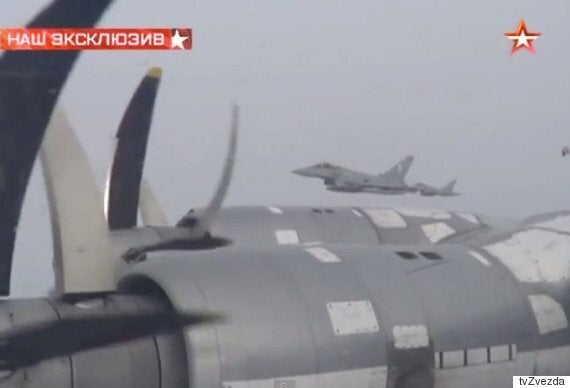 A grab from a video shot from inside the cockpit of a Tu-95 Bear long-range bomber similar to the aircraft intercepted by RAF Typhoons in the skies off the coast of Cornwall yesterday
Earlier this month two long-range bombers flew down the English Channel off the coast of Bournemouth in an indication of Moscow's sabre-rattling.
Meanwhile footage of British and French fighter jets escorting a Russian bomber in a separate incident has also been released.
The video was shot from inside the cockpit of a Tu-95 Bear long-range bomber similar to the aircraft intercepted by the RAF in the skies off Cornwall yesterday.
The footage is not from yesterday's incident, but is believed to be from one of the previous occasions that Nato fighters have been sent to monitor the activities of Russian aircraft.
The video shows RAF Typhoons, including at least one aircraft from 11 Squadron, together with a French Mirage jet performing a similar role policing the skies over western Europe.
The footage from TV Zvedza, which is owned by the Russian defence ministry, shows armed jets flying in close formation with the plane and provides clear views of the bomber's turboprop engines.
Prime Minister David Cameron said that Moscow appeared to be trying to make "some sort of a point" with the latest incursion by Russian warplanes.
"I think what this episode demonstrates is that we do have the fast jets, the pilots, the systems in place to protect the United Kingdom," he said during an event at Felixstowe in Suffolk.
A video shot from inside the cockpit of a Tu-95 Bear long-range bomber similar to the aircraft intercepted by RAF Typhoons in the skies off the coast of Cornwall yesterday.
"I suspect what's happening here is that the Russians are trying to make some sort of a point and I don't think we should dignify it with too much of a response."
The new incident comes on the same day the Defence Secretary has warned Russian president Vladimir Putin could repeat the tactics used to destabilise Ukraine in Baltic members of the Nato alliance.
Michael Fallon said Nato must be ready for Russian aggression in "whatever form it takes" as he acknowledged tensions between the alliance and Moscow were "warming up".
Ukrainian forces pulled out from the strategically important town Debaltseve after fierce fighting, which had continued despite the ceasefire agreed following international talks.
Six Ukrainian servicemen were killed during the withdrawal, the country's president Petro Poroshenko said.
Mr Fallon, who said he was "worried" about Mr Putin, acknowledged the Russian leader could attempt a repeat of the covert campaign used in the Crimea and eastern Ukraine against other former Soviet bloc countries such as Latvia, Lithuania or Estonia.
That could involve irregular troops, cyber attacks and inflaming tensions with ethnic Russian minorities in nations seen as part of the country's "near abroad" by Moscow.
He said there was a "real and present danger" that such tactics could be used.
The Defence Secretary said: "Nato has to be ready for any kind of aggression from Russia, whatever form it takes. Nato is getting ready."
Mr Fallon said he was "worried about his (Mr Putin) pressure on the Baltics, the way he is testing Nato".
"It is the first time since the height of the Cold War that has happened and it just shows you the need to respond each time he does something like that."
Mr Fallon, who was speaking to journalists accompanying him on a trip to Sierra Leone, said it was not a new Cold War with Russia because the situation is already "pretty warm".
The Times reported that he said: "You have tanks and armour rolling across the Ukrainian border and you have an Estonian border guard being captured and not yet still returned.
"When you have jets being flown up the English Channel, when you have submarines in the North Sea, it looks to me like it's warming up."
His warnings about Russian ambitions came after Mr Cameron warned Europe could not turn a "blind eye" to the Kremlin's actions.
Mr Cameron said in Ukraine "effectively one country is challenging the territorial integrity of another country".
"Those Russian-backed rebels in eastern Ukraine, they are using Russian rocket launchers, Russian tanks, Russian artillery, you can't buy this equipment on eBay, it hasn't come from somewhere else, it's come from Russia and we know that," he said.
"So we have to be very firm and strong about the sanctions and say to Vladimir Putin: 'What you are doing is unacceptable and it will have economic and financial consequences for many years to come if you do not desist with your behaviour'."
Speaking during a visit to West Sussex, Mr Cameron underlined his intention to keep pressure on European Union partners to maintain the sanctions regime against Russia despite the ceasefire agreement.
Mr Cameron said: "Of course there's a temptation for every European country just to say 'Let's go on trading exactly as we have done with Russia, let's leave responsibility for what is happening in Ukraine to someone else and let's turn away'.
"I am afraid that would be a terrible mistake and Britain has been leading the argument in Europe saying Russia's behaviour in Ukraine has been completely unacceptable and consequences must follow that in terms of sanctions."
A Russian warship was tracked by the Royal Navy as it passed through the English Channel this week.
Yaroslav Mudry and its accompanying tanker, the Kola, were sailing back to Russia after a deployment in the Mediterranean. HMS Argyll, based in Plymouth, was deployed and used its Lynx helicopter and sensors to locate and monitor the movement of the Russian ships off the coast of France and through the Channel.
The following images provided by the MoD are of two Russian surveillance planes that were detected off the coast of Scotland in April 2014.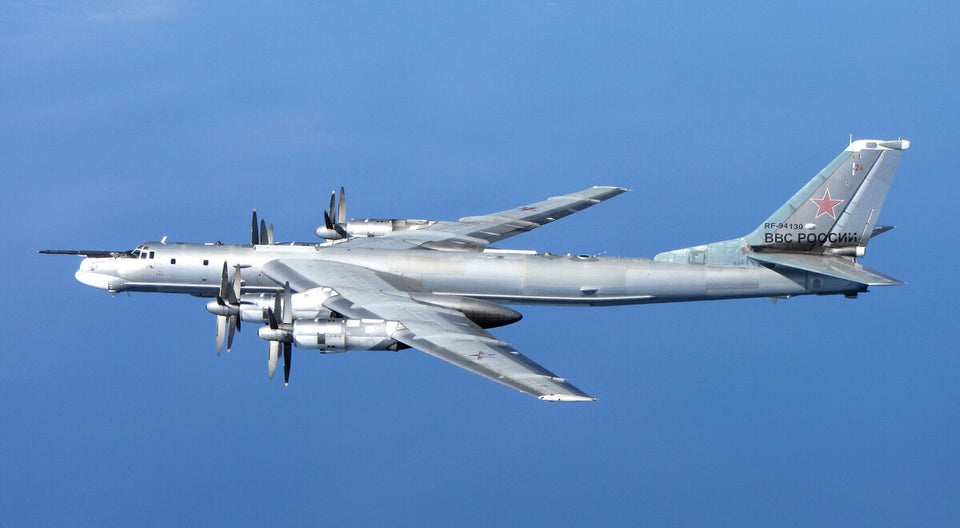 Russian Surveillance Planes
Related