British military personnel are to be deployed to Ukraine over the next few weeks to provide advice and training to government troops, Prime Minister David Cameron has said. The announcement came as Cameron vowed that Britain would be "the strongest pole in the tent" arguing for tougher sanctions against Moscow if Russian-backed militias in eastern Ukraine fail to observe the provisions of the ceasefire agreement reached earlier this month with Ukrainian president Petro Poroshenko.
Cameron told a House of Commons committee that there would be "deeply damaging" consequences for all of Europe if the EU fails to stand up to Vladimir Putin in Ukraine, predicting that the Russian president could turn against the Baltic states or Moldova if he is not reined in now. And he suggested it would be "miraculous" if the terms of the February 12 ceasefire agreement - brokered in Minsk by French President Francois Hollande and German Chancellor Angela Merkel - were met in full.
Fighting continued around the strategic railway hub of Debaltseve following the deal, and Cameron said he feared that sea-port Mariupol would be the next target of separatist fighters.
In the US, a senior military official said on Tuesday that the Pentagon would also deploy a small number of troops - between five and 10 - to Ukraine to provide combat medical training. According to AP, the US forces will deploy out of Europe. In 2015, the US trained around 300 Ukrainian troops in battlefield medicine.
Giving evidence to the Commons Liaison Committee, Cameron said: "We are not at the stage of supplying lethal equipment. We have announced a whole series of non-lethal equipment, night-vision goggles, body armour, which we have already said that we will give to Ukraine. Over the course of the next month we are going to be deploying British service personnel to provide advice and a range of training, from tactical intelligence to logistics to medical care, which is something else they have asked for."
He added: "We will also be developing an infantry training programme with Ukraine to improve the durability of their forces. This will involve a number of British service personnel, they will be away from the area of conflict but I think this is the sort of thing we should be helping with."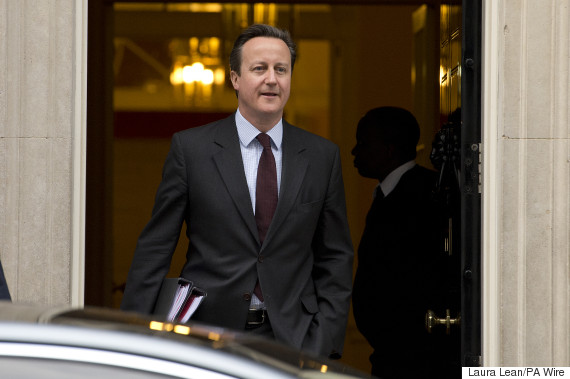 Prime Minister David Cameron leaves 10 Downing Street before he appears before the Liaison Select Committee at the House of Commons
Cameron said that the EU should go ahead with the extension of sanctions which were put on hold earlier this year and there would be an "overwhelming" argument for tougher measures against Moscow if it does not halt destabilisation of Ukraine. He acknowledged that it would be "difficult" to achieve unanimity among the 28 EU states on the continuation of sanctions when they come up for renewal in July. But he said that "the horrors of Debaltseve" should show Europe "who we are dealing with and how firm we need to be".
"I think the extension should happen in any event - even if not very much changes on the ground," said the Prime Minister. "They should be deepened if further steps of destabilisation are taken. I think, particularly, people will be looking at Mariupol as the next potential flashpoint, and if that were to happen, I think the argument for further action would be overwhelming. I think that would be the view of countries like Poland, the Baltic states and many others."
Cameron added: "Of course when you put sanctions on a country there is short-term pain to your own economies, but the argument I always make is that in the medium to long term the countries of Europe depend on a rules-based system where people obey the rules, and the instability we will yield if we don't stand up to Russia in the long term will be deeply damaging to all of us, because you will see further destabilisation - next it will be Moldova or one of the Baltic states - and that sort of instability and uncertainty will be dreadful for our economies dreadful for our stability. That's why Britain takes such a clear view."
Looking ahead to arguments within the EU over the tightening of sanctions, Cameron told the cross-party committee of senior MPs: "I think we need to use all our diplomatic and other skills and efforts to convince those that have been more sceptical about sanctions that it's only a firm stand that will be taken notice of in the Kremlin. So that's what we should do. We've got some time to do it. Britain has quite an important role to play in all of that. We have been the strong pole in the tent in terms of sanctions. We should continue to play that role."
Asked whether he was optimistic of persuading fellow EU leaders, Cameron said: "I'm always optimistic. Some of it will depend on what happens on the ground. I think that if, miraculously, heavy weapons are withdrawn, ceasefires are held, elections start, and all the elements of Minsk are put in place, I think you'd see people wanting to lighten the sanctions load. But if we don't see that, you will get a different view. Britain's role is to be at the tougher end of the spectrum, to try to keep the European Union and the United States together, and I think we should be clear about this pattern of behaviour we've seen from Putin now over many years."
Cameron said the Government could be ready to give the BBC more funding to counter Russian-backed propaganda. "I think we need to do more frankly in the area of information. One of the complaints we get from the Baltic states is there is nothing to counter the deluge of Russian-paid and backed media spreading disinformation," he said. "We have got to recognise one of the strengths we have got as a country - although we don't always necessarily see it this way - is that we have a very strong and impartial media, we have a wonderful brand in the BBC known for its impartial views. We should be supporting the BBC to provide news services and news channels where people otherwise are getting a diet of Russian disinformation."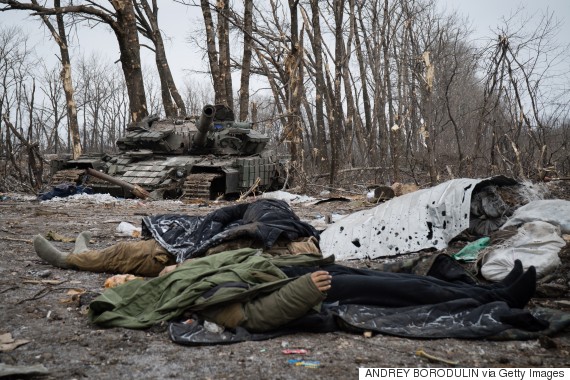 Bodies of Ukrainian servicemen lay near destroyed tank on the position near the eastern Ukrainian city of Debaltseve on February 20, 2015
The Prime Minister also played down recent high-profile episodes where Russian Bear bombers had been escorted off the British coast. Cameron said the situation was "serious", but said it was not clear there had been an increase in the number of incidents. "So far this year the RAF has scrambled the quick reaction aircraft twice, last year it was eight times. Go back to 2011 it was 10 times, in 2007 it was 19 occasions," he said. "I think we should be strong, measured and clear. But we should be absolutely confident that in our air force and in the Typhoons and the pilots - we have 135 Typhoons now in service - we are more than capable of protecting our air space."
Cameron drew a stark comparison between Britain's strengths and those of Russia. "We should be confident of our strengths. Our economy is growing, the Russian economy is shrinking. Our economy is not over-dependent on oil, the Russian economy is over-dependent on oil," he said. "Our country has a robust free democratic political system with freedom of speech and all sorts of rights that people can only dream of in Russia. Our economy is bigger than Russia, even though their population is many times the size of ours. Our economy is fully capable of supporting the fifth largest defence forces in the world, that are highly capable. Let's have confidence."
He added: "When we look at the situation in Ukraine let's not talk ourselves into some idea that this has all been a fantastic success for Russia. It hasn't been. Because a couple of Russian planes fly around the channel we shouldn't talk ourselves in to a situation where we think somehow we cannot defend ourselves. We absolutely can."
Cameron said he did not rule out going further in supporting the Ukrainian forces but stressed that he did not believe there was a military solution to the crisis. He warned that if aggression by Russian-backed separatists continued, he wanted to see a wave of sanctions that would be "materially different" from the measures imposed so far.
Asked about supplying lethal equipment to the Ukrainians he said: "I don't say that we should rule out forever going further - I know America is thinking carefully about this - but I think we've had National Security Council discussions, we've had very clear decisions that we should be in the space of providing non-lethal support, the help, the advice - and I think you have heard from the Ukrainians, I would say, the same thing - they see us as a very strong friend to them and I think that's where we should be."
He added: "The reason for not going further is we don't believe, fundamentally, there is some military solution to this issue. There needs to be a diplomatic solution which I think should be enabled by sanctions and pressure and the economic weight of Europe and America. But obviously where we can help a friend in non-lethal equipment, we should."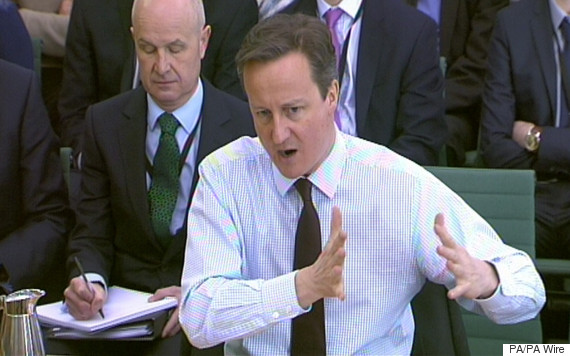 Prime Minister David Cameron as he appears before the Liaison Select Committee at the House of Commons in central London
Cameron said there was no doubt about Russian support for the rebels and warned of tougher sanctions in future. "What we are seeing is Russian-backed aggression, often these are Russian troops, they are Russian tanks, they are Russian Grad missiles - as I said the other day, you can't buy these things on eBay, they are coming from Russia, people shouldn't be in any doubt about that. We have got the intelligence, we have got the pictures and the world knows that. Sometimes people don't want to see that but that is the fact. I think what we should be putting in to place is a sense that if there is another Debaltseve then that will trigger a round of sanctions that will be materially different to what we have seen so far."
Up to 75 personnel will begin to deploy to Ukraine from next month as part of the training mission, the Ministry of Defence said. There will be four separate areas covered by the deployment - medical, intelligence, logistics and infantry training. Personnel involved in the training elements could spend one or two months in Ukraine, with a command and control deployment lasting up to six months.
Cameron said the possibility of excluding Russia from the international Swift banking payments system should be considered if it continues trying to "dismember" the Ukraine. He said: "If there was major further incursion by Russian-backed forces and effectively Russian forces into Ukraine we should be clear about what that is. That is trying to dismember a democracy, a member of the United Nations, a sovereign state on the continent of Europe, and it's not acceptable."
The PM continued: "I would hope that the European Union collectively would respond very robustly with new sanctions, including so-called tier three sanctions, really hitting the economy of Russia. But were that not possible then, of course, we should look at other avenues as well - obviously looking at the Swift banking issues is a big decision but there is a logic for it, which is if Russia is going to leave the rules-based system of the 21st century, then they have to start thinking about whether it's going to be in the 21st century system when it comes to investment, when it comes to banking, when it comes to clearing houses, when it comes to the other things that make our world work."
Cameron, who did not take part in the Minsk negotiations, dismissed criticism that Britain is losing its international influence. "We shouldn't be too precious about not being involved in every different set of negotiations," he said. There is no point endlessly obsessing about whether or not you are in the room. We have a very clear role when it comes to Ukraine."
Defence Secretary Michael Fallon said: "In light of continued Russian-backed aggression, the UK is committed to providing additional non-lethal support to Ukraine to help them deal with the pressures they are facing. "Today's announcement builds upon the work that we have already undertaken through Nato and bilaterally. This will help the Ukrainian Armed Forces develop and maintain the capacity and resilience that they need."
SEE ALSO: