A German professor rejected an Indian student from an internship because she did not agree with the country's "rape problem", saying it was "unbelievable" India had not been able to solve the issue.
Professor Annette Beck-Sickinger, who works at Leipzig University, replied to the student's application, saying she did not accept any male Indian students on the programme, even though she "fully agreed" she was generalising a nation.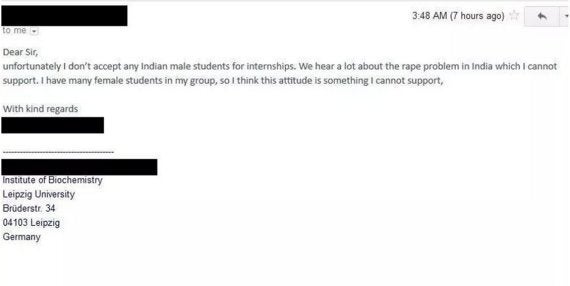 The first of two emails from the professor
"My lab is full and I currently cannot take any student. This led to an unpleasant discussion with one of the Indian student," she said.
The first email read: "Unfortunately I don't accept any Indian male students for internships. We hear a lot about the rape problem in India which I cannot support. I have many female students in my group, so I think this attitude is something I cannot support."
In a second correspondence with the unnamed student, Beck-Sickinger added: "I fully agree that this is a generalisation and may not apply to individuals. However it is also unbelievable that the Indian society is not able to solve this problem for many years now. Reports reach Germany on a weekly base, [sic] and especially these 'multi-rape crimes' are threatening, but for me also demonstrate the attitude of a society towards women. Also female tourists are kidnapped by groups of males and then abused.
"Many female professors in Germany decided to no longer accept male Indian students for these reasons, and currently other European female association [sic] are joining. Of course we cannot change or influence the Indian society but onyl take our consequences here in Europe."
Michael Steiner, Germany's ambassador to India has sent an email to Professor Beck-Sickinger, which said he "strongly" objected to the email.
"I would encourage you to learn more about the diverse, dynamic and fascinating country and the many welcoming and open-minded people of India so that you could correct a simplistic image, which - in my opinion - is particularly unsuitable for a professor and teacher," he told the professor.
The recent BBC documentary on rape in India and the murder of 23-year-old medical student Jyoti Singh in December 2012 had to be aired ahead of schedule after the country's Prime Minister threatened to ban the programme across the globe.
Jyoti became known across India as "Nirbhaya" - fearless - and her violent rape sent shockwaves throughout the country.
Countless protests erupted across India, with women calling for the men to be hanged and a general crackdown on rape. The Indian Home Minister announced a review of rape laws on 23 December 2012.
Women's rights are entrenched in India's constitution, but rarely honoured or practiced due to "traditional" societal norms and many rapists go unpunished for their actions.
A recent survey by the Hindustan Times found that 91% of Indian women believe the capital is still just as dangerous as it was in 2012 and 97% had faced some kind of sexual harassment in their lifetime.
Popular in the Community