MPs from Ukip and the SNP were described as a "rag tag mob" on Sunday as Nick Clegg warned against giving either the Scottish Nationalists or the Eurosceptic party the balance of power after the election. The deputy prime minister offered the unflattering assessment of his fellow parliamentarians during his final speech at the Lib Dem spring conference in Liverpool, inferring that only his party are serious potential coalition partners should the electorate fail to vote for a majority in May.
Clegg ruled out going into partnership with either Ukip or the SNP, before launching a fresh attack on his current coalition colleagues, saying "cows moo, dogs bark and Tories cut - it's in their DNA". Accusing David Cameron's party of an "ideological lurch to the right", he said: "They have gone from being the self-proclaimed heirs to Blair to Nigel Farage in white tie."
Clegg told activists: "If we want to remain an open, confident, outward-looking society, it will only happen if political parties who believe in compassion and tolerance step up to the plate. Instead, the opposite is happening. Labour and the Conservatives are deserting the centre ground."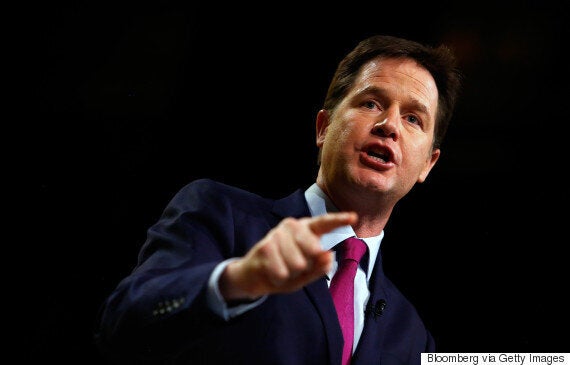 Clegg warned Labour and the Tories against 'begging for votes from that rag tag mob of nationalists, populists and special interests'
With pollsters predicting a hung parliament, Clegg warned that Cameron or Ed Miliband could find themselves forced to pander to the SNP or Ukip. "What will Britain become if Cameron's Conservatives or Miliband's Labour spend the next five years begging for votes from that rag tag mob of nationalists, populists and special interests?" he puffed.
"Not one of them will stand up for the moderate majority. Not one of them will keep Britain united. Just like we would not put Ukip in charge of Europe, we are not going to put the SNP in charge of Britain - a country they want to rip apart. It's just not going to happen."
The response from the SNP was swift. MSP Christian Allard said: "We will take no lessons from a party that was on the same side as Ukip and other extreme right-wing elements in the independence referendum. As the Lib Dems teeter on the brink of electoral oblivion, their desperation is palpable. After five years in government propping up the toxic Tories, all Nick Clegg and his party have to show is a trail of broken promises."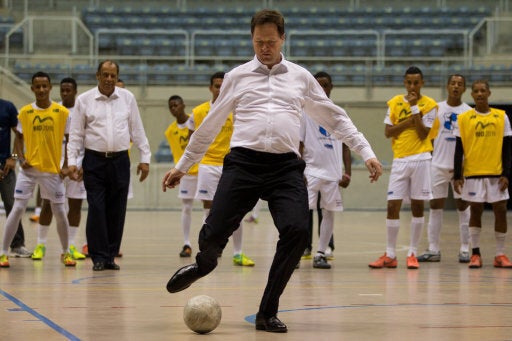 Nick Clegg: 47 Funny Pictures
Popular in the Community