As the public breastfeeding debate rages on, Facebook have updated their nudity policy to clarify their stance on breastfeeding photos.
'Brelfies' (that's breastfeeding selfie for the uninitiated) are permitted on the site, as long as they do not show the mother's nipple, according to a Facebook spokesperson.
The official announcement, posted under Facebook's Community Standards, reads: "We restrict some images of female breasts if they include the nipple, but we always allow photos of women actively engaged in breastfeeding or showing breasts with post-mastectomy scarring."
While many thought Facebook's update to be directly related to increased pressure from 'brelfies', the site maintains that it has always allowed breastfeeding photos. Although to date there was no mention of the official policy online.
As the site relies on its users to report potentially offensive images to moderators, some breastfeeding pics have been removed in error - and subsequently reinstated.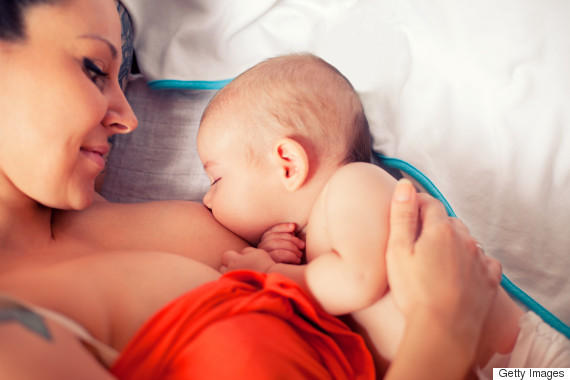 Mothers around the UK began posting breastfeeding selfies en masse when mum-of-two Kaya Wright was banned from a Facebook group after posting a brelfie in February.
"At first I thought it was a joke," Wright said at the time.
"Facebook said the image had been reported for nudity but you really couldn't see anything. Then I was a bit disappointed at the thought that someone in the group had reported the image."
And the public breastfeeding debate isn't restricted to the online world.
The issue caught the attention of Prime Minister David Cameron after mother Louise Burns was asked to cover herself with a napkin while breastfeeding her baby in Claridge's Hotel.
At the time, Cameron said it was "totally unacceptable" for mothers to be made to feel uncomfortable when feeding their babies in public.
SEE ALSO:

Breastfeeding Mum Says EasyJet Told Her To Cover Up On Flight

Victoria's Secret Model Doutzen Kroes's Beautiful Breastfeeding Photo
It's not just breastfeeding pictures that have been previously banned from Facebook.
In January, HuffPost UK Lifestyle's senior editor Brogan Driscoll was temporarily banned from the social networking site after posting an article about a campaign being ran by breast cancer charity CoppaFeel!, which pulled in a picture of an advert containing breasts.
But the updated Facebook guidelines also confirm that images being used for educational purposes are allowed: "Restrictions on the display of both nudity and sexual activity also apply to digitally created content unless the content is posted for educational, humorous or satirical purposes."
Now that Facebook has gone public about its breastfeeding policy, let's hope any remaining social stigma attached to public breastfeeding catches up.