A meningitis vaccine that is currently the subject of price negotiations should be introduced as soon as possible "to save lives", a charity has warned.
It is now a year since the body that advises the Department of Health on immunisation recommended the Bexsero MenB vaccine should be made available to children.
Consultant paediatrician Dr Matthew Snape said the delay appeared to be down to negotiations between the Department of Health and the manufacturer of the vaccine to establish a "cost effective price".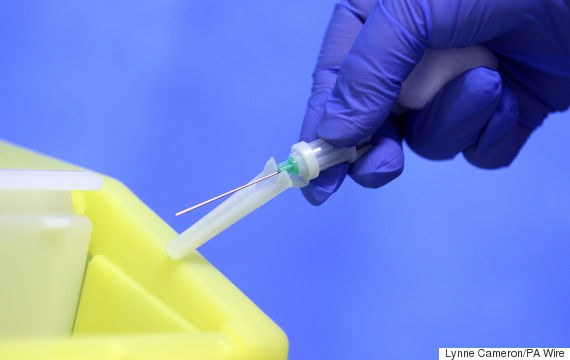 A meningitis vaccine that is currently the subject of price negotiations should be introduced as soon as possible "to save lives
He told the BBC: "As a paediatrician [it is] very frustrating. For every parent of a child that suffered this disease since that recommendation it must be infuriating."
Discussions between the department and the drug company over the price of the vaccine began in August last year, following the advice from the Joint Committee on Vaccination and Immunisation (JCVI).
It said the vaccine should be offered to children at two, four and 12 months.
Jeremy Hunt - #WheresOurVaccine?
Know the Symptoms This Winter as Meningitis Is Still Here and Cases Are on the Rise
Student Killed By Meningitis After Moving To The UK Just A Few Weeks Ago
At the time Deputy Chief Medical Officer, Professor John Watson he hoped a "cost effective price is reached rapidly" but warned that NHS funds must be used "as effectively as possible".
Last week health chiefs announced a plan to launch a large-scale immunisation programme to protect teenagers against the deadly meningitis W disease after a steep rise in cases.
But, in welcoming the announcement, Sue Davie, of charity Meningitis Now, called for movement on the meningitis B vaccine, saying it could protect children from the W strain also.
"We also note the JCVI's recognition that the Men B vaccine is likely to provide direct protection to infants against the Men W strain, but remain deeply concerned that the introduction of the Men B vaccine continues to be held up in negotiations, some eight months after they began.
"Surely now we will see the negotiations between the Government and vaccine producer, being concluded and the Men B vaccine introduced to save lives now and protect babies not only against MenB but MenW as well".
The Department of Health told the BBC negotiations are continuing.
Dr Ian Maconichie, from the Royal College of Paediatrics and Child Health, told the BBC: "One year on, we appeal that a decision is made imminently, so should the vaccine be introduced, it can begin to save children's lives and spare some from severe preventable disability as soon as possible."