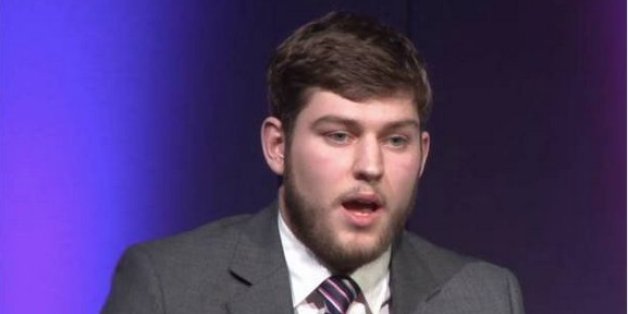 Change.org
*Trigger Warning: Violence Against Women*
Loughborough University's incoming student president has been urged to resign after it was revealed he was banned from the union for "slapping" a woman twice during a drunken night out.
More than 3,000 people have signed an online petition calling for Ed Reckless to stand down.
The petition, created by the Stand Against Violence charity's Loughborough branch, argues Reckless should not be representing the university's students in light of the incident, which occurred in January.
Reckless, who has been voted in to become the new SU president for the upcoming academic year, issued a public apology in the wake of the ban.
"Regretfully, I have been banned due to out of character behaviour on a night where I consumed far too much alcohol. This resulted in me conducting myself poorly and in an intoxicated state, following which I was escorted out of the venue."
The petition states: "He was banned from the very Union he wished to lead for being violent towards a woman, and yet he now represents and speaks on behalf of all Loughborough students.
"We do not want a President who has actively been violent towards a woman to represent us."
The petition has gained the support of external students, including UCL's women's society.
. @UCLU_WomensNet in solidarity with Loughborough feminists! Ed Reckless must stand down. @LSUWomenOfficer pic.twitter.com/zaWrXICGca

— UCLU WO // Annie (@UCLU_WO) March 23, 2015
Others have also spoken out to condemn Reckless' election.
Ashamed to be a Ph.D student at L'boro today. @loughboroughsu: tackling sexism one backward step at a time. #EE2015 http://t.co/3H5p8RpesP

— Jenna Townend (@jenna_townend) March 5, 2015
@labelonline Diabolical show that Ed Reckless has been elected. Feeling embarrassed for the uni.

— C (@BSbyClaudia) March 5, 2015
Despite the incident, Reckless says he believes it does not have any bearing on his ability to fulfil the role of president.
"If nothing else, I have matured and grown from the experience and feel that this improves my candidacy."
The allegations came to light during the university's Executive Election campaigning period, when an article appeared on The Epinal Tab in which a student claimed to be the victim of the attack.
The woman, known only as Alexandria, claimed that the slap, which took place after the pair were introduced through a mutual friend, was completely unprovoked.
"I remember it really well. We just asked each other what course and all that and in the middle of that he just slapped me round the face. I didn't know him, it took me by surprise," she said.
"It was hard enough for me to know it wasn't a joke."
In the aftermath of the incident, Reckless sent a letter of apology to the student, which she accepted.
Speaking to The Huffington Post UK, a P.H.D. student and seminar tutor, who wished to remain anonymous, said: "The result of Loughborough Students' Union's elections is sending a confusing message to students regarding the University's supposed 'zero tolerance' stance against violence and misogyny on campus.
"Students and staff members are concerned that a student who has committed an act of violence on campus, and so (rightly) banned from the Union's building, has now been elected to the most senior post within the Union's hierarchy."
"No person who has been banned from the Union during their university career should be given the opportunity to represent the Union or the student body."
The Huffington Post UK has contacted Loughborough Students Union for comment.