The co-pilot who brought down the Germanwings flight can be heard saying only "hopefully" and "we'll see" while discussing landing checks for the doomed plane, it has been reported.
According to Germany's Bild newspaper, Andreas Lubitz gave these short replies when captain Patrick Sondheimer tried to brief him on the landing - moments before the captain went to the bathroom and Lubitz locked the cockpit door and began the plane's descent.
Lubitz is believed to have deliberately crashed the plane in the French alps after locking all the other crew out of the cockpit, killing all 150 aboard.
The German paper also published other details of what it claimed was the transcript from the recovered cockpit voice recorder.
Lubitz actively encourages the captain to go for a bathroom break. The captain shouts "for God's sake open the door!" as he tries to force his way back into the cockpit, the paper reports.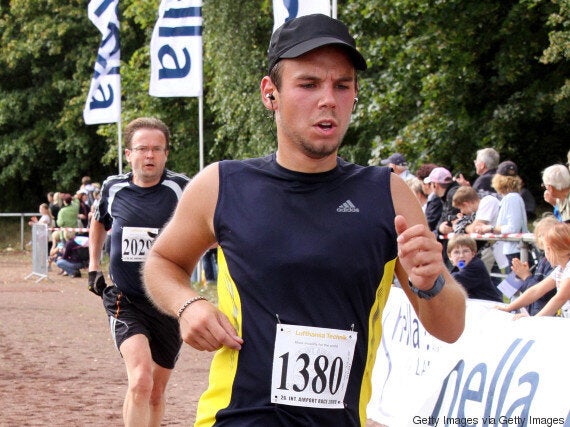 Lubitz's remains have also reportedly been found at the crash site, according to German media, which could provide a more complete picture of the medication he was taking and by extension, his mental and physical state.
Lubitz was reportedly suffering from depression, prompting a wave of headlines questioning why he was allowed to fly.
Blogging for HuffPost UK, Alastair Campbell wrote that the coverage reflected the stigma those with mental health issues face.
He wrote: "It is bad enough to run such headlines not knowing them to be true. It is just as bad if it was true that he was being treated for depression.
"Because what the media coverage does is say not that the awful murderous act was committed by a human being, but by an illness.
"If he had just been told he had cancer, and a note to that effect had been found, would we be 'blaming' cancer for the deaths of those poor people who perished in the Alps?"
A leading psychiatrist has warned that pilots with a history of depression should not be banned from flying commercial jets, in a warning against a knee-jerk reaction.
Professor Sir Simon Wessely, president of the Royal College of Psychiatrists (RCPsych), told the Observer that the aviation industry should not "rush" to action in the wake of the crash.
He cited health authorities' response to the crimes of Dr Harold Shipman, who is thought to have killed between 215 and 260 people, as an example of ineffective policy.
Sir Simon said: "It is not a good idea to rush; it is like the response to Dr Shipman, an utterly bizarre and unpredictable event is not a good basis of policy. The procedures that they then brought in would not have prevented Shipman.
"I have dealt with some pilots with depression and when they recover they are still monitored. But the two I have dealt with returned to very successful careers. Why should they not?
"What does cause trouble is saying that if you ever have a history of depression then you should not be allowed to do whatever. That is wrong, as much as saying that people with a history of broken arms shouldn't be allowed to do something."