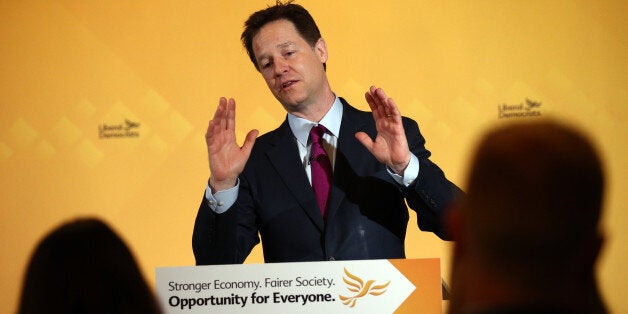 Nick Clegg has told his party to stop "bickering" over who will succeed him as leader and focus on the general election campaign.
In recent weeks, the behind the scenes positioning to take over from the Lib Dem leader when he steps down has spilled out into the open. Tim Farron, the former party president who is seen as the most likely next leader, has been publicly criticised by two other senior figures.
Business secretary Vince Cable said Farron "would not be seen as a very credible leader" due to his lack of ministerial experience. And former leader Lord Ashdown said of the Westmorland and Lonsdale MP that judgment was "not his strong suit".
Clegg told reporters in Westminster this morning that he wanted to in-fighting to stop. "I have absolutely no time for personal bickering within my team. It is certainly not done in my name or on my behalf," he said.
"I'm a great fan of Tim. We are old friends. He's a very valued colleague and he is an outstanding foreign affairs spokesman. Tim is, in my view, one of the most talented liberal campaigners in this country. He has an ability to speak to people in a very plain, common sense way, he has a great gift to simplify complex issues and make them accessible to people and I am absolutely delighted that he is one of our heaviest hitters in this election campaign."
Farron, who now speaks for the party on foreign affairs, recently told The Huffington Post that Clegg was "absolutely lovely" about press speculation that he wanted to be leader. Asked whether he had his eyes on the party's top job, Farron said it would be wrong to "start worrying about next year's first round" before the "Cup Final" of the election had happened.
Popular in the Community