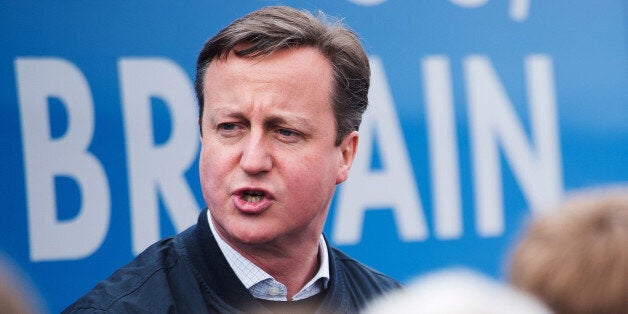 David Cameron has been urged by modernising Conservatives to stop trying to "appease" Ukip voters and should abandon any plan to include an net migration target in the party's general election manifesto.
The prime minister came to power with a pledge to cut net migration to the "the tens of thousands". He failed. From September 2013 to September 2014, net migration was 298,000. Despite this, Cameron used an interview on the eve of the election campaign to insist he would not back away from a target.
Cameron clashed with Nigel Farage over the immigration target during last week's TV leaders' debate. The Ukip leader used the platform to shore up his party's core vote with controversial comments about migrants who are diagnosed with HIV.
A report published today by Bright Blue, the liberal conservative think-tank which recently appointed education secretary Nicky Morgan as its president and counts former immigration minister Damian Green among its advisory board members, concludes the target was "arbitrary, unreliable and indiscriminate".
This was in part, the report says, because no government can guarantee to meet a net migration target that includes migration from other European Union states as it is "not possible" to control the level of migrants coming to the UK from the EU.
Instead, the next Conservative government should set an annual target on gross migration from non-EU countries, which excludes international students and does not lead to a reduction in certain skilled occupations.
Ryan Shorthouse, the think-tank's director and author of the report said: "In its upcoming election manifesto, the Conservative Party should offer a plan on immigration which is deliverable, principled and capable of addressing public concerns. The majority of the public want reasonable and achievable policies on immigration from a party of government. So the Conservative Party does not need to pursue mimicry of Ukip or muteness on immigration.
"Its policies on immigration for a second term need to be firm but fair. That means new measures to ensure immigrants contribute to and integrate in our society. But it also means the UK should be more welcoming and rewarding of those who do contribute significantly."
The report warns: "Despite the benefits of immigration, mainstream political parties have proposed tougher action on immigration in recent years. The Conservative Party, for example, keeps proposing new ways to clampdown on some forms of migration to meet its net migration target.
"This tougher approach has not succeeded in convincing the public of the government's handling of immigration. In fact, the Conservative Party is guilty of fixating in recent years on trying to appease a minority of voters who are attracted to Ukip's prominent position on immigration, which is heavily negative about the impact of immigration, and wants to see net migration substantially reduced. If managed correctly, immigration is both economically and culturally enriching. So it is necessary for the centre-right – represented mainly by the Conservative Party – to shape a more positive and compelling vision on immigration."
Asked at the end of March whether he still believed there was an overall limit to the number of people that the UK could handle, Cameron told The Daily Telegraph:"Yes, I think there is. Getting net migration to below 100,000 annually remains the right ambition. That, obviously, therefore has an effect on population." Pressed on whether the word "ambition" was a dilution of the 2010 pledge, the prime minister added: "No, you can call it an ambition, you can call it a target. That is what I want to achieve."
Over the weekend Farage said Cameron was "somebody we can sit down and talk to" in the event of a hung parliament. The remark has put pressure on the Tories to rule out a coalition with Ukip if they fail to secure a majority on May 7. Labour has urged the prime minister to "come clean" over whether he would strike a post-election deal with the party.