Rumours that the imminent royal baby will be a girl are continuing to ripen.
The latest bud of gossip claims expectant mother the Duchess of Cambridge has ordered several paint samples in what have been described as "decidedly feminine" shades.
Daily Mail columnist Sebastian Shakespeare writes that Oxford interior design company Annie Sloan has recently supplied the pinky hues to Anmer Hall, where the Duchess is living with Princes William and George.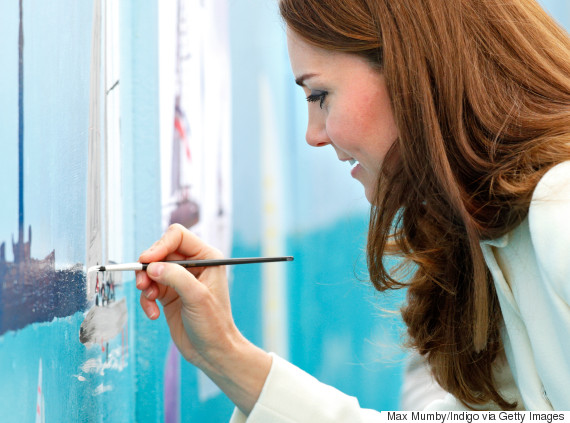 The Duchess of Cambridge paints a yacht on a mural in Portsmouth, in February
He says: "The colours ferried to the household are understood to be Henrietta, a 'beautiful rich complex pink with a hint of lilac'; Antoinette, a 'soft pale pink with a hint of brown' that is redolent of 'old-fashioned roses and the colour of old plaster'; and Emile, a 'warm soft aubergine colour with pink red undertones'."
Shakespeare adds the company has remained tight-lipped about the rumours, refusing to confirm or deny if it has supplied paint samples to the royal residence.
SEE ALSO:
Though the Duchess has not revealed what the royal baby's sex will be – some believe she has dropped some tantalising hints, notably by donning a feminine pink coat for a recent public engagement and reportedly being visibly "drawn to the girls' clothes" during a visit to a Chelsea baby boutique.
Further innuendoes come again via the Daily Mail , which states the expectant mother "can't stop scoffing sweet treats" which according to an old wives' tale, is a sure sign she is carrying a daughter.

In March Kate attended the Commonwealth Day Observance ceremony at Westminster Abbey dressed in baby pink
Bookmakers meanwhile appear dead set on a girl with a recent flurry of bets being taken on the newborn being named Alice.
Naturally, the name Alice has a royal lineage and was chosen for the second daughter of Queen Victoria. The wife of Queen's uncle (the late Duke of Gloucester) was also named Alice.
The Duchess will give birth to a sibling for Prince George in mid-to-end of April, she revealed.
What's in a name?