Ed Miliband's latest policy got into trouble before he even officially announced it.
He announced this morning how some of Britain's wealthiest people would have to start paying tax here on their global incomes under Labour, in a pledge to cut the 200-year-old non-dom status - with Shadow Chancellor Ed Balls doing the rounds in the press earlier to talk up the plans.
But an awkward video has emerged from January in which Balls says he believes the abolition of the policy would actually cost money.
He was speaking to BBC Radio Leeds in January, when, right at the end of a seven-minute interview, he said: "I think, if you abolish the whole status, then it probably ends up costing Britain money because there will be some people who then leave the country."
The Tories put out an edited clip, cut to 20 seconds.
Balls tweeted that this edited out his last words, which were: "But I think we can be tougher and we should be and we will."
The reaction to the video stepped on Miliband's speech, in which he said the rule, which applies to around 116,000 people, makes Britain an "offshore tax haven for a few" and can "no longer be justified".
The Tories tweeted "Labour's key economic policy has already unravelled".
Before the video emerged, the Tories warned abolishing non-dom status would lead to a "flight of talent and a flight of cash" from the UK.
The plan won the support of Former Dragons' Den star Duncan Bannatyne, despite the fact he recently signed a letter to the Daily Telegraph stating "the Conservative-led Government has been good for business".
The entrepreneur said he did not think any party would have the "courage" to end the rule.
He told other tweeters the benefit to the public purse would be "substantial" and tax from non-doms "can be used to support the NHS".
The Financial Times, the preferred paper for Britain's business community, called non-dom status "madness" in an editorial last month.
"In bygone days, when many subjects resided in colonies overseas, this may have had some slender justification. In modern Britain, it has none," the paper said (£).
"The rule is exploited by jet-setters and wealthy business executives to pick and choose the least fiscally burdensome domicile while continuing to enjoy the right to reside and work in Britain."
In a speech in Warwickshire, Miliband will say there is a "distorted" view of wealth creation that has led to an idea that the richest "should be allowed to operate under different rules".
"The problem is, it isn't true. It is a recipe that doesn't work for most working people, doesn't work for business and doesn't work for Britain," he will add.
"Tax havens are continuing; the scandal at HSBC has been brought to the heart of government; the hedge funds are given the green light to avoid paying their fair share; HMRC seems to operate double-standards. It's one law for a few, other law for everybody else," he will say.
"This means higher taxes for working people and businesses, as well as starving money from our public services. In a world of tough, difficult choices, we just can't allow this to continue."
He will also argue non-dom tests "are not very rigorous" and can be granted to people who have a burial plot or property abroad.
The status is often inherited through the father so can apply to people who were born in Britain.
He wrote: "The non-dom situation is very relevant to business owners like me in the UK because we find ourselves at a distinct disadvantage when competing with businesses owned by non-doms.
"Normal UK business owners pay taxes on all earnings before paying for a new car or a family holiday, unlike non-doms, so there is less money available to pump back into the future of their businesses.
"This is not the fault of the non-doms; rather, it is the laws that allow them to play the system that need addressing, but if the country has more and more non-dom run businesses in 20 years' time corporation tax has got to go up to fund the non-doms. The law has to be changed."
Left-leaning papers The Mirror and The Guardian put Labour's announcement on their front pages on Wednesday.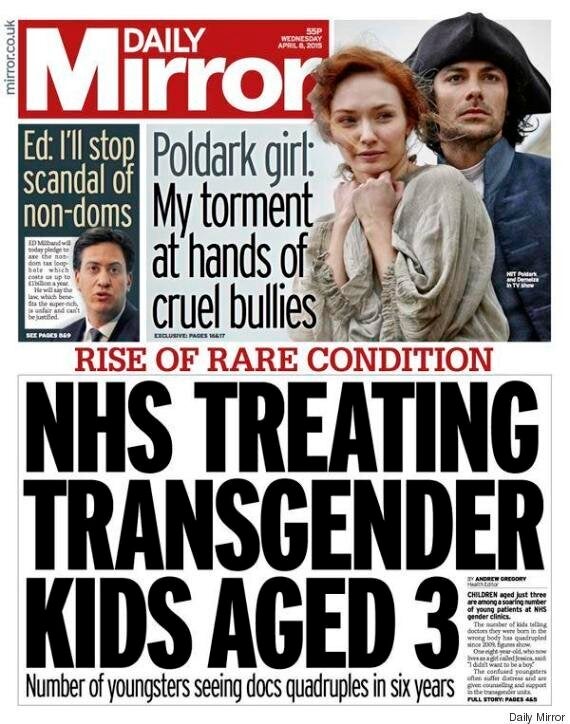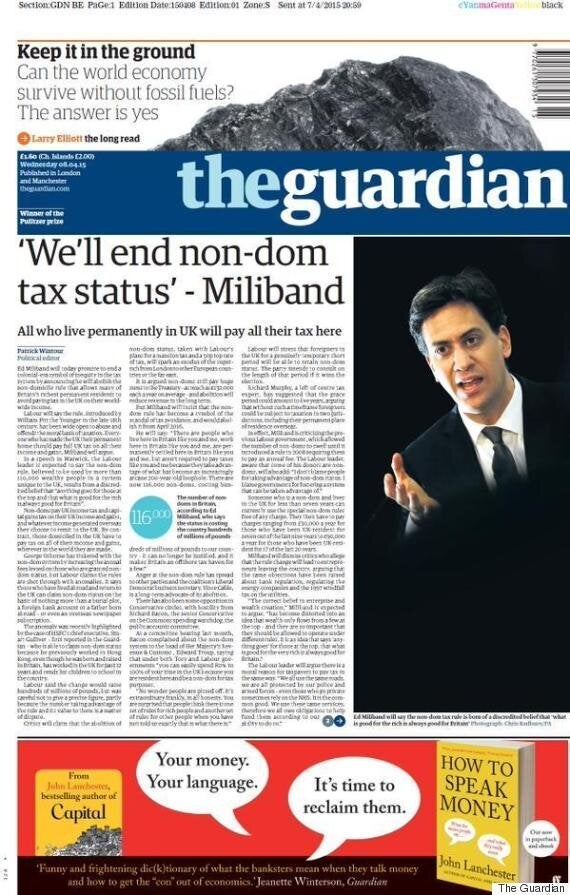 The Guardian said the announcement was "good electoral politics and good policy" in an editorial.
The Times's front page called it a "raid" on the rich.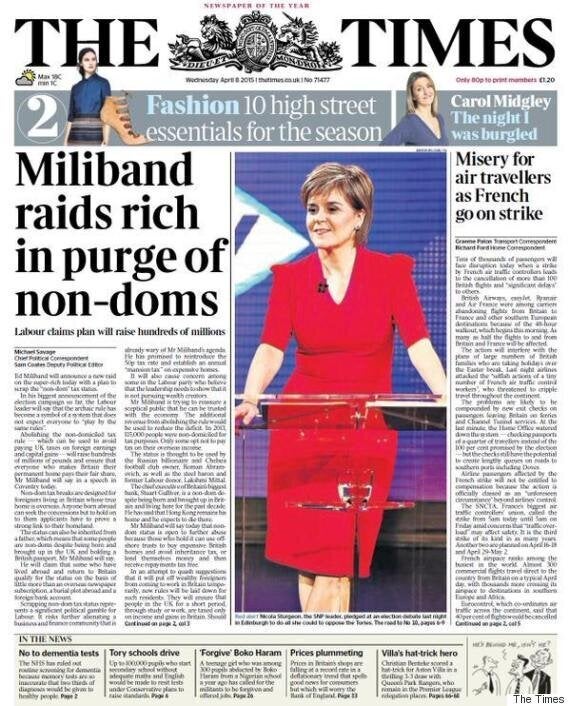 Tory Chief Whip Michael Gove told Newsnight on Tuesday: "I think the first thing to ask is, will this actually contribute more money to the Exchequer?
"There are some suggestions that this could lead to a flight of talent and a flight of cash from this country and the Exchequer could be worse off."
Both the Tories and the Lib Dems issued statements responding to the plan, both saying the number of non doms "exploded" under the last Labour government.
Shadow Chancellor Ed Balls told the Today Programme Labour would allow "real temporary residents" to still take advantage of the rules - with the time limit to be consulted on should they take power in the General Election on May 7.
Shadow chancellor Ed Balls said it should be around two or three years - not the five suggested in some reports.
Chancellor George Osborne said Labour's announcement did not amount to wholesale abolition of non dom status.
He added: "Either they are going to abolish non-dom status altogether which would cost our country hundreds of millions of pounds in lost tax revenues and lost investment - the reason they did nothing on this during 13 years in office.
"Or they are just tinkering around the edges and making small adjustments to the rules on how long people can be non-dom.
"We've taken the right approach to this issue by raising more money from non-doms than any previous government. And we will raise £5 billion a year in the next parliament by continuing to crack down on tax avoidance and evasion, including abuses of the non-dom rules."