Beyond The Ballot is The Huffington Post UK's alternative take on the General Election, taking on the issues too awkward for Westminster. It focuses on the unanswered questions around internet freedom, mental health and housing. Election news, blogs, polls and predictions are combined with in-depth coverage of our three issues including roundtable debates, MP interviews and analysis

With just weeks until the General Election, a new poll has found political parties are discussing issues outside the economy and the NHS so rarely that the public are largely unaware of any other policies, The Huffington Post UK can reveal.
In a stinging indictment of the increasingly narrow focus of the election campaign, an exclusive poll has found that an extraordinary 84% of people couldn't name a single policy on digital rights, while 76% said they did not know of a policy on mental health and 69% said the same on housing.
HuffPost UK is publishing the findings today to mark the beginning of the Beyond The Ballot series, drawing attention to issues seemingly too awkward, complicated or supposedly niche for politicians to focus on during this unpredictable election.
The poll, conducted by Survation, also suggested that, despite the widespread ignorance of party policies, these three subjects are fundamentally important to many people in Britain.
Nearly a fifth (19%) of respondents said they relied on help from friends and family to pay their rent, while over half (56%) said they don't trust politicians to make laws around the looming problems of trolling, pornography and digital snooping.
The closeness of the election race has encouraged Ed Miliband and David Cameron to increasingly focus on the flagship issues of immigration, NHS funding and the economy, where they believe there are more votes to be won.
But policies on other issues are simply not resonating. Even if parties themselves believe they emphasise issues like digital privacy, mental health and affordable housing, the poll's findings raise questions about whether they prioritise them enough to communicate their positions.
The research also revealed scepticism over the digital knowledge of politicians, with just a quarter (26%) of people saying they trust them to legislate what we can and can't do on the internet, while 56% don't, with Ukip supporters the most sceptical.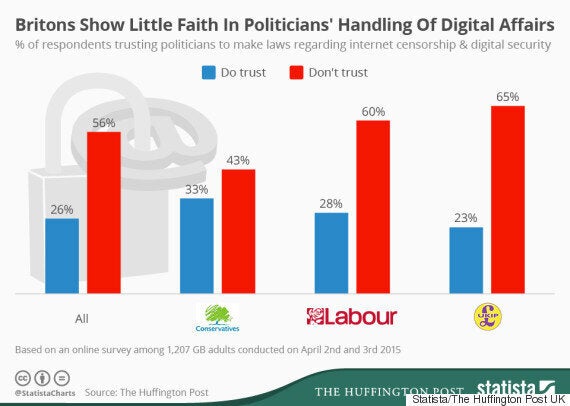 Jim Killock, executive director of the Open Rights Group, which campaigns for digital rights and civil liberties, said the findings show an embarrassing lack of understanding of issues around the internet: "'Digital' is still a buzzword for many politicians. They like to talk about the transforming effects of the internet but there are very few politicians with a real understanding of technology."
One in four Britons suffers a mental health problem every year, but most of the campaign rhetoric in this area has come from the Lib Dems, with Labour mentioning it little and the Conservatives barely at all.
In a country where depression is still stereotyped and misunderstood, the poll findings showed that 84% regard depression as an illness, needing treatment like any other health condition.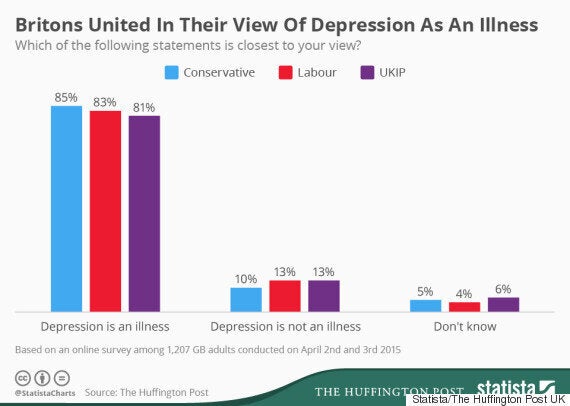 A total of 73% of Ukip and Conservative supporters could not name any mental health policy, compared with 71% of Labour supporters.
Prof Simon Wessely, President of the Royal College of Psychiatrists, told HuffPost UK that this was unfortunately "not entirely surprising".
He said: "We are all in the dark around the details of what the next Government, whoever it is made up of, will do to improve mental health, or at least how they will pay it.
"While all of the main parties have rightly spoken of their commitment to 'parity of esteem' for mental health, what we need now is action.
"This means not only our fair share of funding but also a change in mindset of the NHS and beyond, so that people with mental health problems are treated with the same respect and dignity as those with physical health problems."
Nearly a fifth of those who responded to the poll - 19% - said they needed help from friends or family to pay their rent while 17% said they used to need help but no longer do.
One in 10 people said they were receiving financial support from friends or family to pay off their mortgage, while another 11% said they previously did, but no longer do.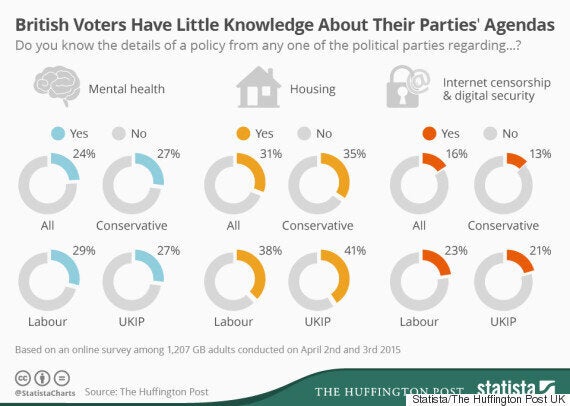 Gill Payne, director at the National Housing Federation, said: "The cost of renting a home privately is spiralling out of reach for many, so it's not surprising that more and more renters need financial help from family and friends to keep a roof over their heads. This is a symptom of Britain's housing crisis.
"The truth is that as a country we're simply not building enough new homes. This is driving up the demand for housing and causes rental and house prices to rocket.
"Politicians talk a lot about housing, but they have failed to come up with a solution to solve the housing crisis. In the past government term alone there have been 500 housing announcements and not one long-term plan."
Other major findings from the poll include:
A total of 18% said they didn't know whether they could trust politicians to make laws about the internet. Conservative voters have the most confidence in lawmakers, with 33% of them trusting politicians to legislate around online behaviour, compared with 28% of Labour voters and 23% of Ukip supporters.

Party support has little bearing on whether people regard depression as an illness, 85%, 83% and 81% of Conservative, Labour and Ukip supporters respectively said it was.

Conservative supporters were the least likely to be receiving financial help from family or friends to pay their mortgage - with just 3% of them saying this. This compared with 15% of Labour supporters. Overall, 10% said they get financial support from others and 11% said they used to.

Conservative voters were more likely to have never needed handouts from loved ones to help with their housing costs, with 82% saying they had never needed them, compared with 59% of Labour and Ukip supporters.
Beyond The Ballot will interview politicians including David Lammy, David Davis and Sarah Wollaston on how they feel Westminster handles and perceives these issues - and what our leaders need to be doing and saying to address them.
It will also feature three roundtables, one on each of the issues, in which we talk to experts about the potential solutions the next government should take to address these issues.
We start today with The Digital Deficit, a week of articles that ask whether our politicians have the digital literacy to legislate to protect our online rights, while protecting us from harassment and abuse.
Open Rights Group's Jim Killock said: "Many are also quick to blame the internet for what are actually social problems, which is why we end up with policies such as Internet filters that lead to censorship.
"The only part of the government that seems to understand the Internet is GCHQ and that is not a good thing."
We follow in the week of 20 April with Mind The Gap, a series that asks whether those with mental health issues are left between a rock and a hard place as different arms of the public sector fail to take responsibility for or show real leadership on the issue.
Prof Simon Wessely said that the fact 84% of people said they regarded depression as an illness showed attitudes were improving.
"The biggest barrier to people getting help for mental health problems is stigma and fear of disclosure," he said. "We need to build on these improving attitudes and ensure that people can be open about mental health problems and most important of all, to seek help."
Louise Rubin, parliamentary manager at mental health charity Mind, added: "The profile of mental health has grown a lot over the last few years but clearly there is still a way to go before it is seen as equally important as physical health."
We finish with Tenant Nation, which asks how we can defuse Britain's housing ticking time bomb, specifically for the millions living in private rented accommodation.
Campbell Robb, chief executive of homelessness charity Shelter, told HuffPost UK: "When so many people are having to borrow money from loved ones just to cover their rent, it's clear that housing affordability has reached crisis levels.
"Successive governments' failure to build enough homes has left an entire generation on their knees, with more and more finding themselves stuck in the rent trap with barely a hope of ever saving for a stable home of their own."
The HuffPost UK poll was conducted by Survation, which sampled 1,207 adults between 2 and 3 April. Supporters of the Conservatives, Labour and Ukip were the groups with sample size large enough to be studied individually.
As part of The Huffington Post UK's Beyond The Ballot series we want to know what issues you think aren't getting enough attention in the election campaign. Tweet using the hashtag #BeyondTheBallot to tell us in 140 characters and we'll feature the best contributions