Oxford dominated a historic Boat Race which saw both the women's and men's team race the same stretch of the river on the same day for the first time.
Thousands of people watched from the sidelines as the Oxford women's team eased to victory first, followed by a second comfortable win for the Oxford men's team.
Female crews representing Oxford and Cambridge universities rowed the same stretch of the River Thames in London as the men for the first time in the 87 years they have competed.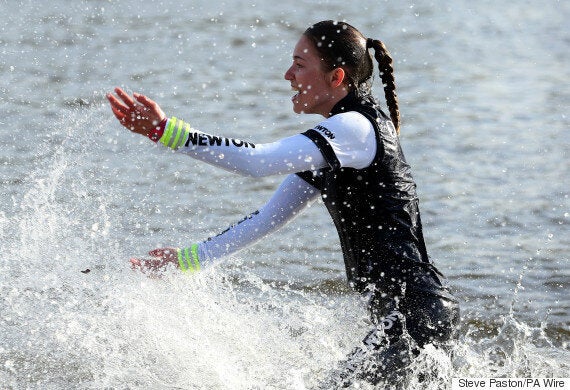 Oxford cox Jennifer Ehr celebrates after being thrown into the River Thames after winning the race
President of the Oxford Team, Constantine Louloudis, who helped his team to secure a strong lead over Cambridge before crossing the finishing line said securing a double victory alongside the women's team was "wonderful".
"What a fantastic year. For us this is the most wonderful day to mark this historic occasion", he said as he was presented with the cup.
"I'm so pleased for Oxford University Women's Boat Club with their victory.
"And for our crew to win in that definite style, I'm so happy.
"This makes three in a row for us. I've been lucky enough to share a few victories with these guys and I couldn't share it with a better group of people."
Cambridge however watched on in disappointment as their rivals lifted the cup for the fourth time in five years.
The Oxford women's team also dominated their race, leading from the early stages, along the 6,800-metre route and finished 19 seconds ahead of their rivals.
After the race, Anastasia Chitty, president of the Oxford University Women's Boat Club, told the BBC: "It's a really special moment.
"To race on the same stage as the men, when so many women haven't had this opportunity, is really humbling."