River Island have found themselves once again in Twitter's firing line, after a book making "jokes about domestic violence" was found in on sale in their Staines store.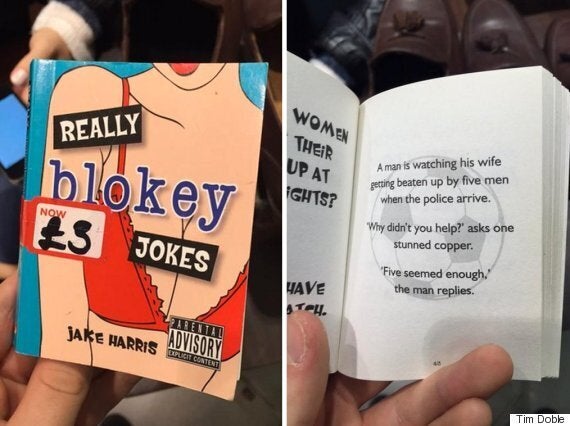 The image angered other Twitter users who have labelled the book "horrific" and "inappropriate". The tweet has had more than 450 retweets (and counting).
Doble told HuffPost UK Lifestyle that the book was in the accessories section of men's sale, "along with the other various novelty paraphernalia that never sells there".
In a statement to HuffPost UK Lifestyle, River Island have issued a full apology and have removed the book from their stores.
"River Island shares the concern expressed about this particular product," a spokesperson said. "Our business has been family owned and run since its foundation over sixty years ago and our success has been built on doing the right thing by our customers and colleagues - the majority of whom are women.
"We removed the book from our stores as soon as it was brought to our attention and we have also taken steps to strengthen our controls internally to ensure an inappropriate product such as this could not find its way into our stores again. In the meantime, however, we want to apologise to our customers for any offence caused."
A spokesperson from the book's publishers, Summersdale Publishers, told HuffPost UK Lifestyle: "The book was published in 2011 and it is now out of print. I believe River Island has now withdrawn its remaining stock from sale."
But when asked why they decided to publish a book containing jokes of a violent nature in the first place they declined to comment.
Polly Neate, chief executive of Women's Aid, told HuffPost UK Lifestyle that domestic violence is no laughing matter.
"We would hope that a responsible retailer would not stock this book. Jokes that make light of domestic violence undermine the serious nature of it," she said.
"Worst of all, they undermine the victim, perpetuating a culture of misogyny that means that women are less likely to speak out against the perpetrator. On average, 2 women a week in England and Wales are killed by a partner or ex-partner. Domestic violence is not a joke."