Huawei has unveiled the P8, a 6.4mm Android smartphone that features a revolutionary new camera letting you take light painting images, long-exposure night sky shots and ultra closeup shots.
The P8 is made using a single block of steel, which is then milled down into a unibody design. At 6.4mm it's thinner than both the Samsung Galaxy S6 and the HTC One M9.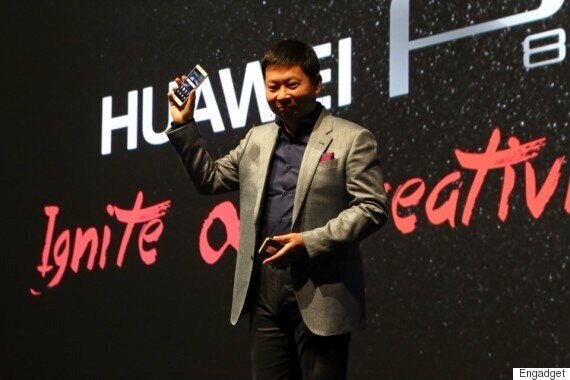 There's a 5.2-inch Full HD screen as well as a 64-bit processor that'll help run Android 5.0 Lollipop.
Huawei's big selling point for the P8 however is the camera; the world's first 13 Megapixel four colour sensor on a smartphone.
What does that mean? Well by using a four colour sensor over the traditional three, the P8 can capture pictures with improved low-light and high contrast performance. The result should be less grainy images at night and much clearer images in direct sunlight.
The P8 also comes with optical image stabilisation that Huawei claims is twice as stable as the OIS found on the iPhone 6 Plus.
With its own dedicated processor the P8's camera also comes with a number of powerful software modes including: paint lighting, star tracking, silky water and more.
Finally the camera also comes with a 'Director Mode' which allows you to pair the P8 with up to three other smartphones. The P8 then uses the other phone cameras as live feeds allowing the P8 owner to pick and choose which feed to record.
The camera isn't the only new feature on the phone. The P8 also comes with 'Knuckle Sense' which allows you to use your knuckle to take pictures, screenshot content and more.
If 'Knuckle Sense' isn't your cup of tea then the P8 comes with a range of other features including powerful background noise reduction for the mic, the ability to wake up the phone with a customisable greeting and Signal+ which uses multiple antenna to drastically increase the phone's signal quality.
Finally Huawei has addressed the battery life issue with App Firewall, an in-built piece of software that'll constantly analyse how much power apps are using in the background. If they're deemed to be non-essential then the phone will close them down.
Huawei claims that this will improve the battery life to over a day, giving normal users at least 1.5 days of battery life.
There's no word on a release date, however Huawei says the P8 will cost €499.