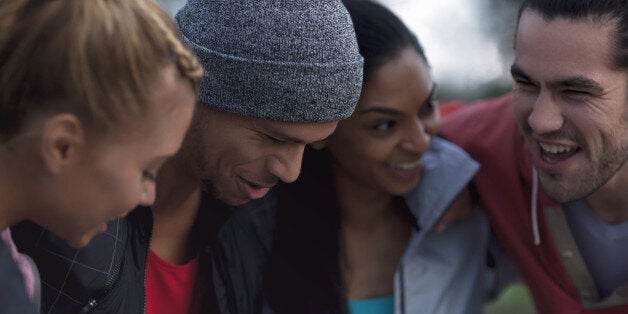 For most of us, the words "pub" and "crawl" bring back memories of university days gone by that, quite frankly, we'd rather forget.
London Hash is one of dozens of hashing clubs nationwide. For those uninitiated, the concept of hashing is simple: like-minded individuals go running together, and stop off at pubs en route.
"We run anything from three miles to eight miles and it's not competitive," Tina Eckart of London Hash tells HuffPost UK Lifestyle.
"A hare goes out and pre-sets the trail in chalk, flour, sawdust or anything that the hare tends to think of which is biodegradable or easily removed."
A hare is the person who goes ahead and marks the route.
"There are a series of false trails, checks, regroups and the odd drink stop towards the end of the run. We believe in supporting our local pubs and in particular natural beer, but it's up to you what you do on the hash."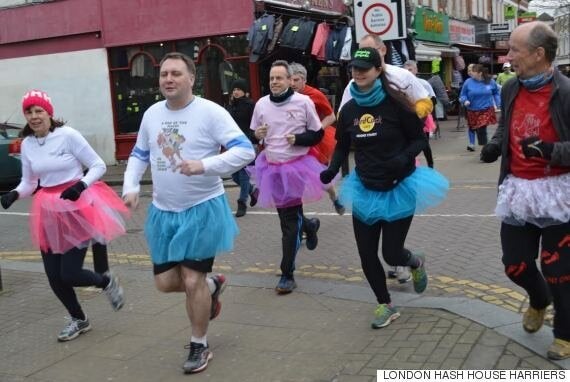 The London Hash House Harriers on a tutu-themed run
At the end of a trail, the group always has what they call "a circle". It involves singing a short ditty before downing a free pint.
"We tell each other jokes or catch up on misdemeanours we've experienced on trail, such as finishing a trail in a police van as I did once," Eckart says.
London Hash meet up every weekend, whatever the weather, plus hold runs on Monday evenings during the summer months. Their "pack size" ranges from 10 to 60 people per run.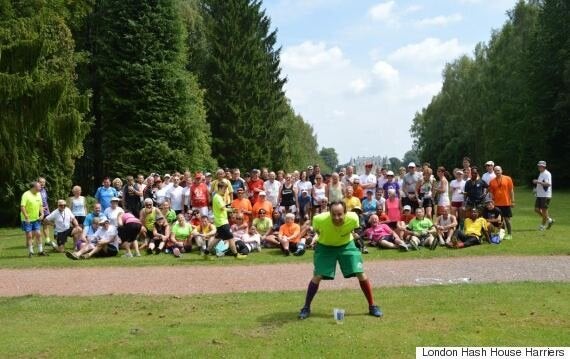 A member of The London Hash House Harriers moons a crowd of runners in Brussels
And they're not the only ones mixing their love of running with their love of good beer.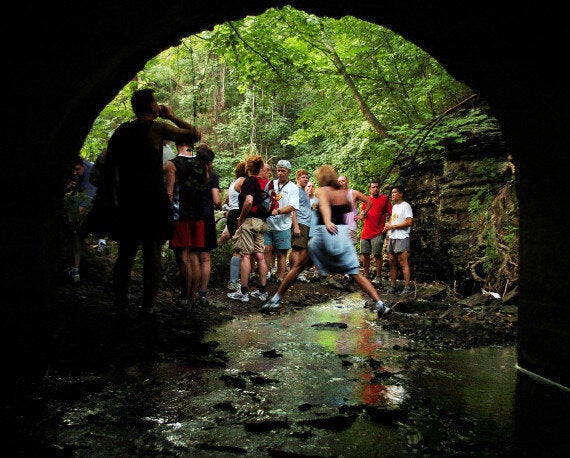 The Pittsburgh Hash House Harriers
"Hashing is for those with a sense of fun. Hashers tend to look after other hashers, particularly out on trail, but even afterwards, such as when the odd harrier or harriet might be in need of help," Eckart says.
"It's a community with shared values and a love of hashing and a great way to de-stress from a tough day at work."
There is far more to hashing than running. London Hash regularly organise additional events, including trips to the ballet, camping in the Norfolk Broads and, perhaps less surprisingly, tasting sessions at breweries.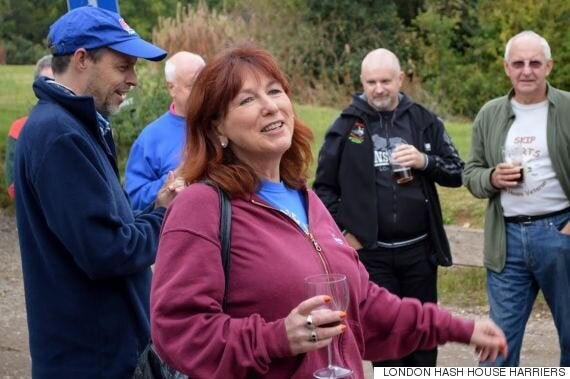 Tina Eckart at a London Hash House Harriers Event
Eckart is titled the 'Grand Mattress' of London Hash - unusual names are all part of the fun.
At your first hash, you can be expected to be introduced to a hasher with a bizarre name such as 'Martian Matron', 'Boy Blunder' or 'Bulldozer'. These are hash names.
"Such as the harriet who on hearing someone exclaim 'there is a couple of guys peeing in a doorway over there' decided to run back to have a look. The pack unanimously agreed that her hash name should be 'Golden Retriever'."
Of course, there are those who question the safety and health benefits of running with alcohol in your system.
As pointed out by runningworld.com, alcohol dehydrates and causes a person to have slower reaction times than they would normally, so mixing beer and exercise could not only limit your running performance, but actually put you in danger.
However, Eckart says hashing doesn't have to be risky.
"I rarely run with any alcohol in my hand - if you try it you will understand why!" she jokes.
"Seriously, we believe it's healthier than sitting at home watching TV and a lot more fun than running the same route on your own.
"There are many hashers who have run marathons, I have run three so it's not just an excuse for a drink. In fact, for me, it's the trails that make it."
To join a hashing group like the London Hash House Harriers, you simply have to visit their website to find out when they're next running, turn up and start talking to someone.
London Hash members wear matching t-shirts, so they're easy to identify.
"We particularly welcome those new to hashing," Eckart says. "Those of us who have it in our hearts look to new people to carry on hashing to ensure its future."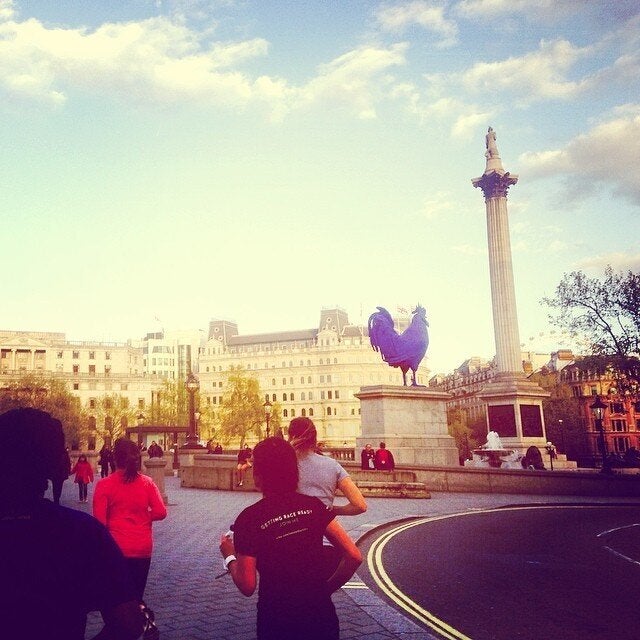 Spring Running: HuffPost Swap The Treadmill For Mother Nature
Related