The grief-stricken father of Becky Watts spoke of his love for his "shy girl" who "touched the hearts of the nation" as hundreds gathered to say a final goodbye.
During a moving tribute at his daughter's funeral, devastated Darren Galsworthy said the teenager had left a huge void in their lives and would forever be in their hearts and thoughts.
The service was held as it emerged that Becky died as a result of suffocation.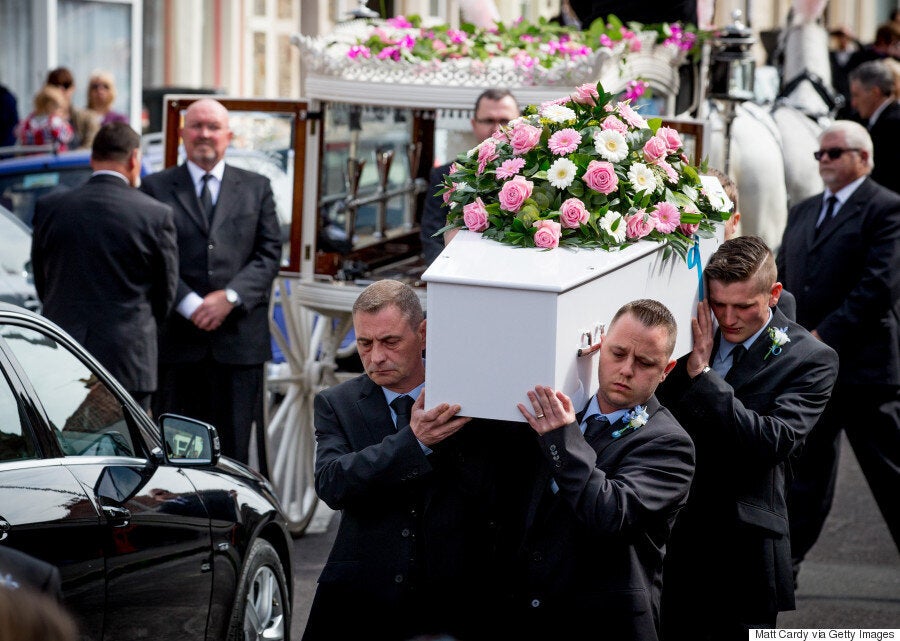 Becky Watts' coffin is carried through Bristol
Hundreds of mourners - some wearing T-shirts featuring a photograph of the popular 16-year-old - filled St Ambrose Church in Whitehall, Bristol, to pay their respects, while others gathered outside to watch the service relayed on a TV screen.
As the horse-drawn carriage carrying the student's white coffin arrived at the church, many people threw pink roses - making a sea of flowers in the road.
Mr Galsworthy helped carry his daughter's coffin into the church, as Leona Lewis's hit song Footprints In The Sand played.
His moving tribute was read by Rev David James, who led the hour-long service.
"When Becky started school she was so shy that she wouldn't let Anjie leave her there on her own, so Anjie ended up being an unpaid teaching assistant for four years," he said.
"We remember her coming home one afternoon. She had just started the first year at the juniors and she was crying and when we asked her what was wrong Becky told us that no-one would play with her because she had the wrong doll.
"So we went out and made sure she had the right doll for the next day, and on that day after she returned home all smiles and excited and told us about a new friend and this friendship lasted all the way through junior school.
"In Year 6 she became a mentor for younger children joining the school. Although still very shy herself, she would still watch out for any child stood in the playground on their looking lost and scared. She would encourage them to join her little mentor group, which were all in year four.
"That was Becky all over. She couldn't make friends herself but didn't want younger children to feel like she did.
"We received letters from the parents of these children thanking us for all our big-hearted girl did for theirs.
Story continues below pictures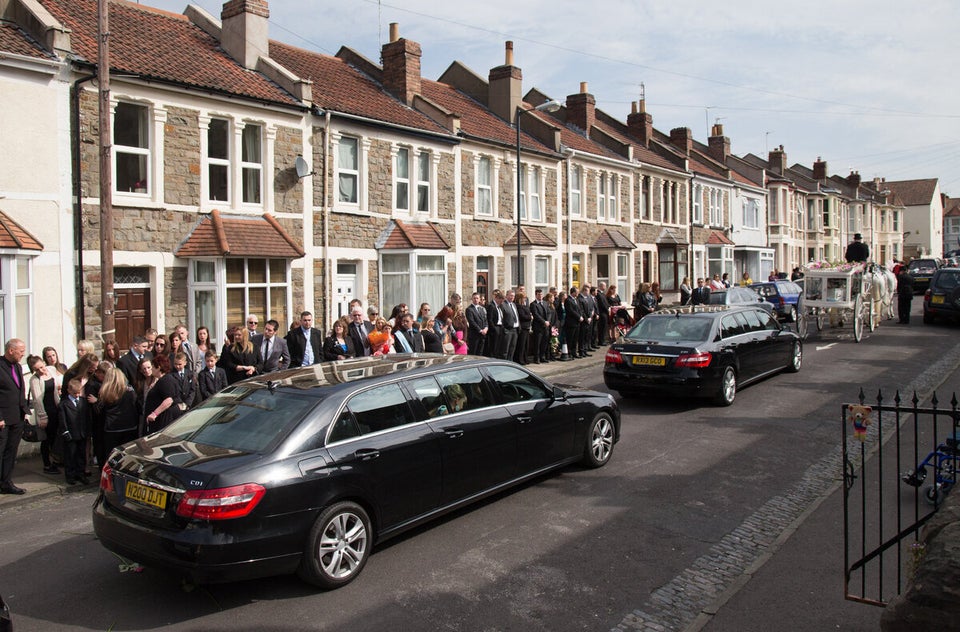 Becky Watt's funeral
Darren Galsworthy's tribute continued: "Secondary school was when our family went through very dark times. Becky was bullied about her weight and consequently we almost lost her to anorexia. But, with a lot of care from us and hospital education, we were able to get our Becky back.
"Once in hospital she made two new friends, Courtney and Adam, and became inseparable from them. She was the happiest we had seen her in a very long time. We used to call them the Three Amigos.
"Gradually building up confidence, she started to go out more and more and became really fashion-conscious, developing her own style, and always looked immaculate.
"When she joined KTS she added another friend, Tina, to her small group and hooked up with her boyfriend, Luke. Becky loved music and animals and going to the cinema with her small group of friends.
"You guys helped her in a way we couldn't and we are eternally grateful for what you did for her.
"Becky has left a huge void in our lives and touched the hearts of the nation. We all loved you so much and, as you look down from heaven, just look at what your short life has achieved - not bad for a shy girl.
"You will forever be in our hearts and thoughts, rest in peace, angel of Bristol."
He added: "Thank you to all the people of Bristol and all the fundraisers and all the support we have received from the entire country."
The service ended with Becky's grandfather, John Galsworthy, singing Somewhere.
Becky's boyfriend, Luke Oberhansli, helped carry her coffin from the church. Her father released a single white dove and said simply "Bye, Becks" as mourners broke out into a spontaneous round of applause.
The family then left for a private interment at Avon View Cemetery.
Two online fundraising pages have raised more than £11,000, which will help pay for the funeral and a foundation set up in Becky's name.
Police launched a huge search - including a social media campaign using the hashtag #FindBecky - on February 20 when the student was reported missing.
Matthews, of Warmley, South Gloucestershire, appeared at Bristol Crown Court on March 26, along with five others charged in connection with the death.
His girlfriend, Shauna Hoare, 21, of Cotton Mill Lane, Bristol, is accused of perverting the course of justice by lying to police. Jaydene Parsons, 23, James Ireland, and Karl and Donovan Demetrius, both 29, are accused of helping dispose of and conceal Becky's body parts.